Slate Roofing
Roof Online Staff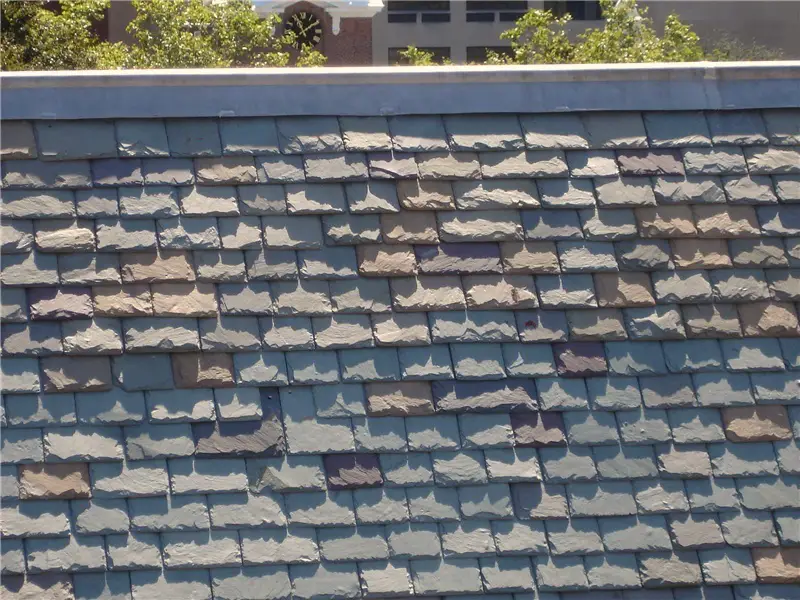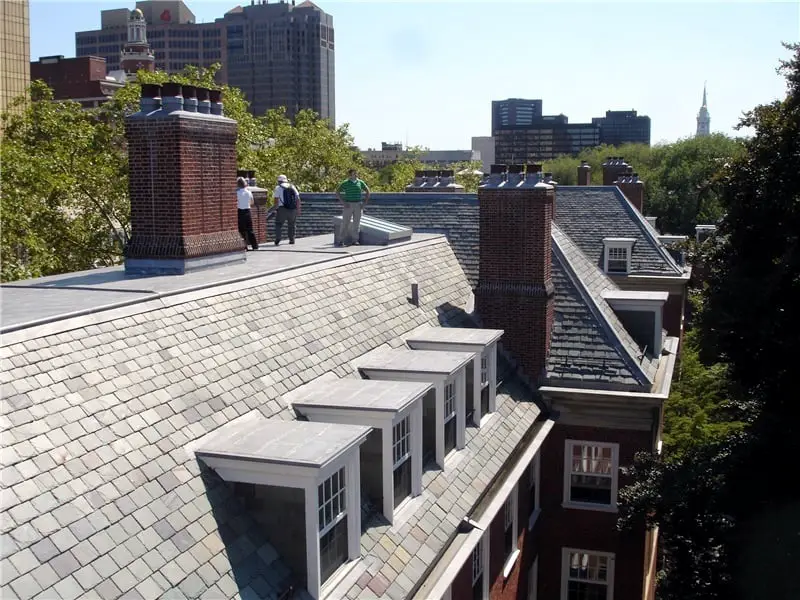 More Pictures of Slate Roofing
Related Pages
Useful Links for Slate Roofing Information
1. General: For an introduction to slate roofing, read some of the articles available at Traditional Roofing Magazine.
2. General: The Slate Roof Bible* by Joseph Jenkins is a widely respected, important, and valuable asset for anyone who has any sort of responsibility for a slate roof. We always keep it in our reference library.
3. General: Quite a bit of information about slate roofing is available at the website of the National Slate Association.
4. General: An excellent "bullet points" primer on slate roofing, "Slate Roofing – How to Install a Roof that will Last a Century (or Two)", from 2012, is available at the Slate Roof Experts website.
5. General: You can also check out Mr. Jenkins' Slate Roofing Facebook page. 
6. General: See this very good general article about various roof systems on the Whole Building Design Guide site, which is maintained by the National Institute of Building Sciences.
7. Building Codes: "R905.6 Slate Shingles" from the 2018 International Residential Code and "1507.7 Slate Shingles" from the 2018 International Building Code. Both available on the UpCodes website.
8. Historic Roofing: Slate Roofs – National Slate Association – (published in 1926, 83 pages). The original text of the 1926 slate book that remained the standard authority for decades.
9. Historic Roofing: The Story of Slate – Charles H. Davis – Davis Slate & Manufacturing Company – (Published in 1923, 7 Pages)
10: Inspection of Slate Roofs: Mastering Roof Inspections: Slate Roofs, Part 1 at the International Association of Certified Home Inspectors website is a good place to start. There are twelve more parts in this slate roof inspection guide, and they can be accessed from this page.
11. Safety: See this material safety data sheet for health and safety information about roofing slate at the GAF website. This is only an example and other products and brands may be different.
12. Standards: "Roofing Slate Standards: A Critical Review" is an incredibly detailed piece of work and well worth taking a look at. Available on ResearchGate.
13. Technical: See this product data sheet for the technical characteristics of roofing slate at the North Country Slate website. This is only an example and other products and brands may be different.
14. Technical: "The Repair, Replacement and Maintenance of Historic Slate Roofs" is a comprehensive resource available on the US National Park Service's Technical Preservation Services website.
15. Manufacturers: See this list of roofing slate manufacturers.