2×6 Weight by Wood Type • Complete Reference Chart
Roof Online Staff
Table of Contents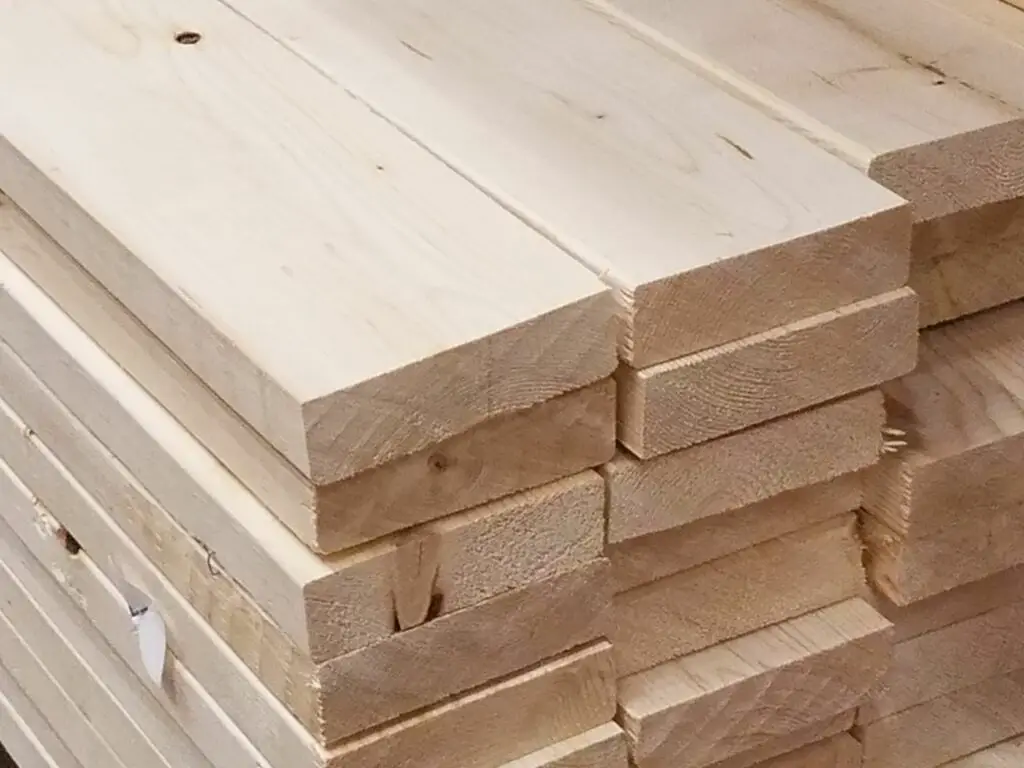 2×6 Weight Factors
2×6 weight depends chiefly on the length of the board, the moisture content of the wood, and which tree species the lumber was made from. Pressure-treating the wood with preservative will also result in a small amount of additional weight after the board has had time to dry out after the treatment process.
Green lumber has a higher moisture content than air-dried lumber, and air-dried lumber has a higher moisture content than oven-dried lumber.
A 10-foot-long air-dried 2×6 made out of Douglas Fir will weigh about 19 and a half pounds. A 10-foot-long air-dried 2×6 made out of Sitka Spruce only weighs around 16 pounds.
Pressure-treated 2×6's are notoriously heavy at the time that people buy them. This is because when you find them in the store, they are usually freshly-treated, or have only been drying for a couple of weeks. The water weight added to the wood during the pressure-treating process leads to freshly-treated boards weighing around 75% more than the weight of untreated boards. This weight is temporary. The board will return (almost) to its original weight as it air-dries during the weeks or months after treatment.
2×6 weight for treated wood will be approximately 0.4% to 1.5% more than 2×6 weight for untreated wood from the same tree species after drying.
About This 2×6 Weight Chart
The following table provides the approximate weight (dead load, self-weight) of 2×6's produced from the various wood species and in the various lengths normally used in building construction in the US.
The values given in the table are meant to provide a general idea of typical 2×6 weights, and should not be used if precise values are needed for critical engineering calculations. The weights are for air-dried lumber; kiln-dried lumber will weigh a little less, and green lumber can weigh a lot more.
When precision is necessary, always refer to the specification sheet for the actual, specific product you intend to use, or contact the technical department of the lumber producer or lumberyard.
You can see 2×6's at the Home Depot. The approximate weights of the actual pieces of lumber for sale are often given in the product descriptions, so this can be a pretty good resource for calculating the weight of a 2×6.
Table: 2×6 Weight by Wood Type and Length
2×6 Weight by Wood Type and Length

(Average Dry Weight, 12% Moisture Content)

Type of Wood

Length of 2×6 in Feet (2×6

× number of feet)

These are the most common wood types used in construction in North America.

Weight




Per Foot




(2x6x1)




in Pounds

2x6x6

2x6x8

2x6x10

2x6x12

2x6x14

2x6x16

Pressure Treated Wood

Pressure-Treated (Freshly Treated)

4.16 lb
24.96 lb
33.28 lb
41.60 lb
49.92 lb
58.24 lb
66.56 lb

Pressure-Treated (After Air Drying)

2.36 lb
14.16 lb
18.88 lb
23.60 lb
28.32 lb
33.04 lb
37.76 lb

Cedar

Western Red Cedar

1.32 lb
7.92 lb
10.56 lb
13.20 lb
15.84 lb
18.48 lb
21.12 lb

Douglas Fir

Douglas Fir (Coast Type)

1.95 lb
11.70 lb
15.60 lb
19.50 lb
23.40 lb
27.30 lb
31.20 lb

Douglas Fir (Mountain Type)

1.71 lb
10.26 lb
13.68 lb
17.10 lb
20.52 lb
23.94 lb
27.36 lb

Fir

Noble Fir

1.49 lb
8.94 lb
11.92 lb
14.90 lb
17.88 lb
20.86 lb
23.84 lb

Subalpine Fir

1.32 lb
7.92 lb
10.56 lb
13.20 lb
15.84 lb
18.48 lb
21.12 lb

White Fir

1.49 lb
8.94 lb
11.92 lb
14.90 lb
17.88 lb
20.86 lb
23.84 lb

Hemlock

Mountain Hemlock

1.89 lb
11.34 lb
15.12 lb
18.90 lb
22.68 lb
26.46 lb
30.24 lb

Western Hemlock

1.67 lb
10.02 lb
13.36 lb
16.70 lb
20.04 lb
23.38 lb
26.72 lb

Larch

Western Larch

2.06 lb
12.36 lb
16.48 lb
20.60 lb
24.72 lb
28.84 lb
32.96 lb

Pine

Lodgepole Pine

1.67 lb
10.02 lb
13.36 lb
16.70 lb
20.04 lb
23.38 lb
26.72 lb

Ponderosa Pine

1.60 lb
9.60 lb
12.80 lb
16 lb
19.20 lb
22.40 lb
25.60 lb

Southern Yellow Pine (Loblolly)

2.18 lb
13.08 lb
17.44 lb
21.80 lb
26.16 lb
30.52 lb
34.88 lb

Southern Yellow Pine (Longleaf)

2.34 lb
14.04 lb
18.72 lb
23.40 lb
28.08 lb
32.76 lb
37.44 lb

Southern Yellow Pine (Shortleaf)

2.18 lb
13.08 lb
17.44 lb
21.80 lb
26.16 lb
30.52 lb
34.88 lb

Southern Yellow Pine (Slash)

2.47 lb
14.82 lb
19.76 lb
24.70 lb
29.64 lb
34.58 lb
39.52 lb

Spruce

Engelmann Spruce

1.32 lb
7.92 lb
10.56 lb
13.20 lb
15.84 lb
18.48 lb
21.12 lb

Sitka Spruce

1.60 lb
9.60 lb
12.80 lb
16 lb
19.20 lb
22.40 lb
25.60 lb

White Spruce

1.60 lb
9.60 lb
12.80 lb
16 lb
19.20 lb
22.40 lb
25.60 lb
Related Pages
References