Dimensional Lumber Weight • Complete Reference Chart
Roof Online Staff
Scroll down to see the chart.
Table of Contents
What is Dimensional Lumber?
Dimensional lumber is simply lumber that is produced with standardized dimensions. Standard dimensions, such as 2″ x 4″ or 2″ x 6″, allow for a multitude of efficiencies in construction.
Subcategories of dimensional lumber include appearance framing lumber, beams, joists, light framing lumber, planks, posts, stringers, structural light framing lumber, studs, and timbers. Our lumber weight chart below covers all of these.
Dimensional lumber is used for wall framing, rafters, and many other building components. Lumber weight is an important factor in various structural design considerations.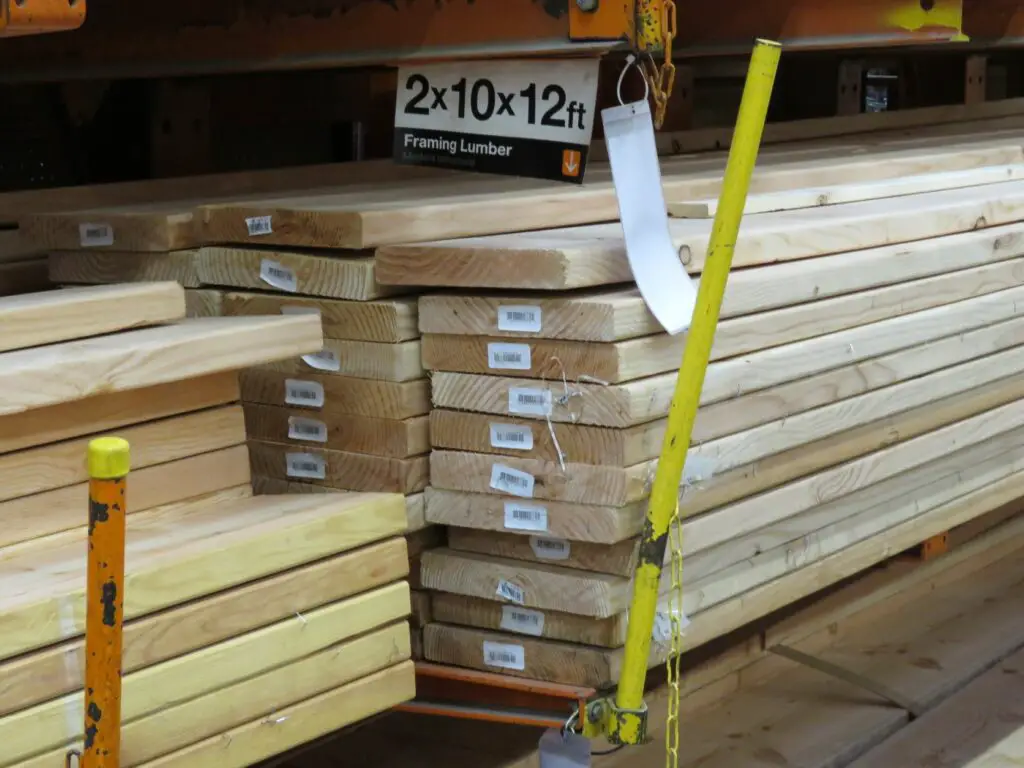 How Much Does Lumber Weigh?
The weight of lumber depends on the size of the board, the moisture content of the wood, and which tree species the lumber was made from.
Green lumber has a higher moisture content than air-dried lumber, and air-dried lumber has a higher moisture content than oven-dried lumber.
Common construction lumber boards with the exact same dimensions but produced from different tree species may vary as much as 50% in weight, even with the same moisture content percentage.
An air-dried 2×4 x 8-foot-long lumber board made out of Douglas Fir weighs about 10 pounds. A board with the same dimensions made out of Sitka Spruce only weighs around 8 pounds.
Almost all lumber used for construction in the U.S. is made from spruce, pine, and fir, so our chart has weights for lumber made from all three.
Read on to learn more about lumber weights, or scroll to the end for the full weight chart.
Green or Oven-Dry Lumber Weights
For help figuring out the weight of green or oven-dry lumber, to read more about how these weights are calculated, or to see an extensive list of the weights of other types of wood, see "Weights of Various Woods Grown in the United States" from the Forest Products Laboratory, United States Forest Service.
Nominal vs. Actual Lumber Dimensions
For an explanation of the difference between nominal lumber dimensions and actual dimensions, see our Lumber Dimensions Table.
About Our Lumber Weight Chart
The following table provides the approximate weight (dead load, self-weight) per linear foot of the various sizes of dimensional lumber (also called "structural lumber" or "finished lumber") used in building construction in the US.
The table provides the air-dried weight of lumber produced from three commonly used tree species: Sitka Spruce, Douglas Fir, and Southern Yellow Pine.
The values given in the table are meant to provide a general idea of typical lumber weights, and should not be used if precise values are needed for critical engineering calculations.
When precision is necessary, always refer to the specification sheet for the actual, specific product you intend to use, or contact the technical department of the producer.
You can see dimensional lumber at the Home Depot. The approximate weights of the actual pieces of lumber for sale are often given in the product descriptions, so this can be a pretty good resource for calculating lumber weights. Home Depot will also deliver lumber to your home, by the way.
Related Pages
Lumber Weight Chart
Note: Longleaf Pine is a very heavy pine. See weights for other pines here. Another good page to look at to compare the weights of different kinds of wood is Weight of a 2×4 by Wood Type and Length.
Weight of Dimensional Lumber

Nominal




Dimensions




of Lumber




in Inches

Actual




Dimensions




of Lumber




in Inches

Sitka Spruce




Air Dried




Lumber Weight




(12% Moisture Content)

Douglas Fir




(Coast Variety)




Air Dried




Lumber Weight




(12% Moisture Content)

Southern Yellow Pine




(Longleaf Variety)




Air Dried




Lumber Weight




(12% Moisture Content)

Cubic Foot

12 x 12 x 12

28 Pounds




per Cubic Foot

34 Pounds




per Cubic Foot

41 Pounds




per Cubic Foot

Board Foot

12 x 12 x 1

2.33 Pounds




per Board Foot

2.83 Pounds




per Board Foot

3.41 Pounds




per Board Foot

Pounds Per Linear Foot:

Pounds Per Linear Foot:

Pounds Per Linear Foot:

1 inch x 2 inch

0.75 inch x 1.5 inch

0.22 lbs

0.27 lbs

0.32 lbs

1 x 3

0.75 x 2.5

0.36

0.44

0.53

1 x 4

0.75 x 3.5

0.51

0.62

0.75

1 x 6

0.75 x 5.5

0.80

0.97

1.17

1 x 8

0.75 x 7.25

1.10

1.34

1.61

1 x 10

0.75 x 9.25

1.35

1.64

1.98

1 x 12

0.75 x 11.25

1.64

1.99

2.40

2 x 3

1.5 x 2.5

0.73

0.89

1.07

2 x 4

1.5 x 3.5

1.02

1.24

1.49

2 x 6

1.5 x 5.5

1.60

1.94

2.34

2 x 8

1.5 inch x 7.25 inch

2.11 lbs

2.56 lbs

3.09 lbs

2 x 10

1.5 x 9.25

2.70

3.28

3.95

2 x 12

1.5 x 11.25

3.28

3.98

4.80

2 x 14

1.5 x 13.25

3.86

4.69

5.65

2 x 16

1.5 x 15.25

4.45

5.40

6.52

3 x 4

2.5 x 3.5

1.70

2.06

2.49

3 x 6

2.5 x 5.5

2.67

3.24

3.91

3 x 8

2.5 x 7.25

3.52

4.27

5.15

3 x 10

2.5 x 9.25

4.50

5.46

6.59

3 x 12

2.5 x 11.25

5.47

6.64

8.01

3 x 14

2.5 inch x 13.25 inch

6.44 lbs

7.82 lbs

9.43 lbs

3 x 16

2.5 x 15.25

7.41

9.00

10.85

4 x 4

3.5 x 3.5

2.38

2.89

3.49

4 x 6

3.5 x 5.5

3.74

4.54

5.48

4 x 8

3.5 x 7.25

4.93

5.99

7.22

4 x 10

3.5 x 9.25

6.30

7.65

9.23

4 x 12

3.5 x 11.25

7.66

9.30

11.22

4 x 14

3.5 x 13.25

9.02

10.95

13.21

4 x 16

3.5 x 15.25

10.38

12.60

15.20

6 x 6

5.5 x 5.5

5.88

7.14

8.61

6 x 8

5.5 inch x 7.25 inch

7.75 lbs

9.41 lbs

11.35 lbs

6 x 10

5.5 x 9.25

9.89

12.01

14.48

6 x 12

5.5 x 11.25

12.03

14.61

17.62

6 x 14

5.5 x 13.25

14.17

17.21

20.75

6 x 16

5.5 x 15

16.04

19.48

23.49

8 x 8

7.25 x 7.25

10.22

12.41

14.97

8 x 10

7.25 x 9.25

13.04

15.83

19.09

8 x 12

7.25 x 11.25

15.86

19.26

23.22

8 x 14

7.25 x 13.25

18.68

22.68

27.35

8 x 16

7.25 x 15

21.15

25.68

30.97

8 x 18

7.25 inch x 17 inch

23.97 lbs

29.11 lbs

35.10 lbs

10 x 10

9.25 x 9.25

16.64

20.21

24.37

10 x 12

9.25 x 11.25

20.23

24.57

29.62

10 x 14

9.25 x 13.25

23.83

28.94

34.89

10 x 16

9.25 x 15

26.98

32.76

39.51

10 x 18

9.25 x 17

30.58

37.13

44.78

12 x 12

11.25 x 11.25

24.61

29.88

36.04

12 x 14

11.25 x 13.25

28.98

35.19

42.44

10 x 12

9.25 x 11.25

20.23

24.57

29.62

10 x 14

9.25 x 13.25

23.83

28.94

34.89

10 x 16

9.25 inch x 15 inch

26.98 lbs

32.76 lbs

39.51 lbs

10 x 18

9.25 x 17

30.58

37.13

44.78

12 x 12

11.25 x 11.25

24.61

29.88

36.04

12 x 14

11.25 x 13.25

28.98

35.19

42.44

12 x 16

11.25 x 15

32.81

39.84

48.04