Hot Asphalt Roofing (BUR) Explained
By Roof Online Staff • Last updated March 24, 2023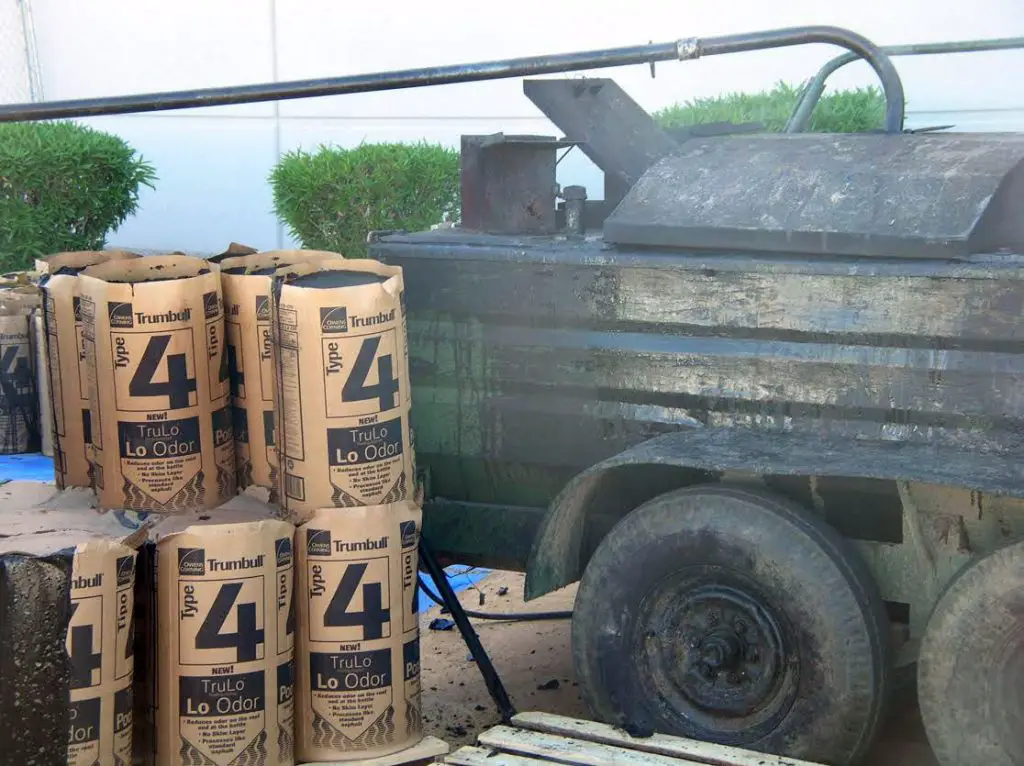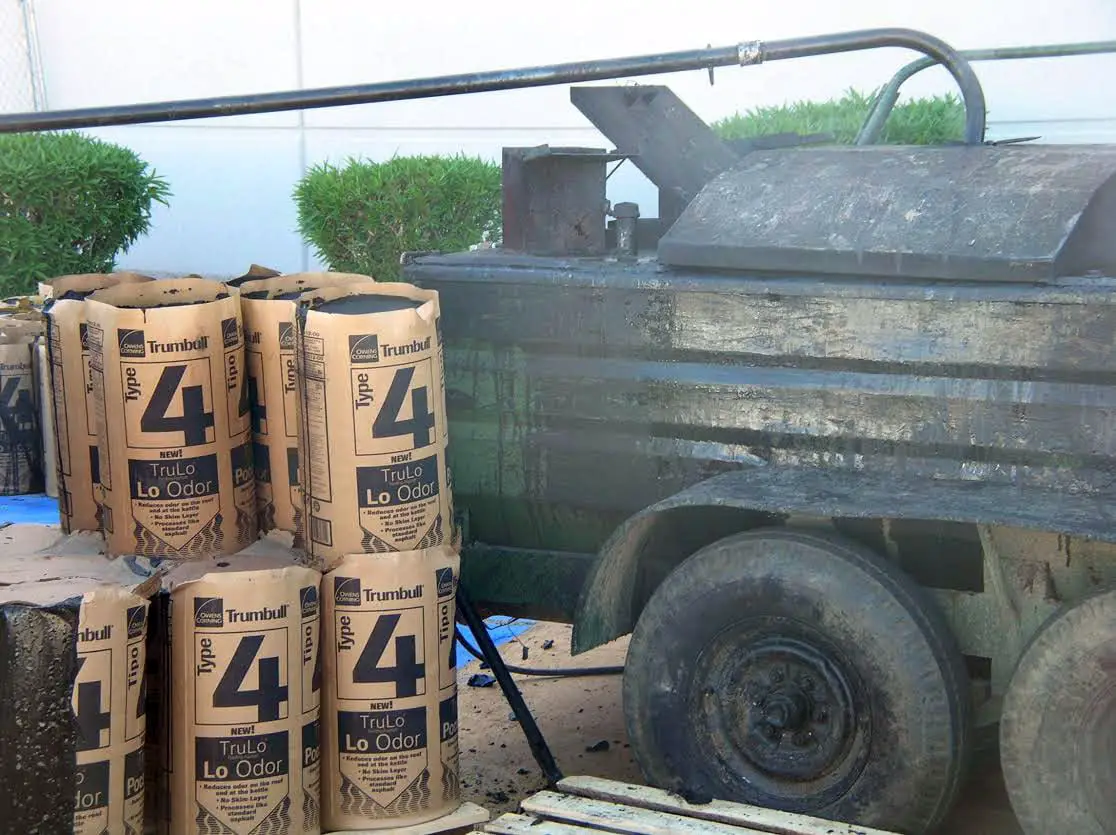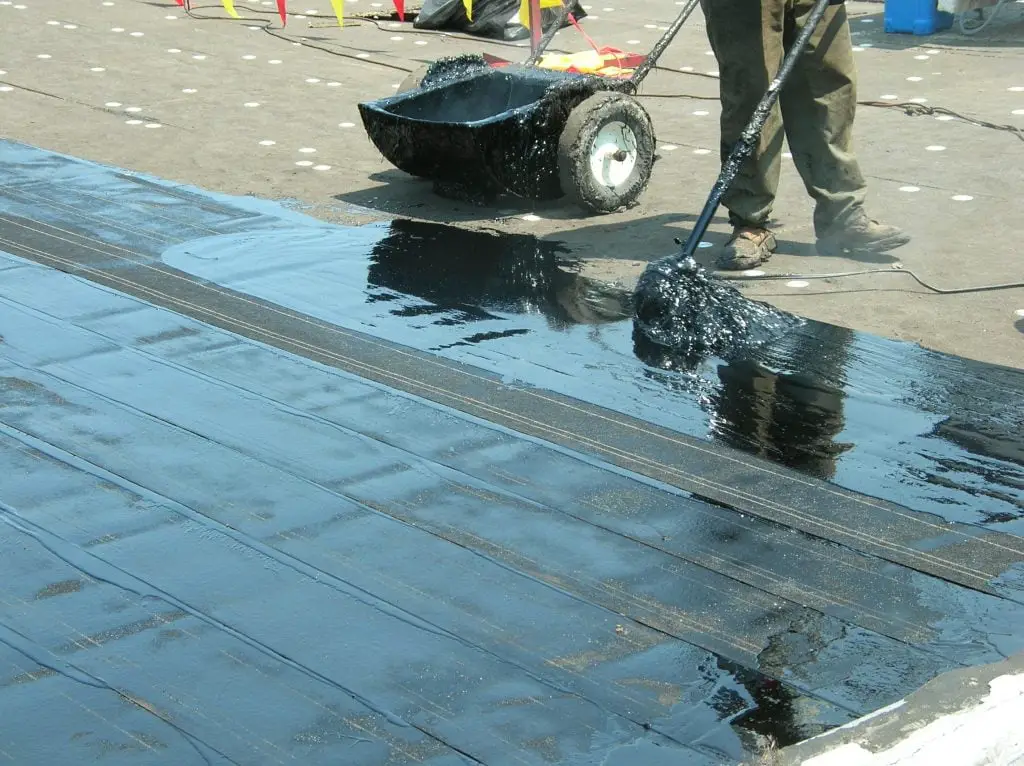 Related Pages
What is Hot Asphalt Roofing?
Hot asphalt roofing is a type of built-up roofing in which asphalt forms the waterproofing component of the roof membrane.
During application, the hot, liquid asphalt is referred to by the roofers simply as "hot", as in "I stepped in the hot".
Built-up roofs made with asphalt are often called "tar and gravel" roofs. This more properly refers to roofs made with coal tar pitch, which was used in almost all built-up roofs for the first 100 years after modern built-up roofing was invented (around 1860).
Asphalt became a popular alternative to coal tar pitch in the 1950's, and today almost all built-up roofs are made with asphalt.
How Hot Asphalt Roofs Are Installed
Solid asphalt (a by-product of petroleum refining processes) is melted on-site in an industrial asphalt kettle and applied to the roof as a hot liquid.
Asphalt-impregnated roofing felts are installed in overlapping courses during the asphalt application in order to strengthen the resulting roof membrane.
A layer of felt and asphalt is called a "ply". Typical asphalt built-up roofs have three or four plies.
At the end of the installation, gravel is typically set into an additional surface layer of hot asphalt (called a flood coat) to provide fire-resistance and protection from UV rays, foot traffic, and hail.
Instead of gravel, some asphalt built-up roofs may have rolls of modified bitumen installed in the flood coat, or may simply be coated with an asphalt-based roof coating, usually an aluminized reflective coating.
External Sources & References for Hot Asphalt Roofing Information
1. Recommended for Further Reading: Manual of Low-Slope Roof Systems: Fourth Edition by C.W. Griffin & Richard Fricklas
2. General: A general, reliable overview of asphalt is available here at Wikipedia. Not much specific to roofing, but broadly informative.
3. General: See this informative, in-depth general article about various roof systems at the Whole Building Design Guide site, which is maintained by the National Institute of Building Sciences.
4. General: The website of the Asphalt Roofing Manufacturers Association is worth taking a look at for information about both residential and commercial roofs.
5. Inspection of asphalt built-up roofs: ROOFER: An Engineered Management System (EMS) for Bituminous Built-Up Roofs is an extremely detailed and valuable resource put together by the US Army Corps of Engineers' Engineer Research and Development Center.
6. Safety: "Asphalt Fume Exposures During the Application of Hot Asphalt to Roofs" does a good job describing the process of installing an asphalt built-up roof and discusses the potential effects and mitigation of exposure to the fumes. Available at the CDC website.
7. Safety: See this material safety data sheet for health and safety information about (hot) roofing asphalt at the Owens Corning website. This is only an example and other products and brands may be different.
8. Technical: See this installation guide for a look at how a typical asphalt built-up roof system is put together. Provided by Johns Manville.
9. Technical: See this product data sheet for the technical characteristics of (hot) roofing asphalt at the Building Products of Canada website. This is only an example and other products and brands may be different.