Weight of Glulam and LVL Beams
Roof Online Staff
Table of Contents
Related Pages
About Our Glulam and LVL Weight Tables
The following tables provide the approximate weight (dead load, self-weight) for two types of engineered wood, glulam and LVL beams, used in building construction in the U.S.
The tables provide the weight per cubic foot as well as the weight per linear foot for various dimensions of each material.
Weights for plywood, OSB, and other engineered wood panels can be found here.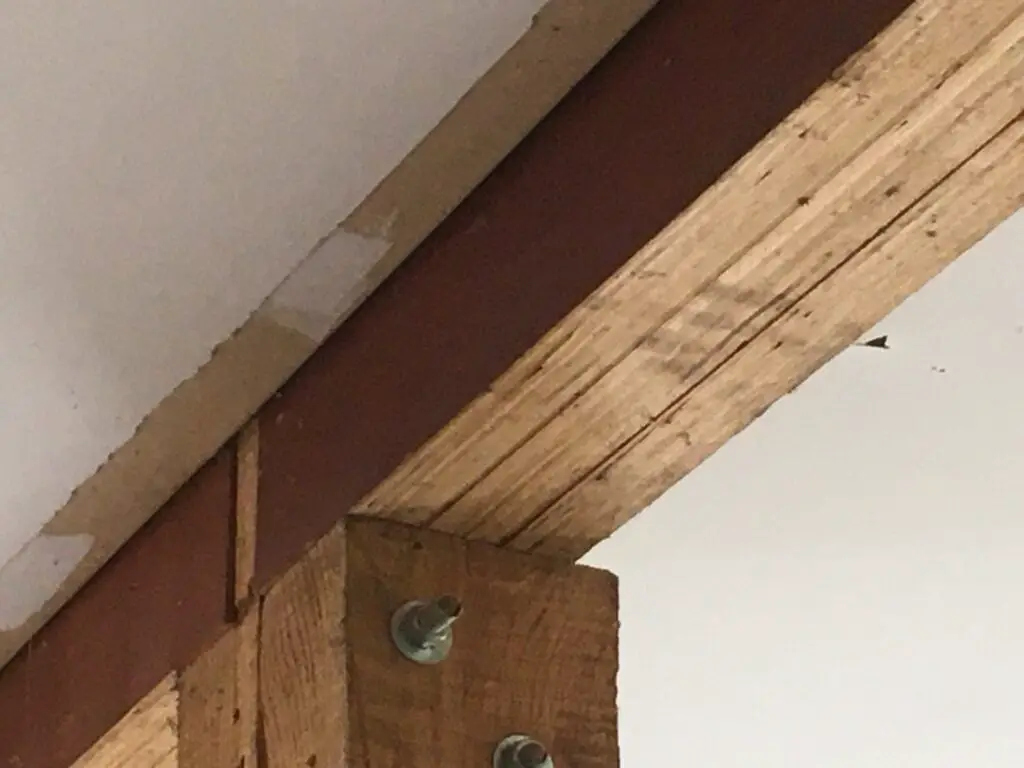 The weights we give were calculated using the product data sheets or manufacturer specifications of actual engineered wood products.
However, the values given in the tables are meant to provide a general idea of typical weights for engineered wood, and should not be used if precise values are needed for critical engineering calculations.
We also provide weights for dimensions (e.g., per 1/4 inch) that are not actual dimensions of any real LVL or glulam beam. We did this to make it easier to calculate weights for custom beam dimensions that don't have published standard weights and are not listed in the tables.
When precision is necessary, always refer to the specification sheet for the actual specific product you intend to use, or contact the technical department of the manufacturer.
Further Information about the Weight of Glulam and LVL Beams
To learn more about glulam and LVL, we highly recommend that you visit the website of the APA – the Engineered Wood Association. They have detailed information about engineered wood applications, beam sizing, design tables, product guides, and more.
You will have to create a free account with them in order to access the publications (in pdf) that contain the most detailed information.
Here is their main glulam page. They seem to be covering LVL on their Structural Composite Lumber page, which can be seen here.
Table of Glued Laminated Timber (Glulam) Weights
For technical data covering the physical properties of every sort (and size) of glulam beam, including weight per foot and allowable loads, see Glued Laminated Beam Design Tables.
Weight of Glulam (Glued Laminated Timber)

36 Pounds per Cubic Foot (lbs/ft3)

3 Pounds per Board Foot

Table Shows Weight per Linear Foot




for Standard Glulam Beam Widths (1 inch is not a standard width) and a Sample of Glulam Beam Depths

Glulam is not typically manufactured in widths or depths of less than 3 inches.




Weights for these dimensions are included to make it easier to calculate weights for custom beam sizes not included in the table.

Width of Beam




in Inches

Depth (Height) of Beam in Inches

↓

1/8 inch

1/4″

3/8″

1/2″

5/8″

3/4″

7/8″

1″

2″

3″

4″

5″

10″

20″

1 inch

0.03 lbs

0.07

0.09

0.13

0.16

0.19

0.22

0.25

0.5

0.75

1

1.25

2.5

5

3-1/8″

0.10 lbs

0.2

0.29

0.39

0.49

0.59

0.68

0.78

1.56

2.34

3.13

3.91

7.81

15.63

3-1/2″

0.11 lbs

0.22

0.33

0.44

0.55

0.66

0.77

0.88

1.75

2.63

3.5

4.38

8.75

17.5

5-1/8″

0.16 lbs

0.32

0.48

0.64

0.8

0.96

1.12

1.28

2.56

3.84

5.13

6.41

12.81

25.63

5-1/2″

0.17 lbs

0.34

0.52

0.69

0.86

1.03

1.2

1.38

2.75

4.13

5.5

6.88

13.75

27.5

6-3/4″

0.21 lbs

0.42

0.63

0.84

1.06

1.27

1.48

1.69

3.38

5.06

6.75

8.44

16.88

33.75

8-3/4″

0.27 lbs

0.55

0.82

1.09

1.37

1.64

1.91

2.19

4.38

6.56

8.75

10.94

21.88

43.75

10-3/4″

0.34 lbs

0.67

1.01

1.34

1.68

2.02

2.35

2.69

5.38

8.06

10.75

13.44

26.88

53.75
Table of Laminated Veneer Lumber (LVL) Weights
Weight of LVL (Laminated Veneer Lumber)

41 Pounds per Cubic Foot (41 lbs/ft3)

3.42 Pounds per Board Foot

Table Shows Weight per Linear Foot




for Standard LVL Beam Widths (1 inch is not a standard width) and a Sample of LVL Beam Depths

LVL is not manufactured in widths or depths of just 1 inch or just 1/4 inch. These are included to make it easier to calculate weights for custom-made, non-standard dimensions which are not included in the table.

Width in Inches

Depth (Height) in Inches

↓

1/4 inch

1″

7-1/4″

9-1/4″

9-1/2″

11-1/4″

11-7/8″

14″

16″

18″

24″

1 inch

0.07 lbs

0.29

2.06

2.63

2.71

3.2

3.38

3.99

4.56

5.13

6.83

1-3/4″

0.13 lbs

0.5

3.61

4.61

4.73

5.61

5.92

6.98

7.97

8.97

11.96

3-1/2″

0.25 lbs

1

7.23

9.22

9.47

11.21

11.83

13.95

15.94

17.94

23.92