Wood Shakes & Shingles: Useful Information Guide
By Roof Online Staff • Last updated January 27, 2023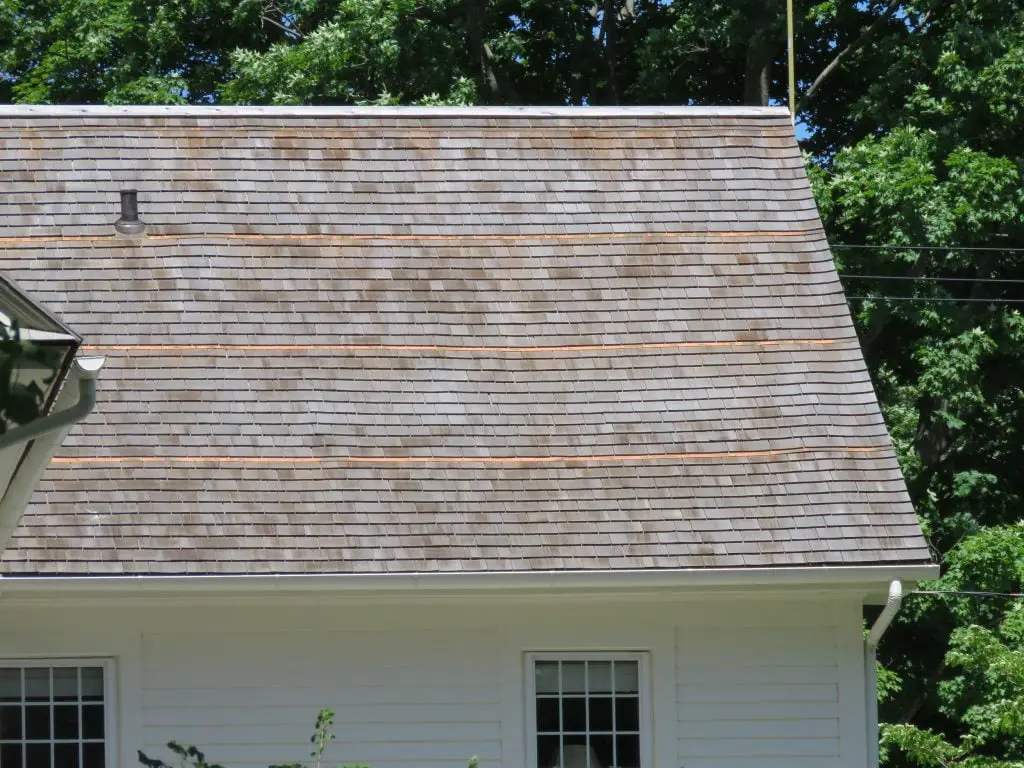 Wood Shakes & Shingles
People have been using wood roof shingles for hundreds of years, with evidence of their use dating back to medieval Europe. The use of wood shingles spread to North America with the earliest European settlers, where wood shakes and shingles became an extremely popular roofing material due to the cheap and abundant supply of trees.
Wood from several different tree species can and have been used to make shakes and shingles. These species include redwood, pine, cypress (cypress wood makes outstanding roof shingles), spruce, and fir.
The overwhelming majority of wood shingles today are made from cedar, and cedar is what most people think of when they hear "wood shingles".
Cedar shingles are likely to be the only type of wood shingles you'll find available; shingles made from other wood species are now extremely rare, and will almost always have to be custom ordered and custom made.
Cedar Shake & Shingle Roofing Overview
Cedar shakes and shingles are considered "traditional roofing materials" and have been used for centuries. Cedar is known for its natural resistance to decay and insect infestation, adding to its durability.
Cedar shakes are thicker and more irregular in shape than shingles, as a result of being split rather than sawn, although they are often sawn on one side to produce a flat underside. Cedar shingles are typically thinner, sawn on both sides, and have a more uniform shape.
Cedar shakes and shingles are prized for their natural beauty and unique look, and the color and grain of the wood can vary significantly from one piece to another.
Cedar shake and shingle roofing can be used on residential and commercial buildings in a variety of architectural styles, including traditional, rustic, and modern designs. It can also be stained or painted to match the color scheme of the building.
One minor advantage of cedar shake and shingle roofing is the insulation value it provides, which can help to reduce energy costs by keeping the building cooler in the summer and warmer in the winter. A wood shingle roof typically provides more than twice the R-value of an asphalt shingle roof.
Some jurisdictions ban or restrict wood shingles as a fire hazard. Despite the perceived risk, a "Class A" fire rating for wood shingle roofs can be achieved with fire-resistant treated shingles and fire-resistant underlayments.
Cedar shakes or shingles are relatively expensive compared to other roofing materials, and it can be difficult to find skilled installers in some areas. Cedar shake and shingle roofing may also need maintenance, including periodic cleaning and staining or painting to keep it performing well for its full potential lifespan.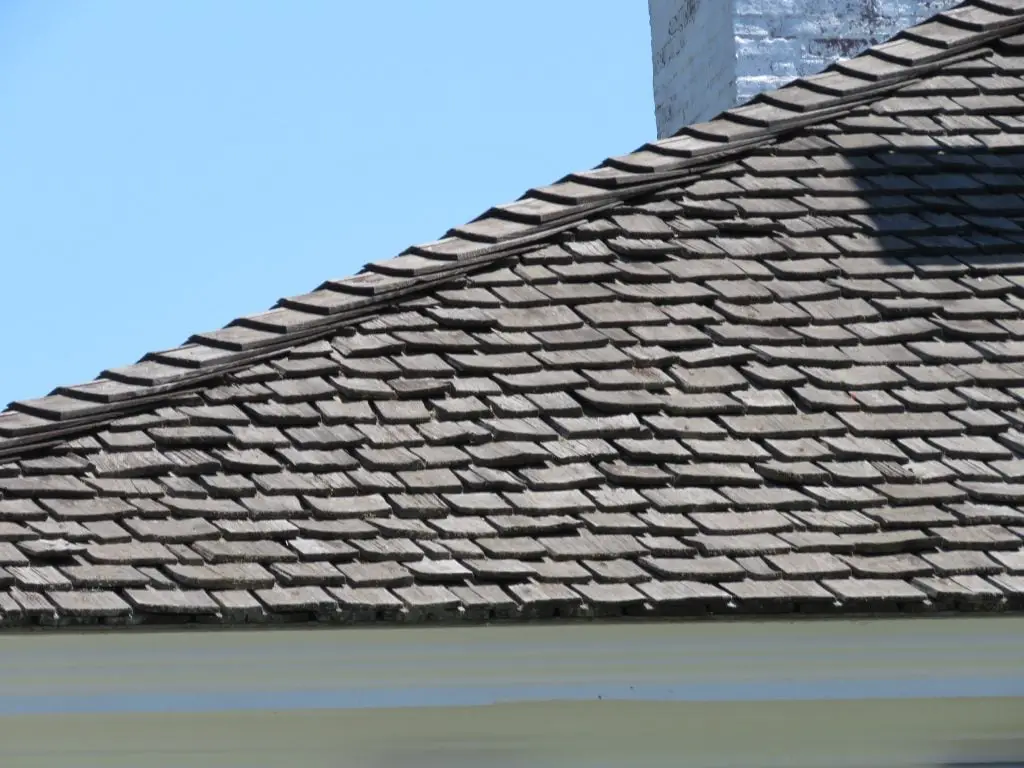 Pictures of Cedar Shake & Shingle Roofing
Related Pages
External Sources for Information on Wood Shakes and Shingles
1. General: "RICOWI Best Practices Guides for Roofing – Cedar Shingles and Shakes" is available on the website of the Insurance Institute for Business & Home Safety. ("RICOWI" stands for the Roofing Industry Committee on Weather Issues).
2. Building Codes: "R905.7 Wood Shingles" and "R905.8 Wood Shakes" from the 2018 International Residential Code. Available on the UpCodes website.
3. Building Codes: "1507.8 Wood Shingles" and "1507.9 Wood Shakes" from the 2018 International Building Code. Available on the UpCodes website.
4. Chemical Compatibility of Cedar: "Compatibility of Materials in Contact" shows which other construction materials should or should not be used with cedar. From the Continuous Group.
5. Historic Roofing: If you have a few minutes, take a look at this video where traditional tools are used to produce wood shakes. It's a pleasure to watch: "Making Roof Shingles With Hand Tools".
6. Inspection of Wood Shingle and Shake Roofs: "Mastering Roof Inspections: Wood Shakes and Shingles, Part 1" at the International Association of Certified Home Inspectors website is worth taking a look at. This guide has six more parts, which can be accessed from this page.
7. Maintenance and Cleaning:  "Care and Maintenance of Wood Shingle and Shake Roofs" goes into a decent amount of detail. The article can be found on the website of Oregon State University's Oregon Wood Innovation Center.
8. Technical: Installation Guide: see this roofing manual for access to extensive construction details that show what's going on (or should be going on) in a wood shake or shingle roof. Provided by the Cedar Shake and Shingle Bureau.
9. Technical: "Installation, Care, and Maintenance of Wood Shake and Shingle Roofs" is a good technical introduction to wood shakes and shingles. Produced by a team of experts for the US Dept. of Agriculture's Forest Products Laboratory. 
10. Technical: See this product data sheet for the technical characteristics of cedar shakes and shingles at the website of the Cedar Shake and Shingle Bureau. This is only an example and other products and brands may be different.
11. Technical: "The Repair and Replacement of Historic Wooden Shingle Roofs" is an excellent article available on the US National Park Service's Technical Preservation Services website.