64 Types of Roofing • Complete List of Roofing Materials
By Roof Online Staff • Last updated April 8, 2023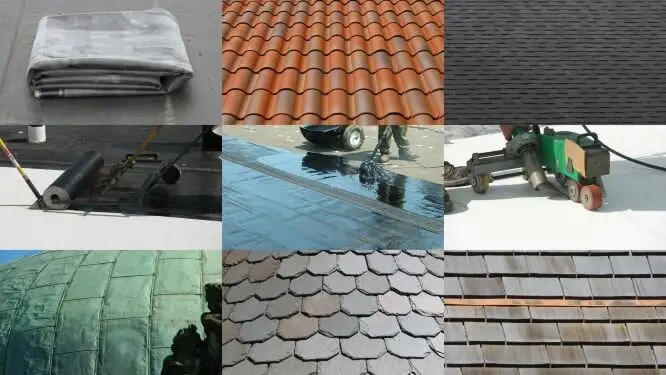 Table of Contents
Types of Roofing: Introduction
This page provides an overview and a brief introduction to all the various types of roofing used on buildings in the world today.
By "types of roofing" we don't just mean the primary types of roofing materials themselves, but also the different ways the roofing materials can be put together to form the roof, the way they function to keep water out, and all the associated traditions, techniques, and performance attributes.
This is important to note because otherwise it is hard to be clear when talking about roofing types.
On the internet you can find many lists of the different types of roofing which are really just lists of primary roofing materials. We don't think that's really accurate, because the same material can fall under more than one roofing category. A thorough "types of roofing" list should include roofing categories and roofing system types as well as roofing materials.
"Low-slope roofing" includes more than a dozen different material types, and a specific material, let's say copper, can be used in both low-slope and steep slope roofing.
Copper can be used in low-slope roofing, steep-slope roofing, shingle roofing, standing seam metal panel roofing, and flat seam metal panel roofing.
Talking about "copper roofing" in general is also valid, because copper will always behave in certain ways no matter what type of roofing it's used for.
Saying "copper roofing", though, will certainly invite the question, "What type of copper roofing?".
We list all the types of roofing you'd be likely to hear a roofing industry professional refer to. We've tried to break it all down as far as we could.
We hope you like our list!
Types of Roofing: Pitched or Steep-Slope Roofing
This is the sort of roofing you find on a pitched roof.
For this type of roofing to function properly, the roof slope must normally be 3-in-12 or greater.
Steep-slope roofing does not form a continuous waterproof membrane and it depends on gravity to rapidly shed water.
The roofing material on a steep-slope roof typically takes the form of overlapping units which are individually fastened to the roof deck or sheathing.
Types of Roofing: Shingles
Shingles can be characterized as units of roofing material which are flat, relatively small, and designed to be installed in an overlapping pattern, most often in horizontal courses.
While shingles can, strictly speaking, be made out of clay or concrete, shingles made from those materials are conventionally referred to as "tiles".
A 100 sq. ft. roof area will require around 90 individual asphalt shingles, and as many as 400 wood shingles.
Asphalt Shingles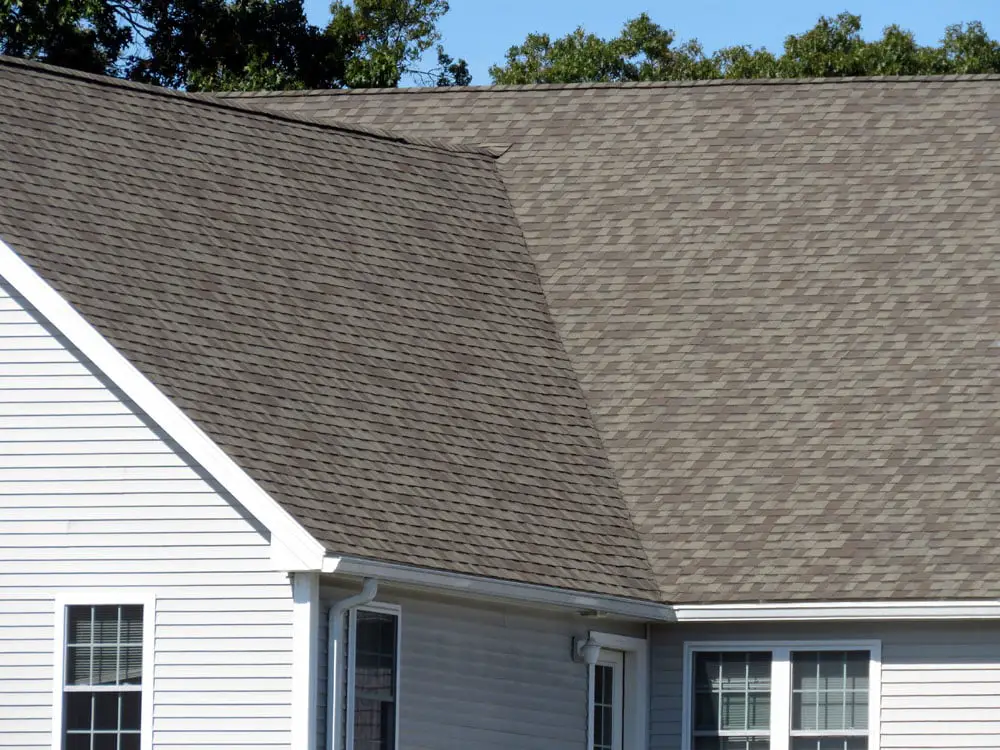 First manufactured in the early 1900's after someone had the bright idea to cut up asphalt roll roofing into shingle-sized pieces, asphalt shingle roofs are now the most popular type of steep-slope roofing in North America by far.
Attractive due to their light weight, good water-resistance, and most of all their low cost, these shingles are produced in a huge variety of colors, styles, and thicknesses.
Today, asphalt shingles are formed by coating a fiberglass reinforcement mat with an asphalt-based mixture and embedding a protective layer of ceramic-coated mineral granules on the top side of the shingle to prevent UV rays from damaging the asphalt.
Asphalt shingle roofs can perform anywhere from 10 to 50 years, depending on the thickness and quality of the material.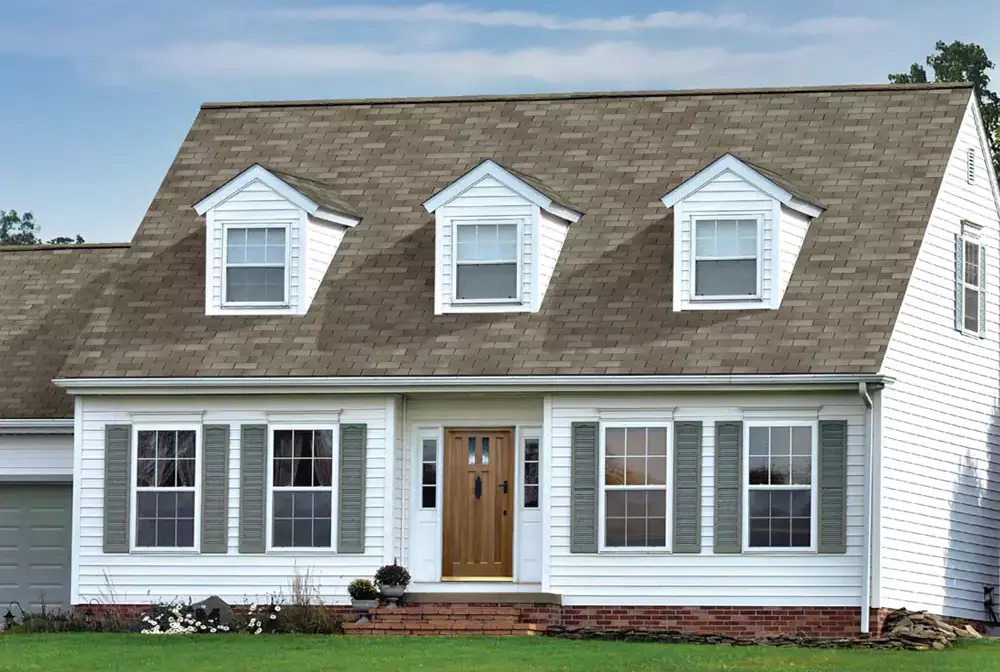 Architectural (Dimensional or Laminate) Shingles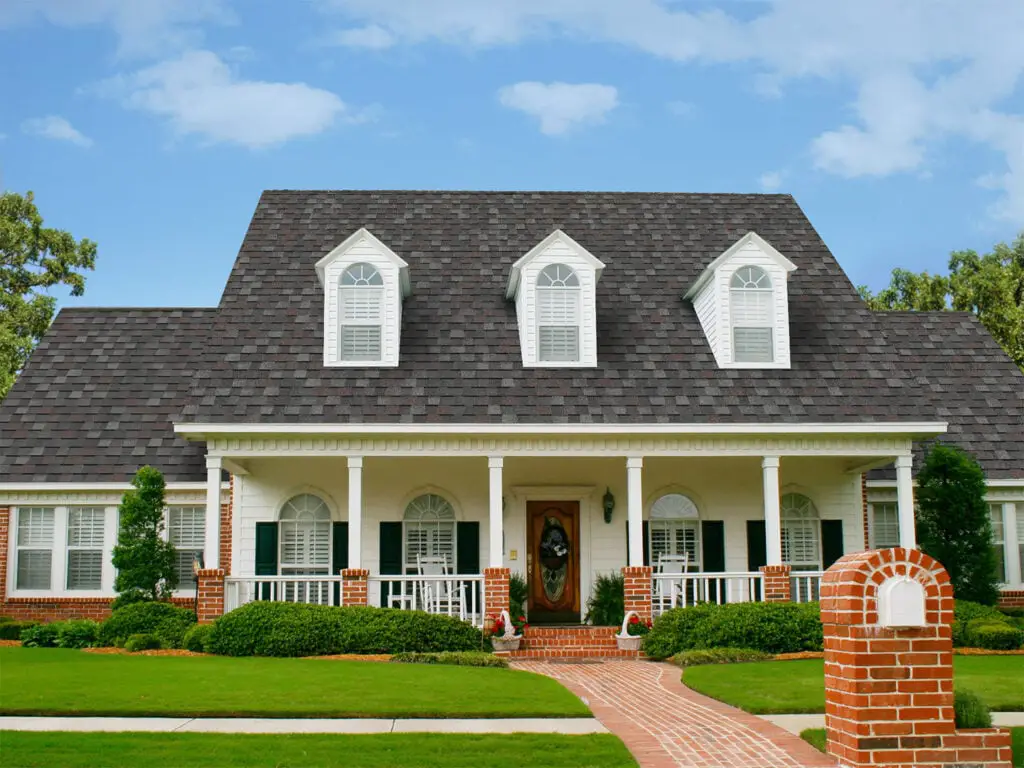 Premium or Luxury Asphalt Shingles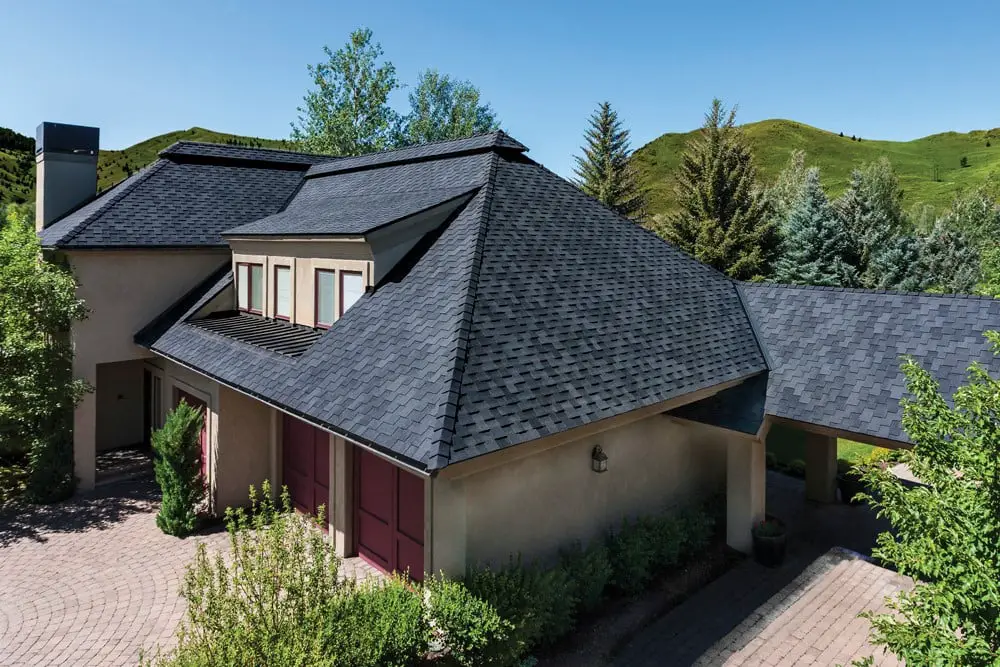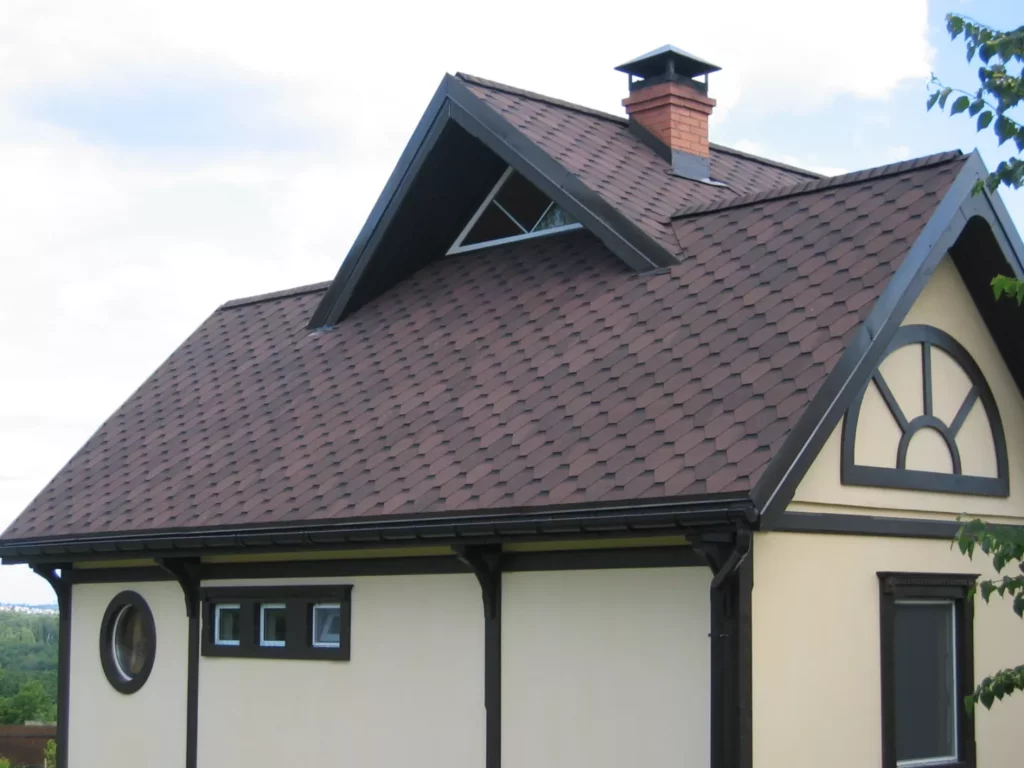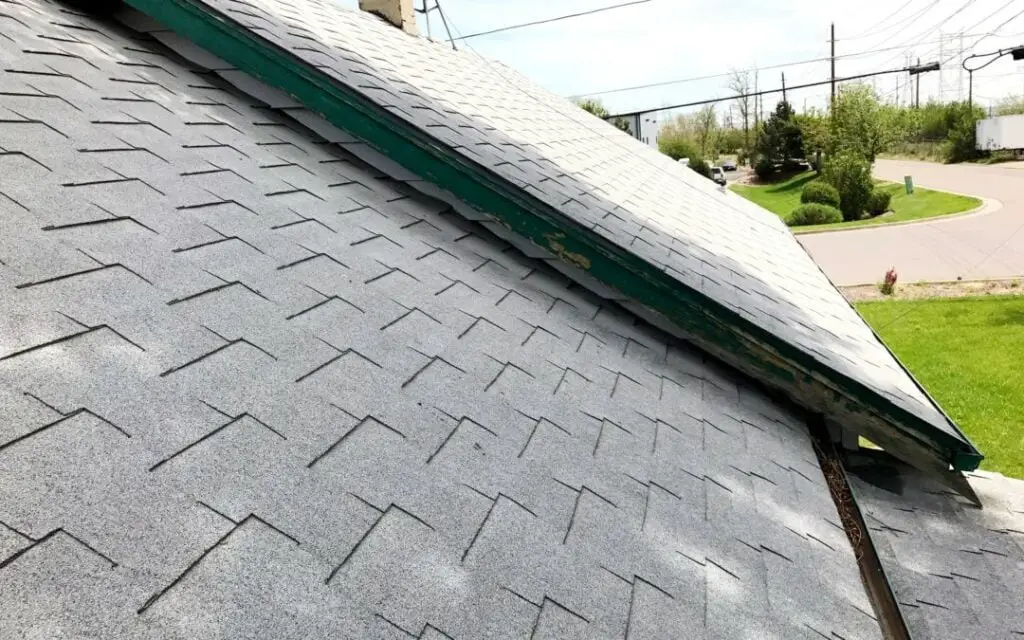 Related Pages:
Fiber Cement Shakes and Shingles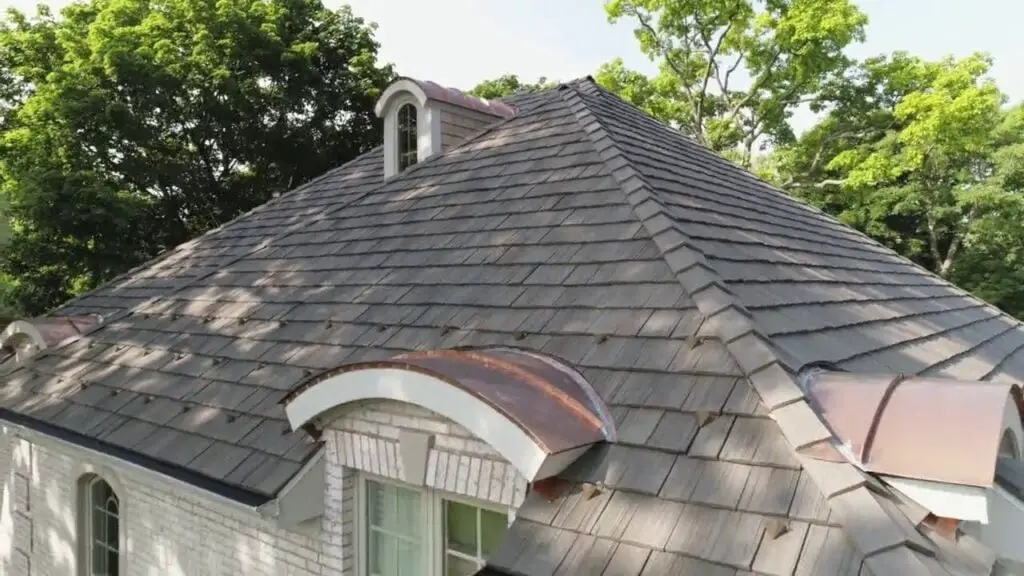 In use as a roofing material for about a century, fiber cement is made by using fibers to reinforce Portland cement.
Originally, these fibers were asbestos, but fiber cement shingles today are manufactured with cellulose and synthetic fibers.
These shingles are durable, fire-resistant, and relatively light-weight. They can be colored and formed to look like slate or wood shingles.
They are lighter and more fragile than clay or concrete, but they can last up to 50 years.
Because they last so long, old fiber cement shingles in place today may contain asbestos, so appropriate care should be taken when cutting or removing them.
Asbestos Fiber Cement Shingles
Cellulose Fiber Cement Shingles
Metal Shingles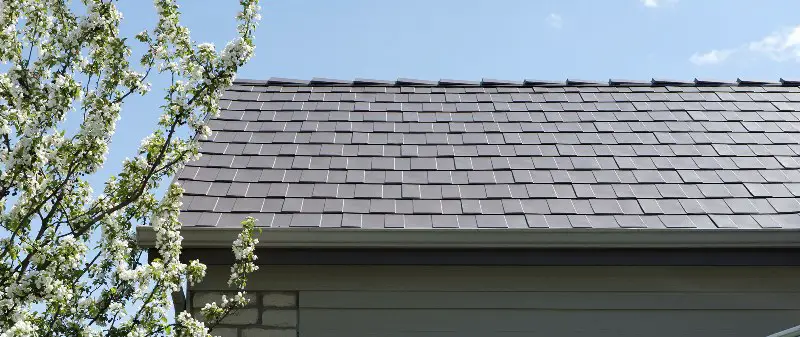 Most metal shingles could be better described as small metal panels.
Instead of being individually fastened to the roof deck and overlapping like shingles do, they have interlocking edges and are held in place with clips. The clips are fastened to the deck and usually secure two adjacent metal shingles.
These sheet metal shingles tend to be the size of a 3-tab strip shingle, and are usually formed to mimic the texture of slate or wood shingles.
They are light-weight, come in practically any color, and can last 50 years or more.
Less common are metal shingles which function like real shingles: small flat pieces fastened individually through pre-drilled holes and installed in overlapping rows.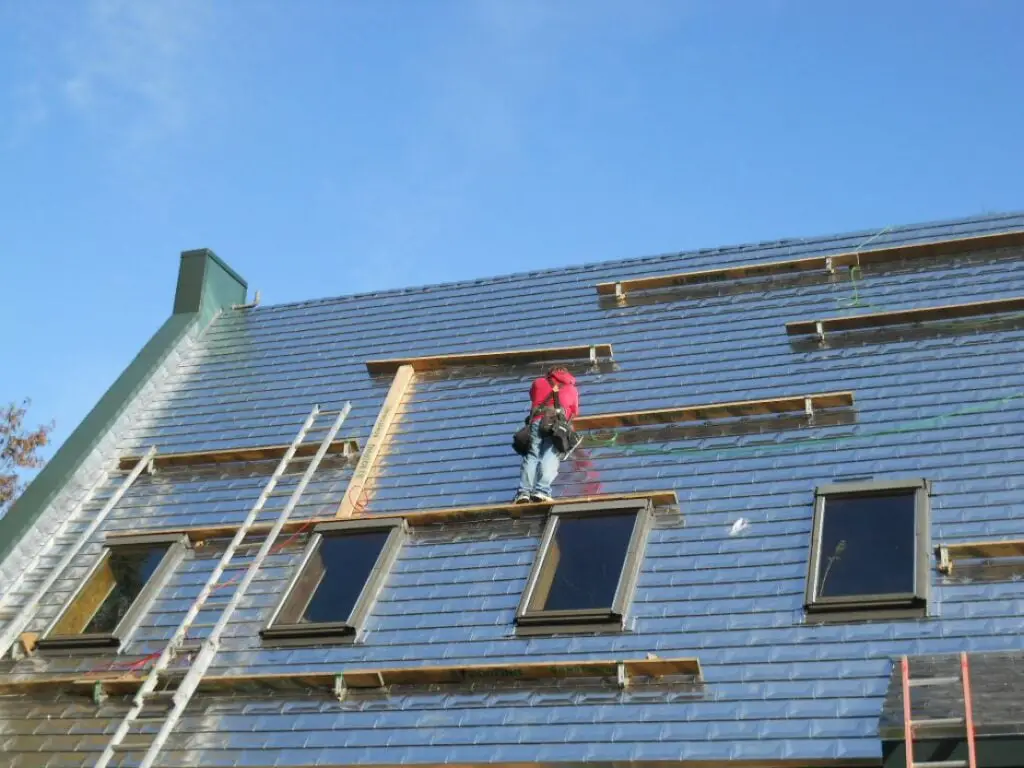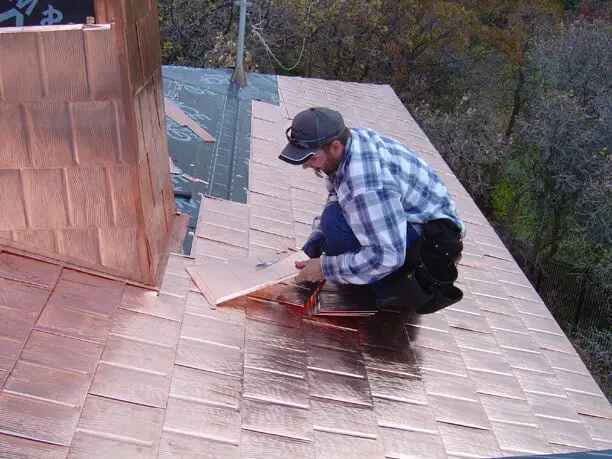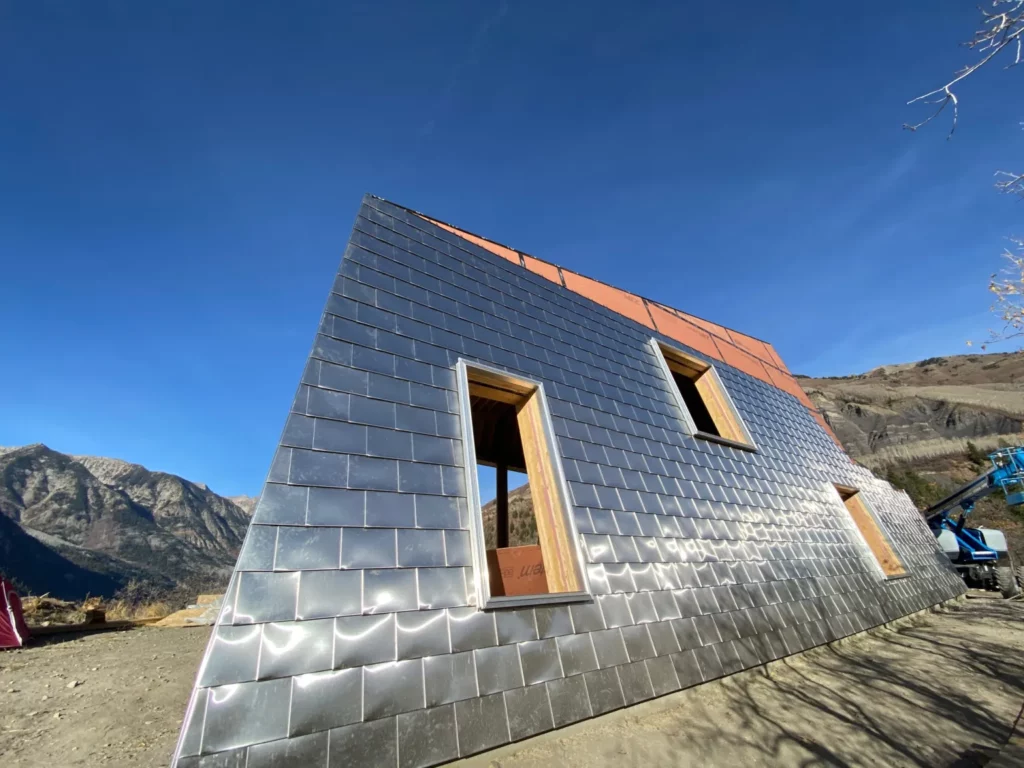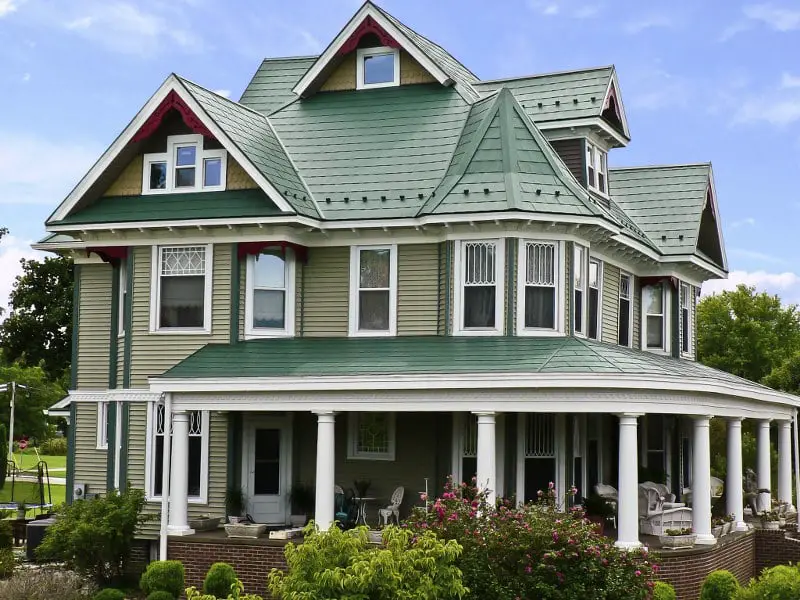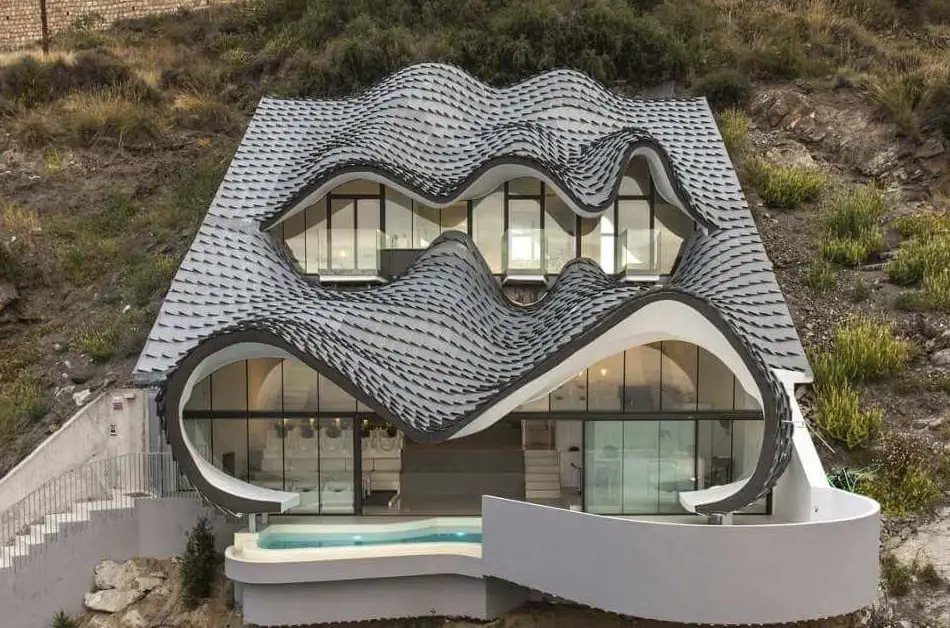 Slate Roofing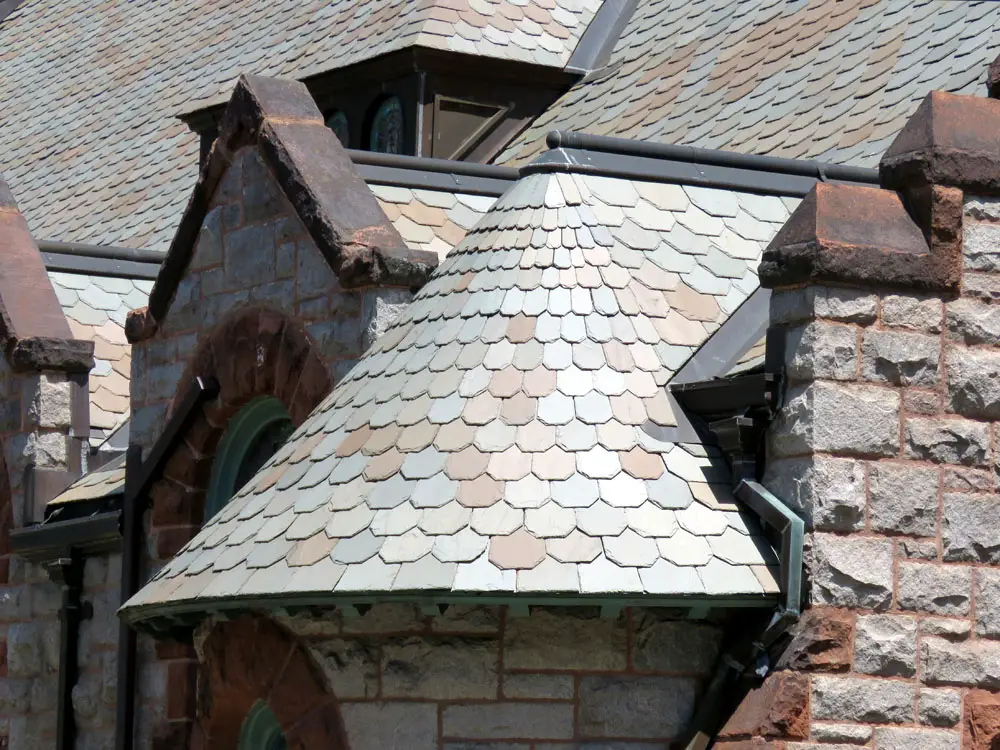 Prized for its stately appearance, slate is heavy, very long-lasting, and expensive.
It's often found on older, traditional government and university buildings, as it lends an air of permanence and seriousness to a structure. Some of those slate roofs may well be original, as thick, high-quality slate roofing can last for centuries.
Slate is a natural stone material which comes from a quarry. It is often gray, but available in many colors, including red and green, depending on the quarry.
Most houses designed with asphalt shingles in mind will not be able to support the weight of a good slate roof, so if you're considering slate, you'll need to look into this.
Slate installation requires experience and precision; slate roofs should be installed by slate roofing specialists.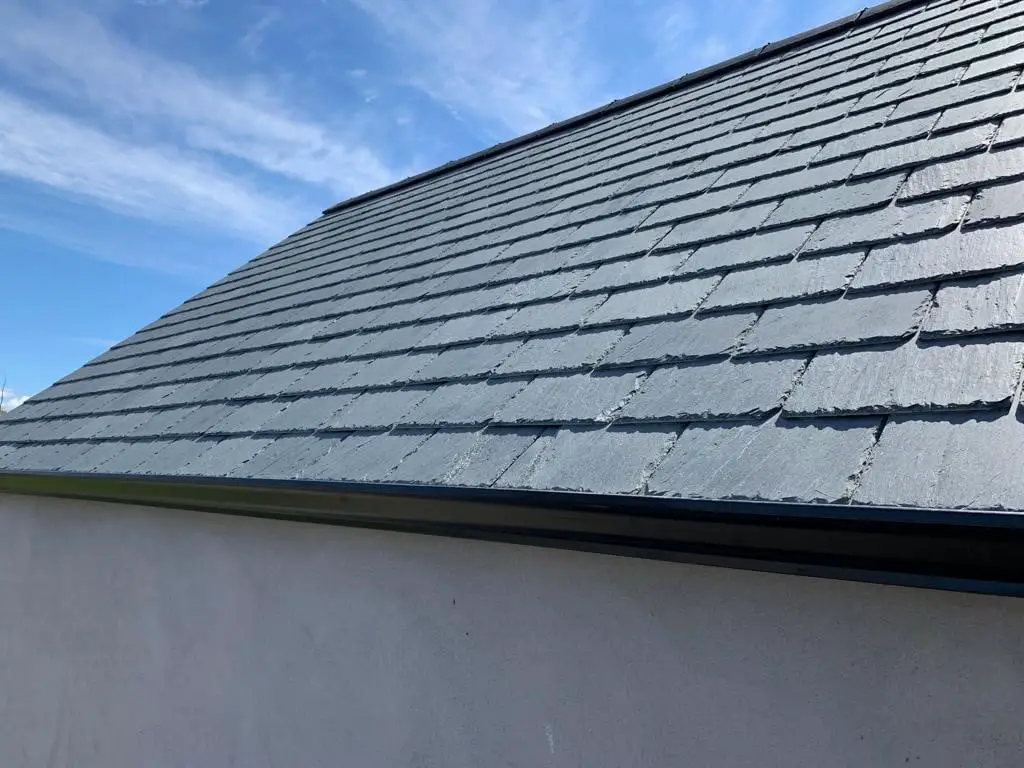 Related Pages:
Stone Shingles (Other than Slate)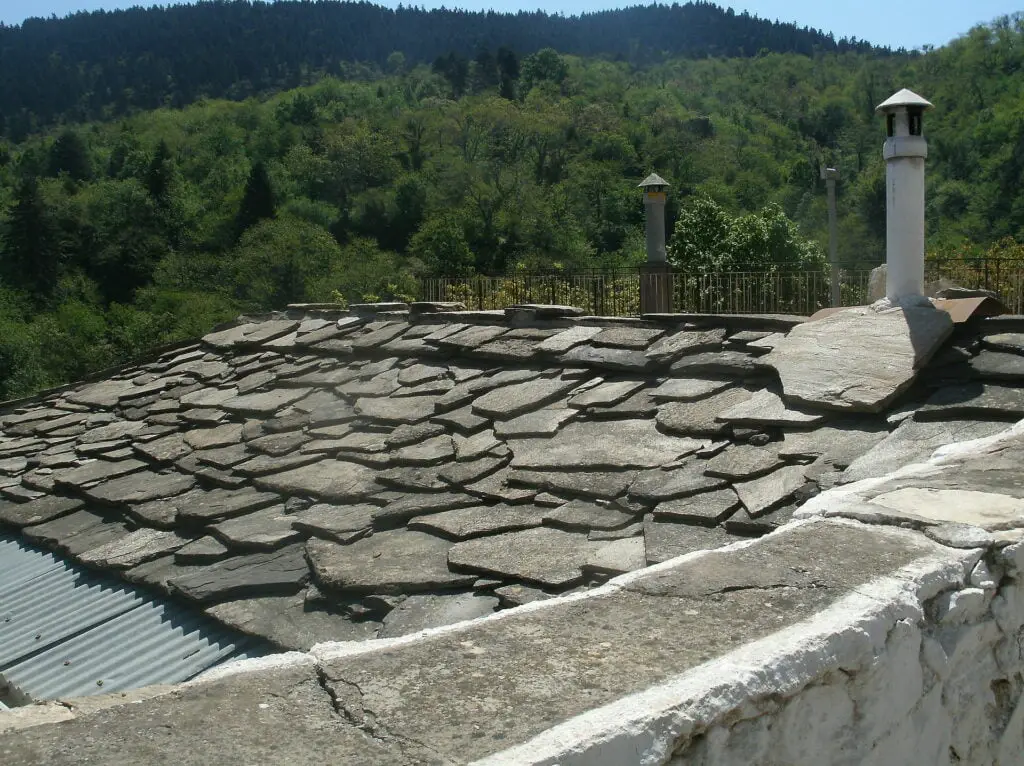 Synthetic Composite Shingles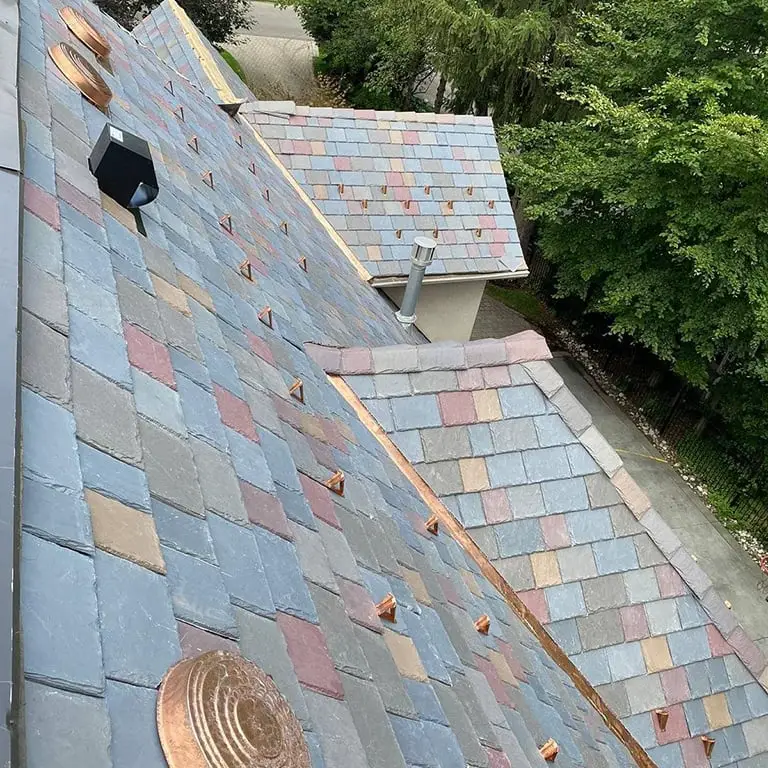 Called "composite shingles" by manufacturers, synthetic shingles are also known as "synthetic slate", "artificial slate", "synthetic shake", and other similar names.
These products are basically plastic shingles or tiles, often made with a significant amount of recycled material. They are manufactured via injection molding, using the roofing material (slate, tile) that the finished composite product will resemble to form the molds.
Material warranties of up to 50 years are common.
Related Pages:
Wood Shakes and Shingles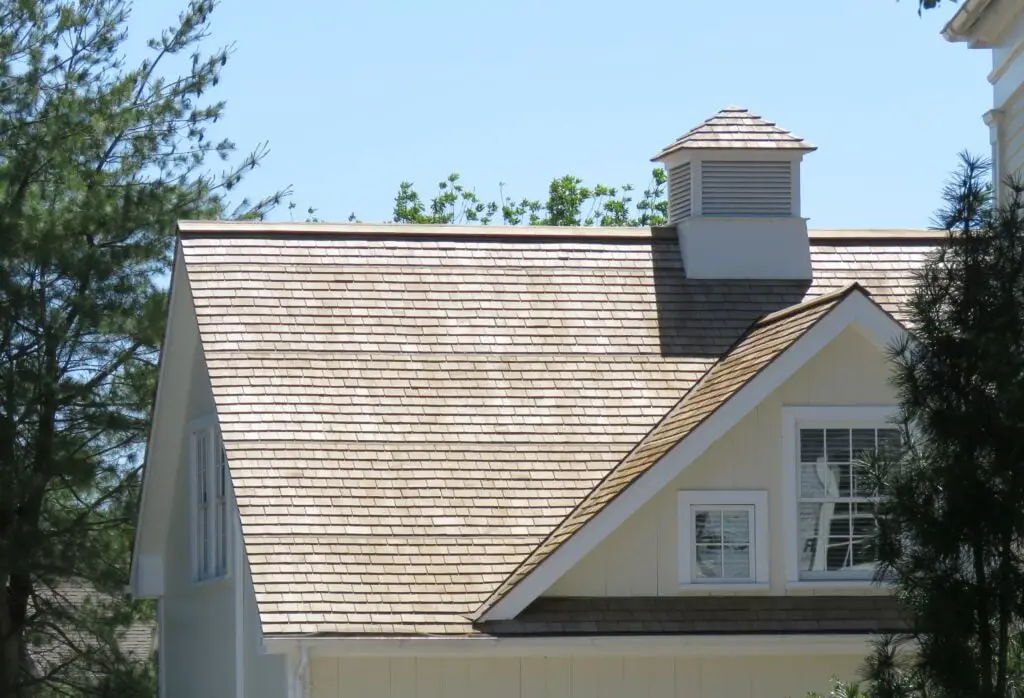 Many different wood species make good shingles, including white cypress and redwood, but cedar makes up the overwhelming majority of wood shingles manufactured today. Cedar is usually what people think of when they think of wood shingles.
Although certain jurisdictions ban or restrict wood shingles as a fire hazard, "Class A" fire ratings for wood shingle roofs can be achieved with fire-resistant treated shingles and fire-resistant underlayments.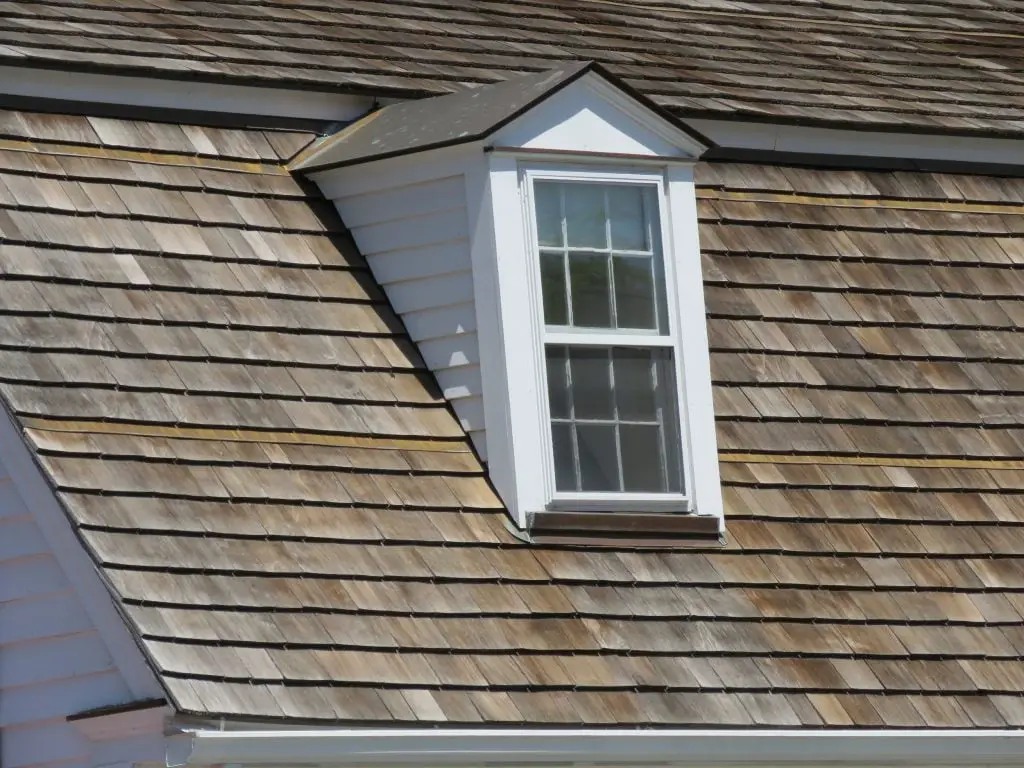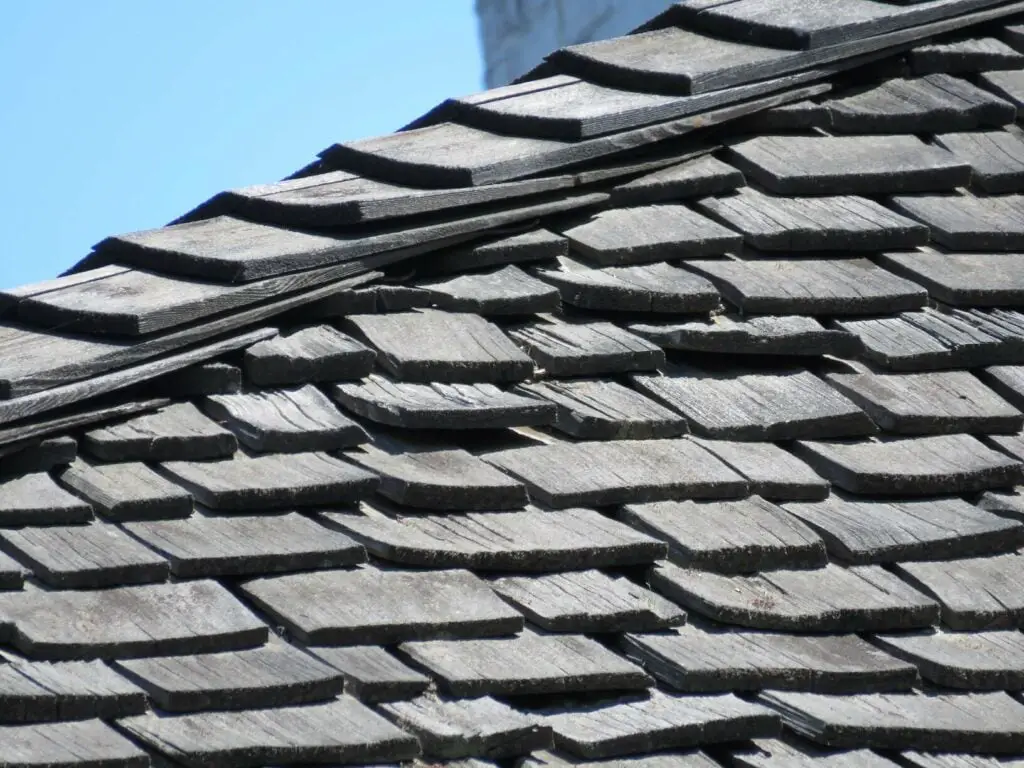 Related Pages:
Types of Roofing: Roof Tiles
A roof tile is an individual roofing unit made out of fired clay or another material that resembles fired clay tile in appearance and strength (mainly concrete).
Some metal panels are manufactured to look like clay tile and are called "metal tiles", but they are much larger, thinner, and structurally weaker than clay tile.
Roof tile is designed to be installed in overlapping horizontal courses like shingles. While tiles can be flat and installed essentially like shingles, they more commonly have curved profiles, and fit together so that the bottom, cupped section carries water off the roof, and the top, arched section covers the joint between two tiles and keeps water out.
Roof tile was one of the very first manufactured roofing materials, known to be in use at least 4,500 years ago.
Clay Tiles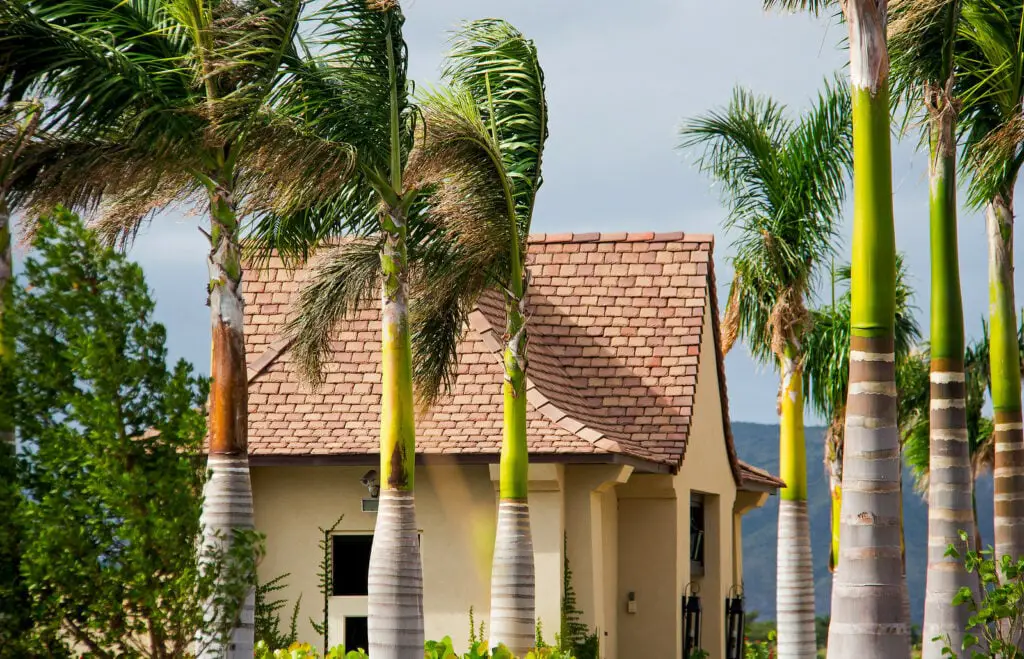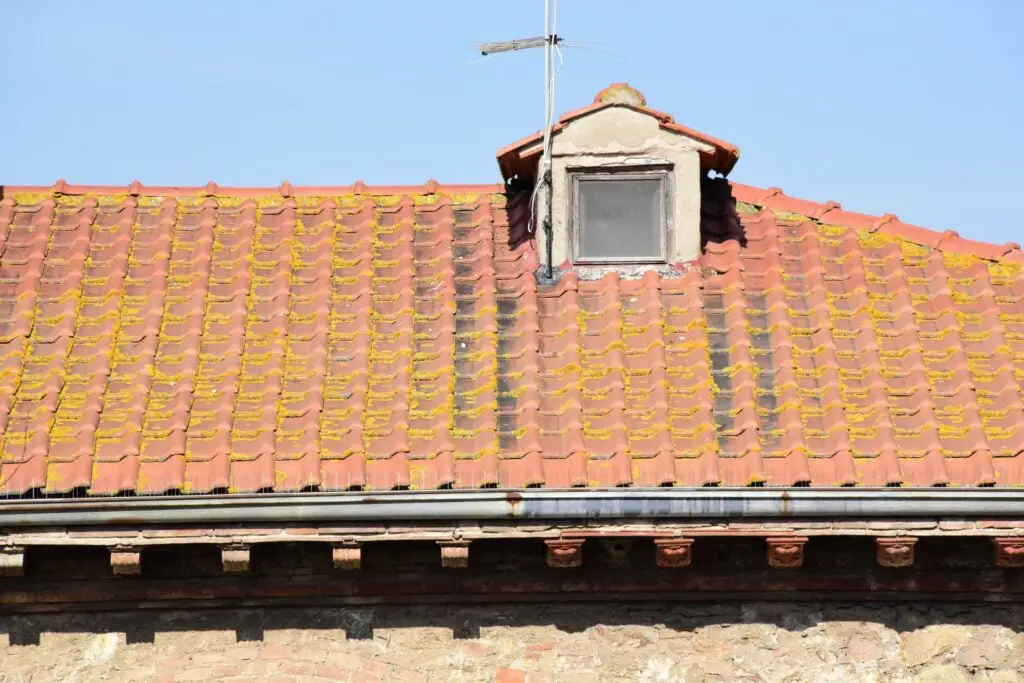 Two-Piece (Barrel, Mission)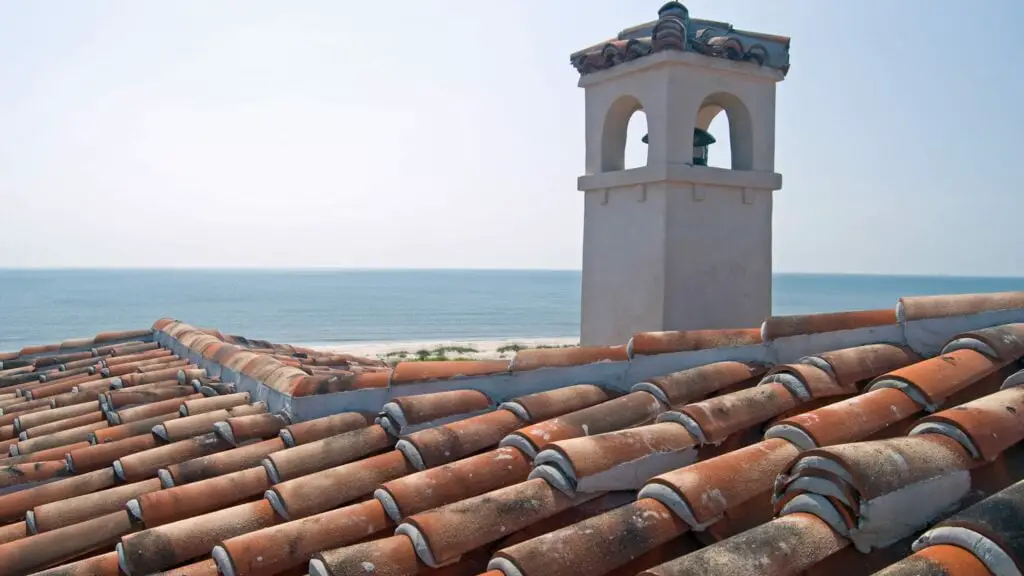 Related Pages:
Concrete Tiles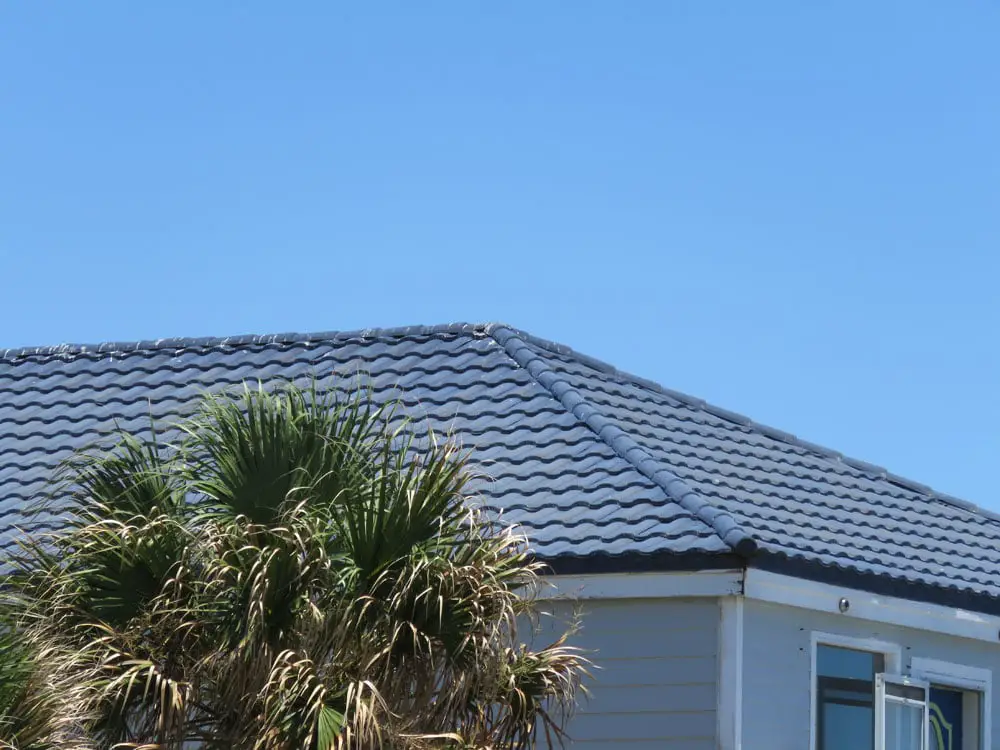 In the 19th century, advances in concrete production allowed for the mass production of concrete roof tiles, and they soon became a popular and cheaper alternative to clay tile.
In the 20th century, improvements in design and production techniques led to the creation of more aesthetically pleasing and longer-lasting concrete roof tiles.
Today, concrete tile is a common choice for residential and commercial buildings where tile roofing is prevalent, offering durability, fire resistance, and a range of design options.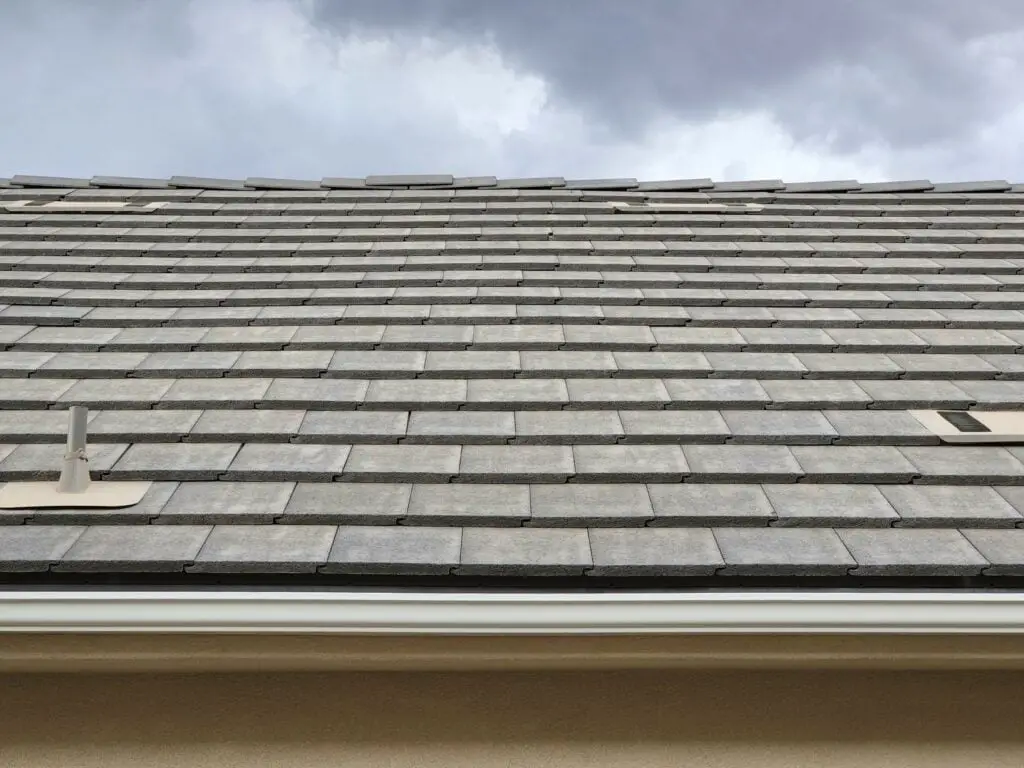 Lightweight Concrete Roof Tiles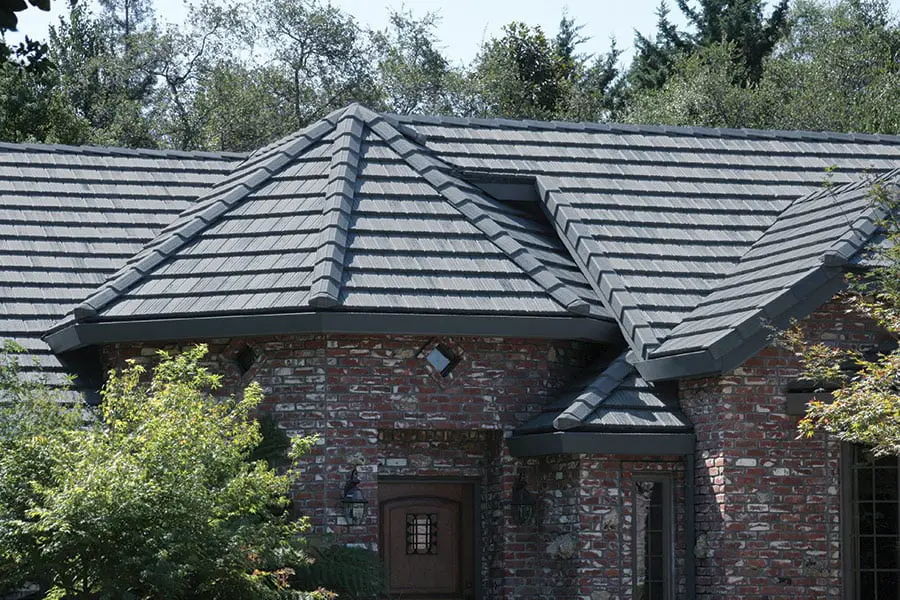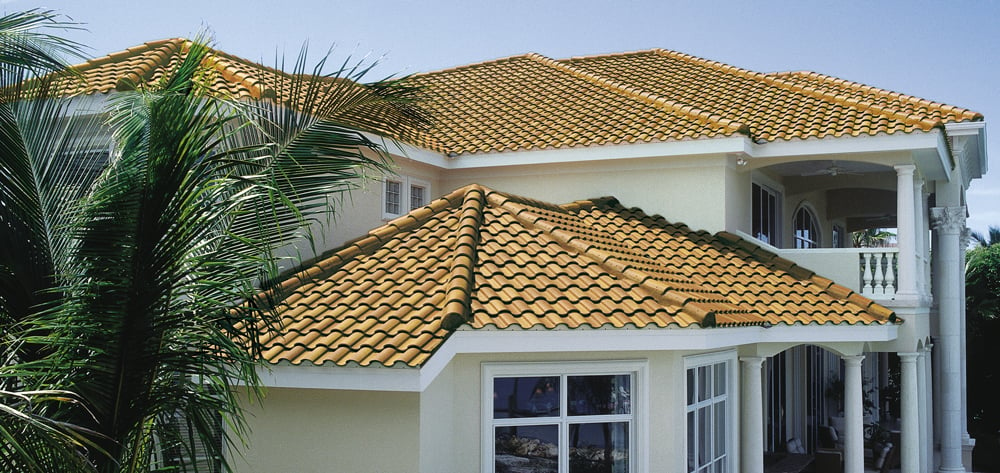 Related Pages:
Solar Tiles

Related Pages:
Synthetic Tiles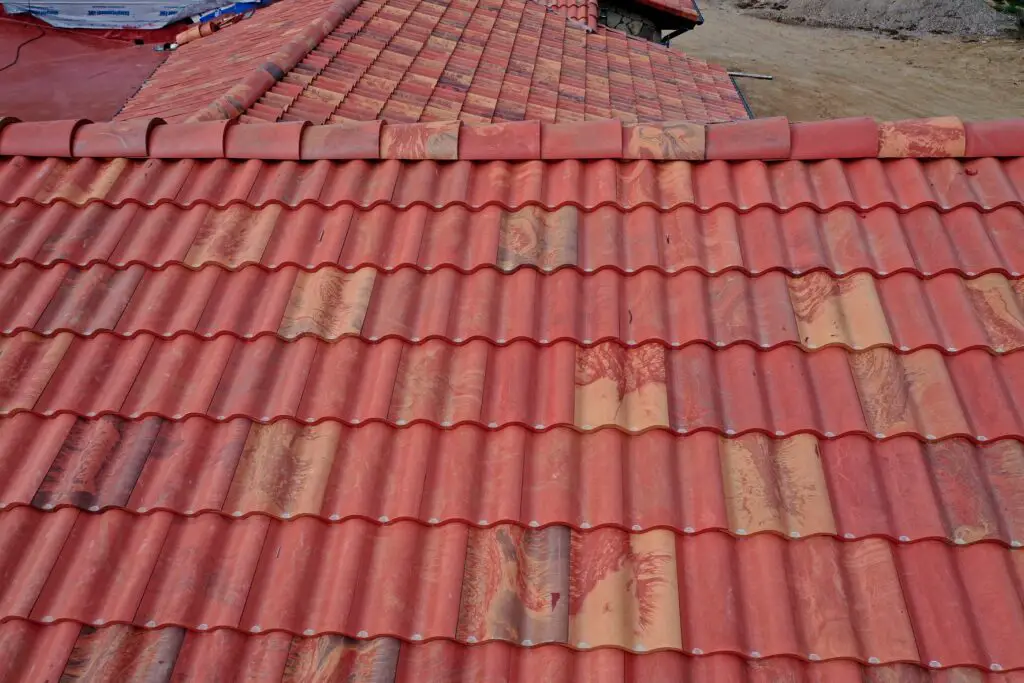 Types of Roofing: Roof Panels
Essentially, a roofing panel is a large, rigid or semi-rigid roofing unit formed from some type of sheet material.
Panels can be flat, corrugated, or shaped to resemble shingles or tiles. They can be installed with interlocking seams or joints, or they can overlap to shed water like big roof tiles.
Many simple panels are intended for use on canopies, pavilions, and outbuildings like barns or sheds, where minor water intrusion is not considered much of an issue.
High-quality metal panels for residential or commercial roofs consistently outlast and outperform cheaper roofing materials such as asphalt shingles.
Standing Seam Metal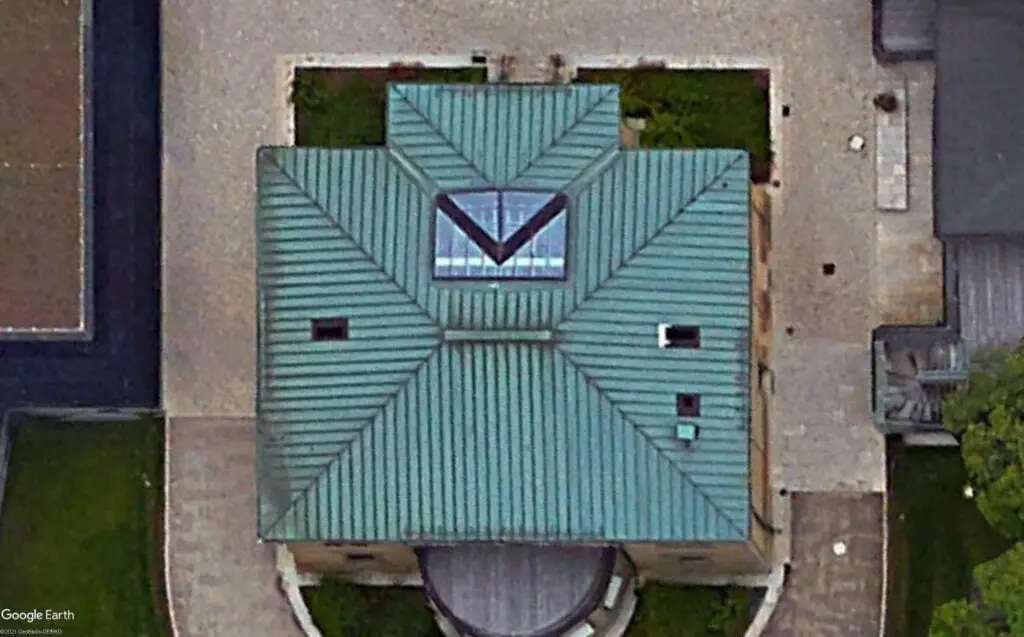 Related Pages: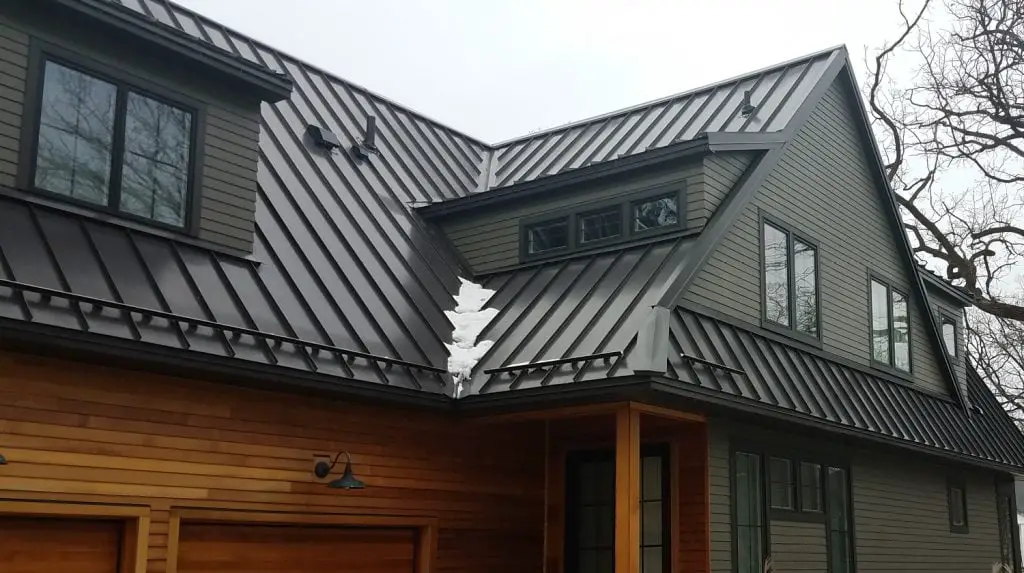 Flat Seam Metal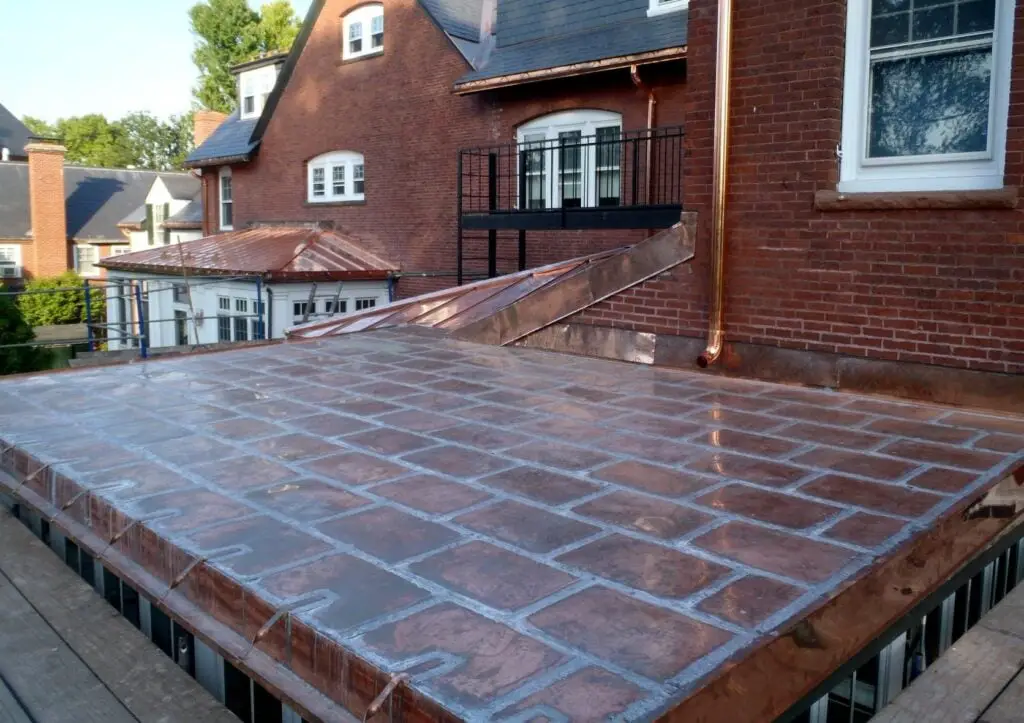 Corrugated Asphalt Panels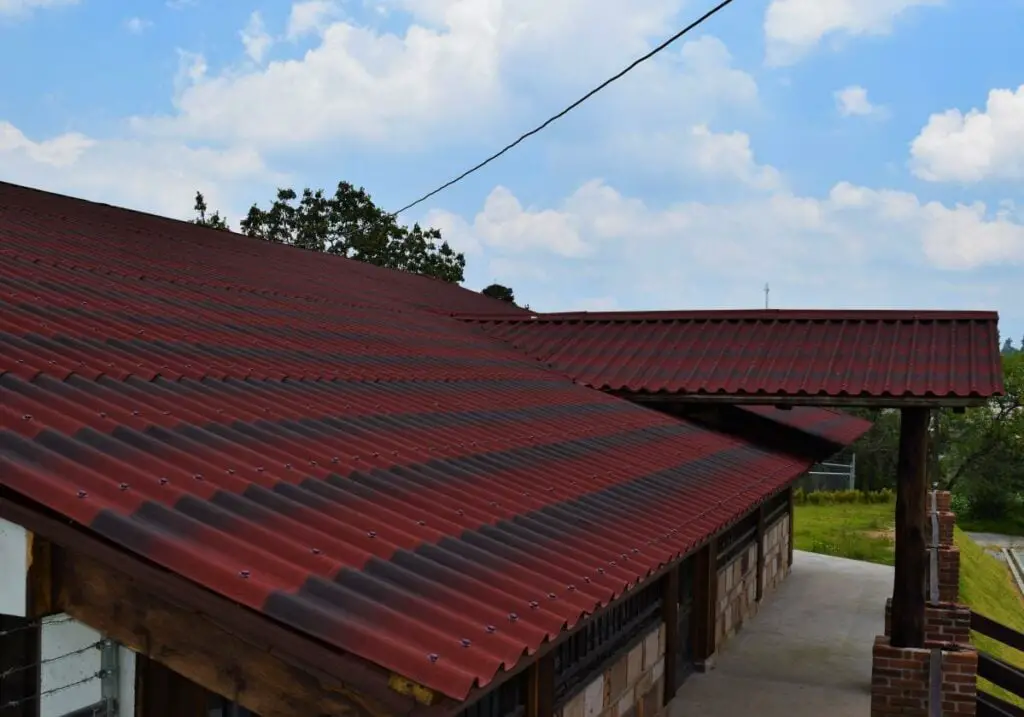 Corrugated Fiber Cement Panels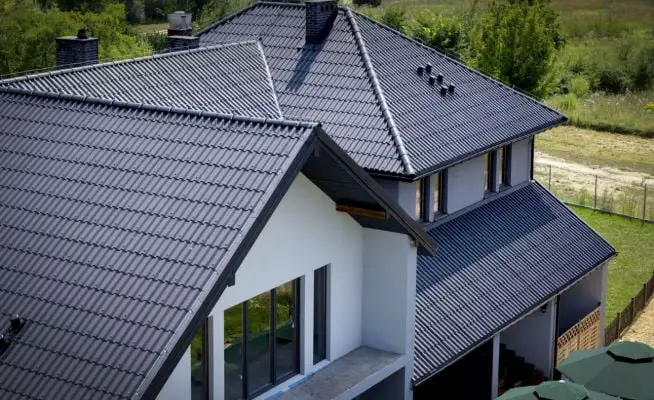 Corrugated Fiberglass Panels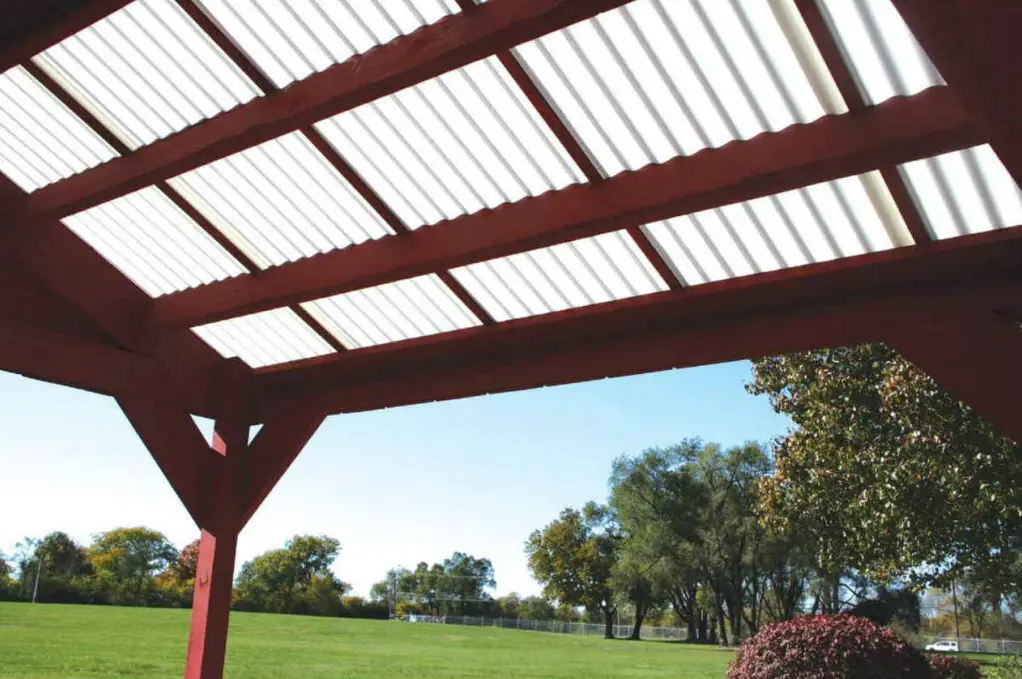 Corrugated Metal Panels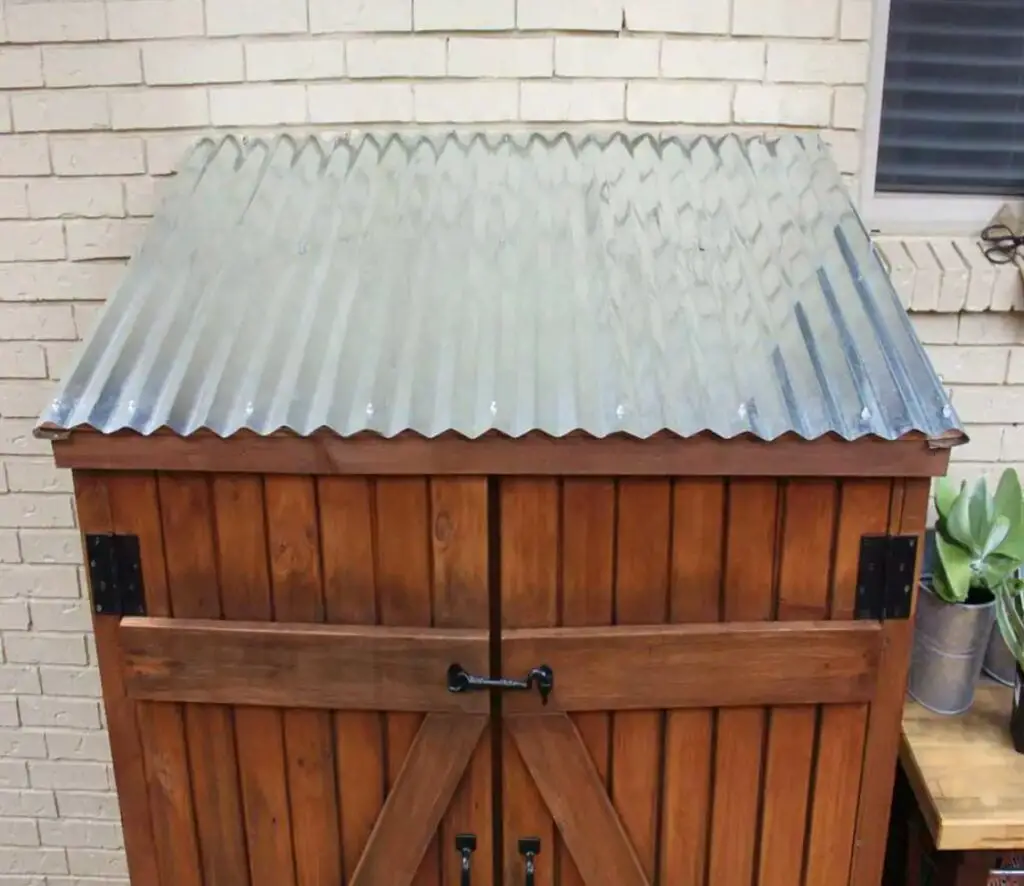 Corrugated PVC Panels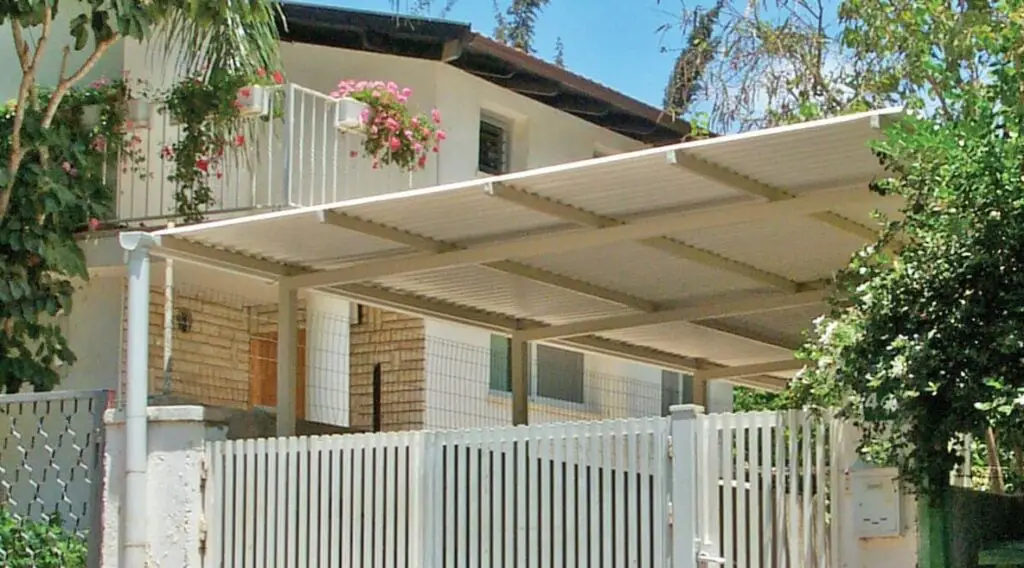 Insulated Metal Roof Panels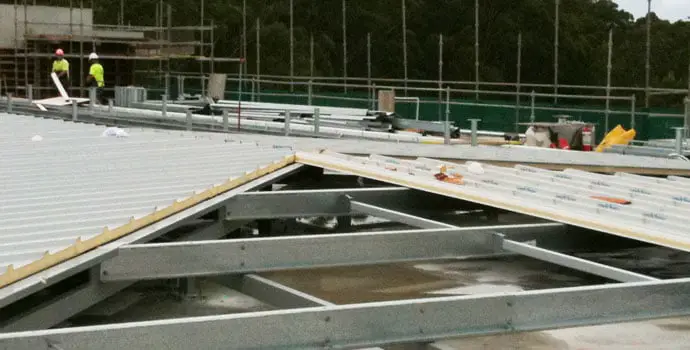 Metal Tile Roofing Panels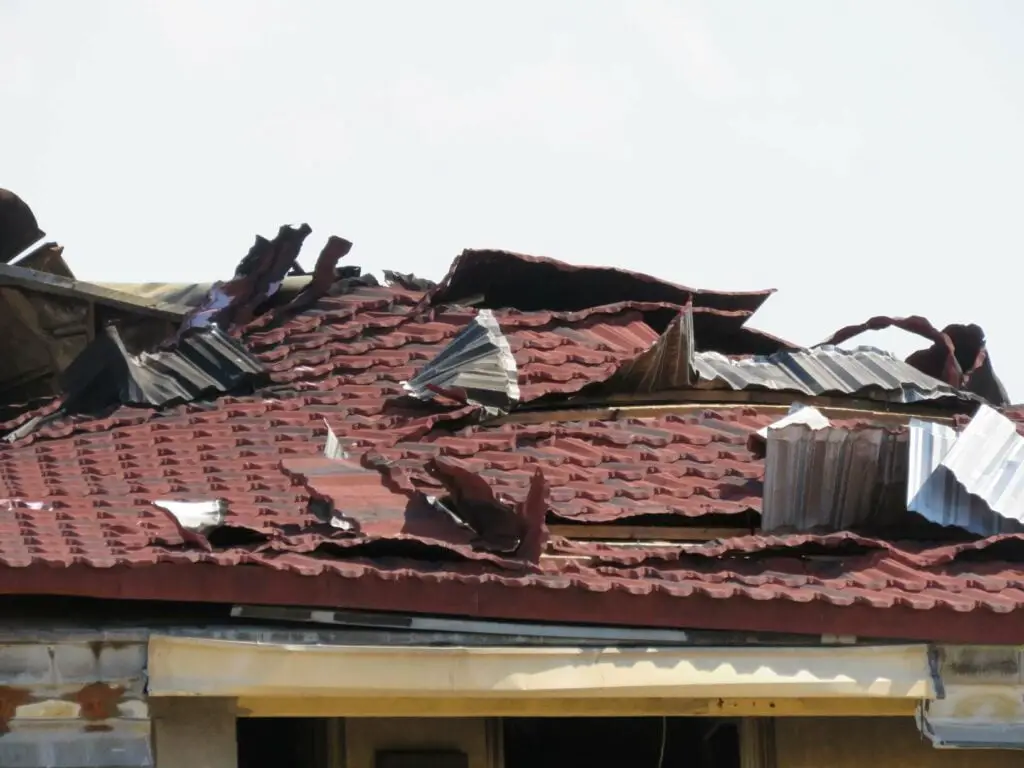 Related Pages:
Polycarbonate Roof Panels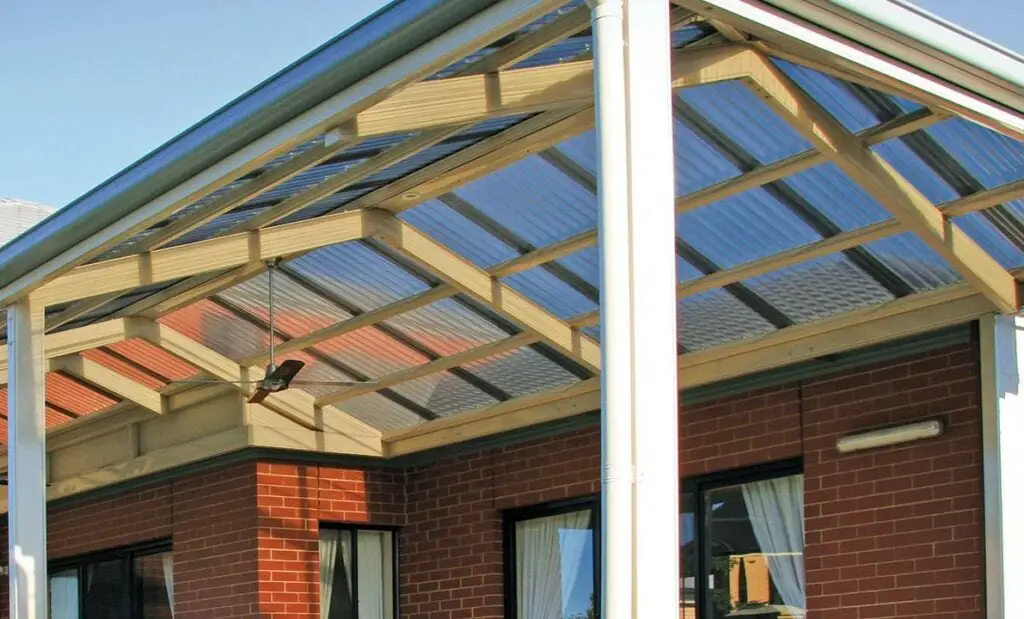 Ribbed Metal Panels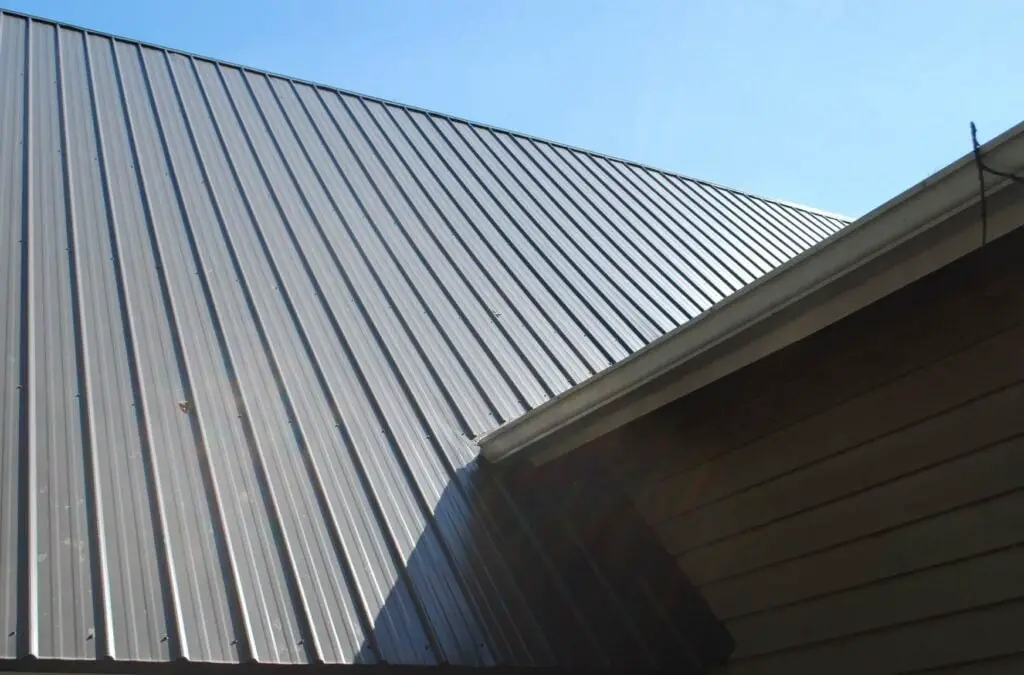 Stone-Coated Steel Panels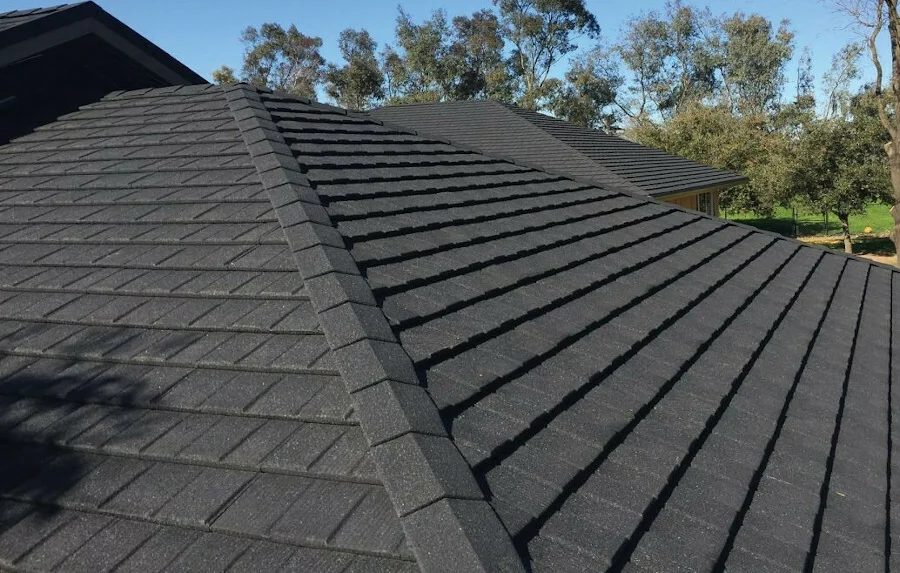 Stone-coated steel roof panels are made from sheet steel which is cut and shaped and then coated with stone granules.
The steel sheets can be stamped in a variety of shapes. During the stone-coating process, a wide variety of colors and textures can be created. These styles can simulate the look of traditional roofing materials like asphalt shingles, cedar shakes, and clay roofing tile.
The stone coating also provides a long-lasting protective layer over the steel.
"Tin" Roofs
Tinplate is a type of steel sheet that was widely used starting in the mid-19th century. Originally made of wrought iron, the sheets are coated with a thin layer of tin to prevent rusting and enhance its durability.
Tinplate was the first mass-produced form of metal roofing, seeing a huge surge in popularity in the second half of the 19th century and remaining popular until asphalt shingles began to catch on in the 1920s and '30s.
But the term "tin roof" stuck, and it's now colloquially used for just about any roof made with steel or aluminum panels, particularly unpainted galvanized steel, which uses zinc, not tin, to prevent corrosion.
The odds are extremely low that any roof you might see uses any actual tin.
Types of Roofing: Other Types of Pitched Roofing
Other types of roofing materials are used, but are not appropriate for most steep-sloped structures. These can be considered "niche" roofing materials, and are intended for use in special, atypical roofing applications.
Artificial Thatch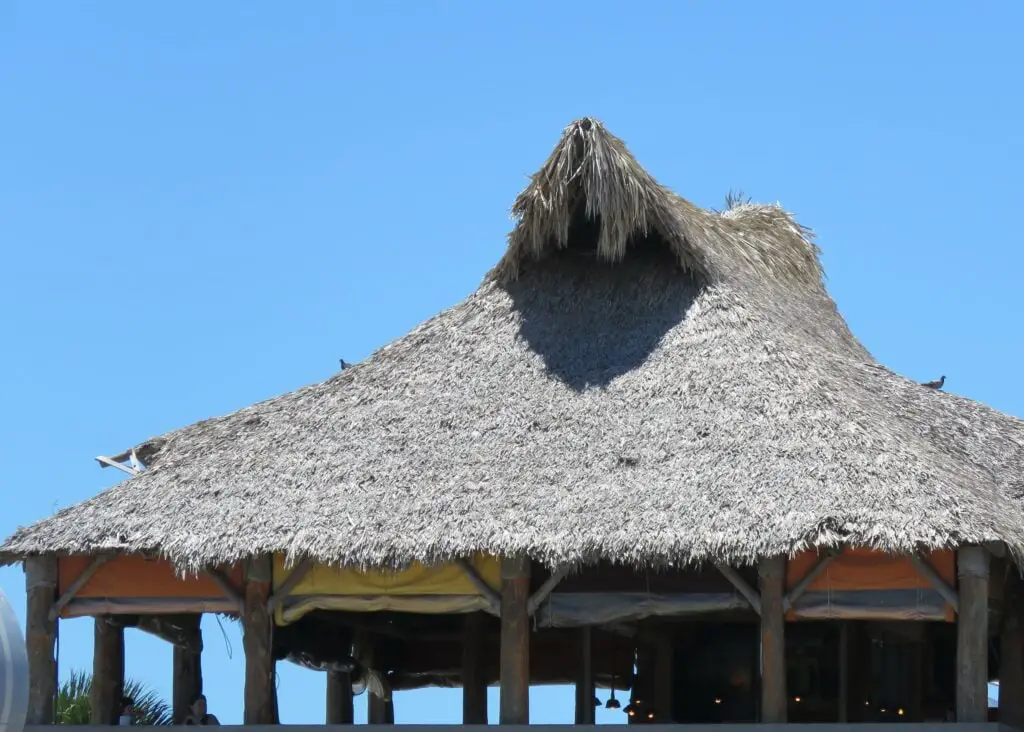 Ever been to a tiki bar? When used on a real building, artificial thatch isn't used for waterproofing. It's there for the aesthetics, and it's generally installed on top of some sort of continuous waterproofing membrane that performs the actual function of a roof.
Related Pages:
Fabric Roofs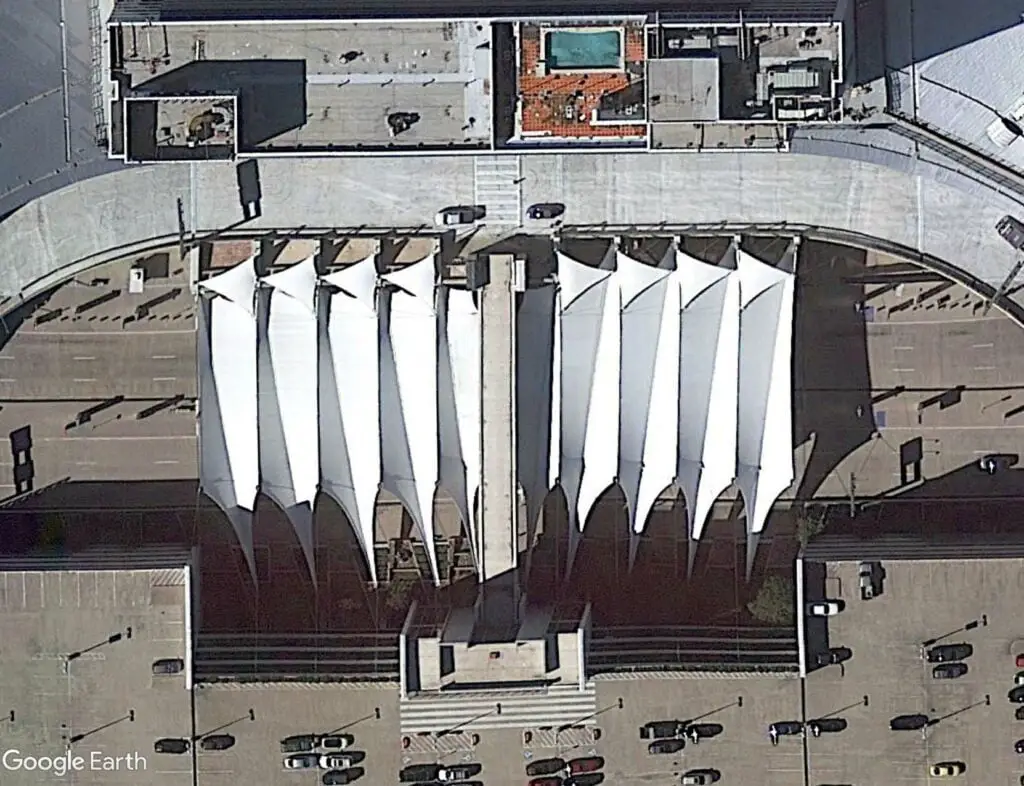 Related Pages:
Sod Roofs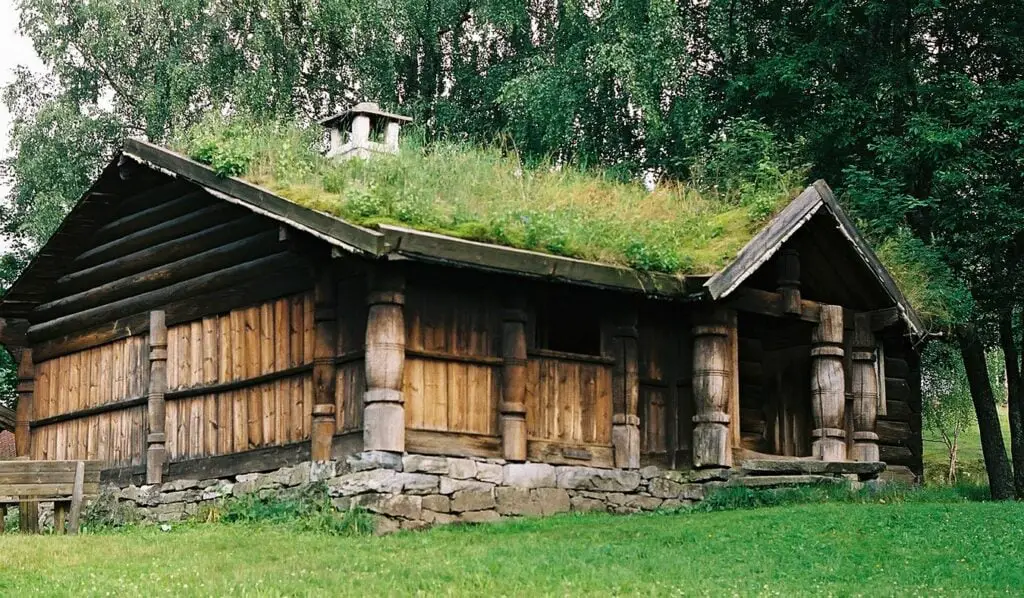 Thatched Roofs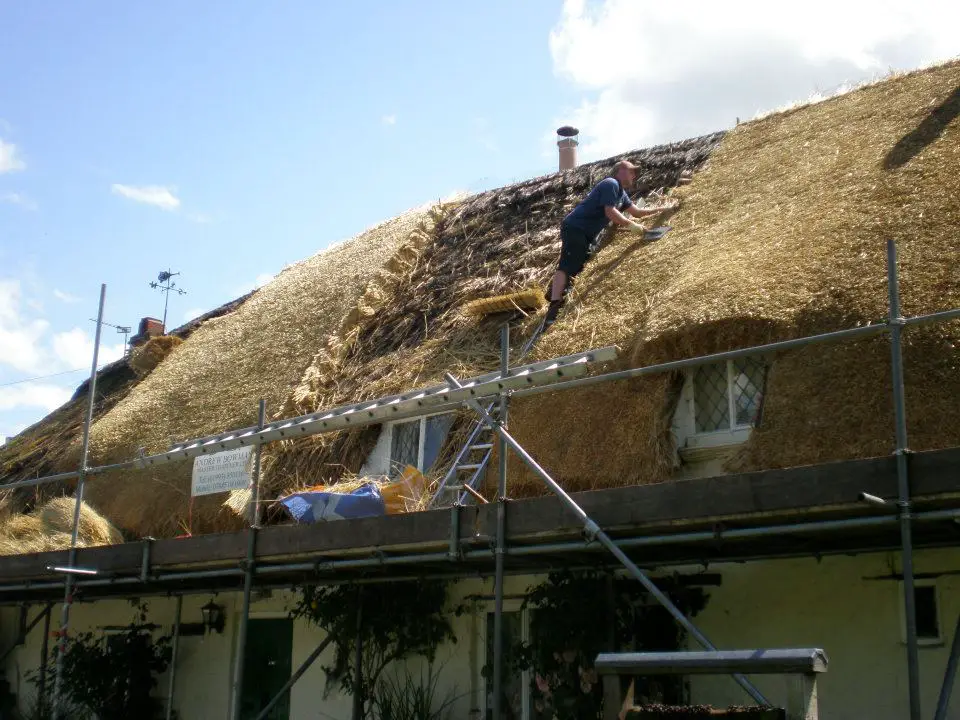 Related Pages:
Types of Roofing: Low-Slope Roofing
Low-slope roofs are often called "flat roofs", although it's extremely rare for a roof to actually be completely flat.
Good roof design will ensure that all types of roofing have at least some slope, so water can drain off the roof. Water is corrosive and you don't want it sitting on a roof for any longer than it has to.
Any roof with a slope of less than 3-in-12 can be considered a low-slope roof, and the roof covering on a low-slope roof is called a "membrane".
Because of the low slope, these roofs do not shed water very quickly, high winds may cause water to actually move up-slope, and water may sit on some parts of the roof for days.
Because of these conditions, a proper low-slope roof membrane must form a continuous, monolithic barrier against water entry. Because the types of roofing materials that are used in low-slope applications are installed to form an unbroken surface barrier against the weather, the roof covering on a low-slope roof is called a "membrane".
Types of Roofing: Bitumen-Based Roofing
One of the oldest roofing and waterproofing materials known, bitumen originally referred to asphalt (and still does in Europe). In the North American roofing industry today, "bitumen" is used to indicate both roofing asphalt and coal tar pitch.
Most commercial and industrial flat roofs installed in the 20th century were built-up roofing systems made of one type of bitumen or the other.
With their durable, redundant layers and gravel surfacing, bitumen built-up roofs (also called BUR systems) provide excellent protection against hail and foot traffic.
Installation commonly requires special kettles for heating mop-applied bitumen (think of the roofing scene in the Shawshank Redemption), or propane torches for modified bitumen roll products.
Mod bit can also be installed using special "cold-process" adhesives or they can be manufactured as a self-adhering material.
Built-Up Roofing (BUR)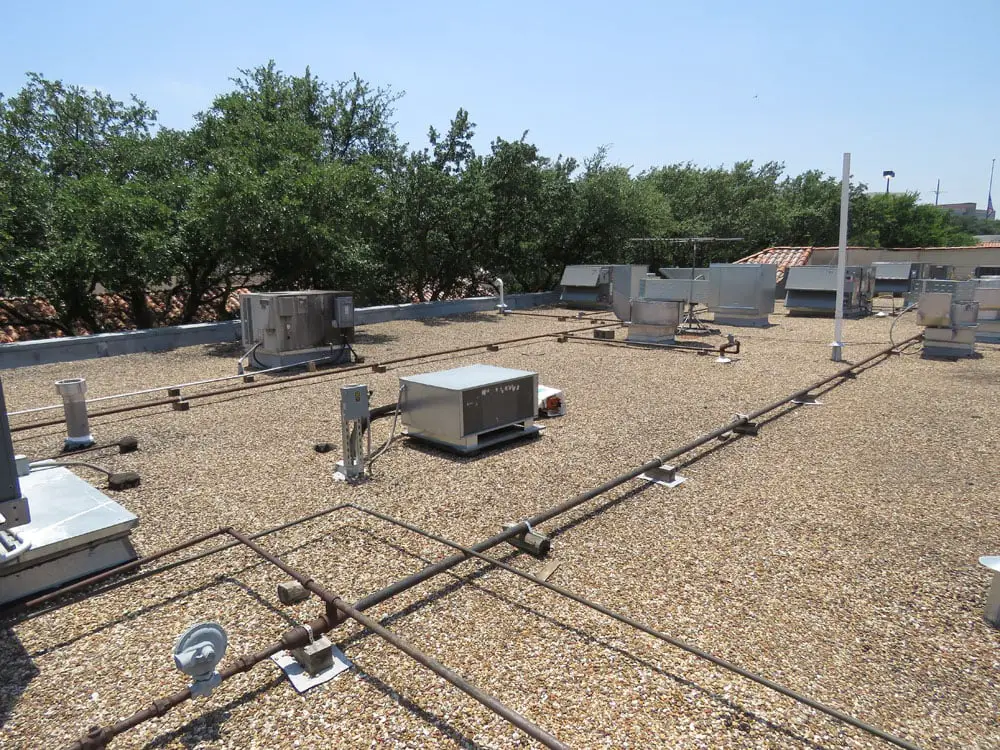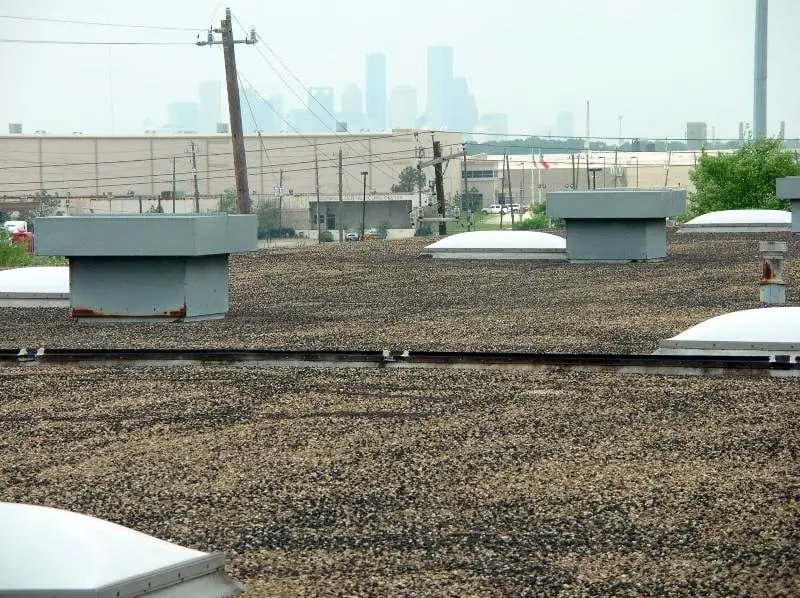 Related Pages:
Modified Bitumen Roofing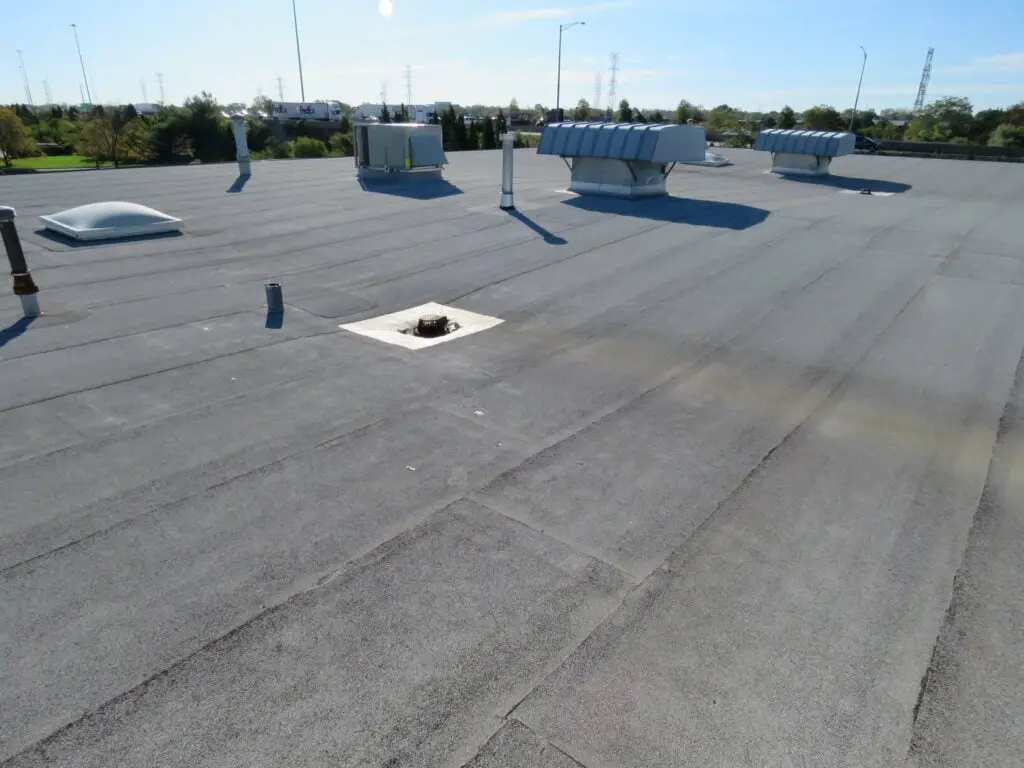 Related Pages:
Roll Roofing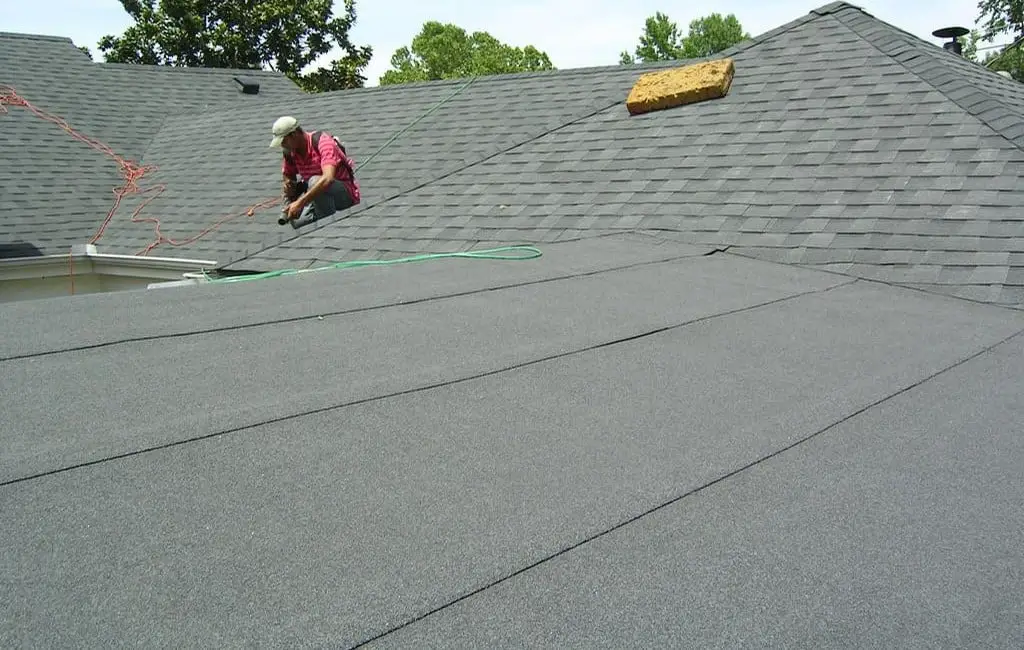 Types of Roofing: Single-Ply Membrane Roofing
Now used in over 90% of new commercial low-slope roof installations, single-ply roofing is a relatively cheap alternative to more traditional types of roofing.
Single-ply roofing is installed in giant sheets, which are seamed together using adhesives, adhesive tape, or hot-air welders.
The life expectancy, length of available warranties, and the price of these types of roofing materials go up as the thickness of the membrane increases.
Membrane puncture is a common cause of leaks on these types of roofs, so care must be taken when walking or working on them.
Related Pages:
CPE Membrane (Chlorinated Polyethylene)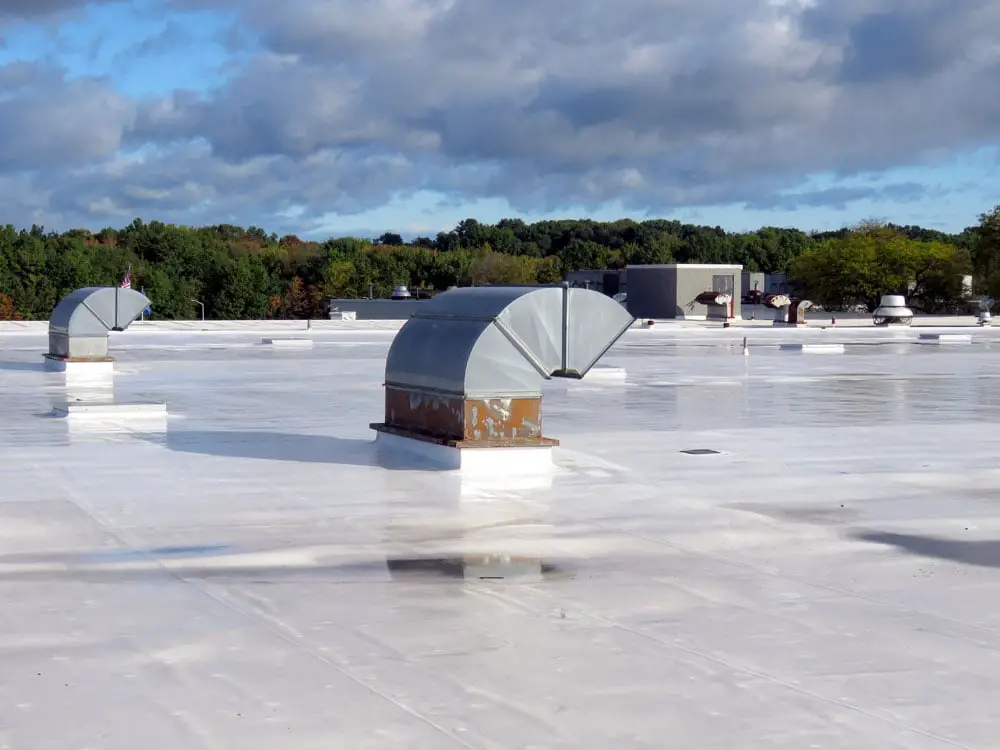 CSPE or "Hypalon" Membrane (Chlorosulfonated Polyethylene)
Related Pages:
EPDM Membrane (Ethylene Propylene Diene Monomer)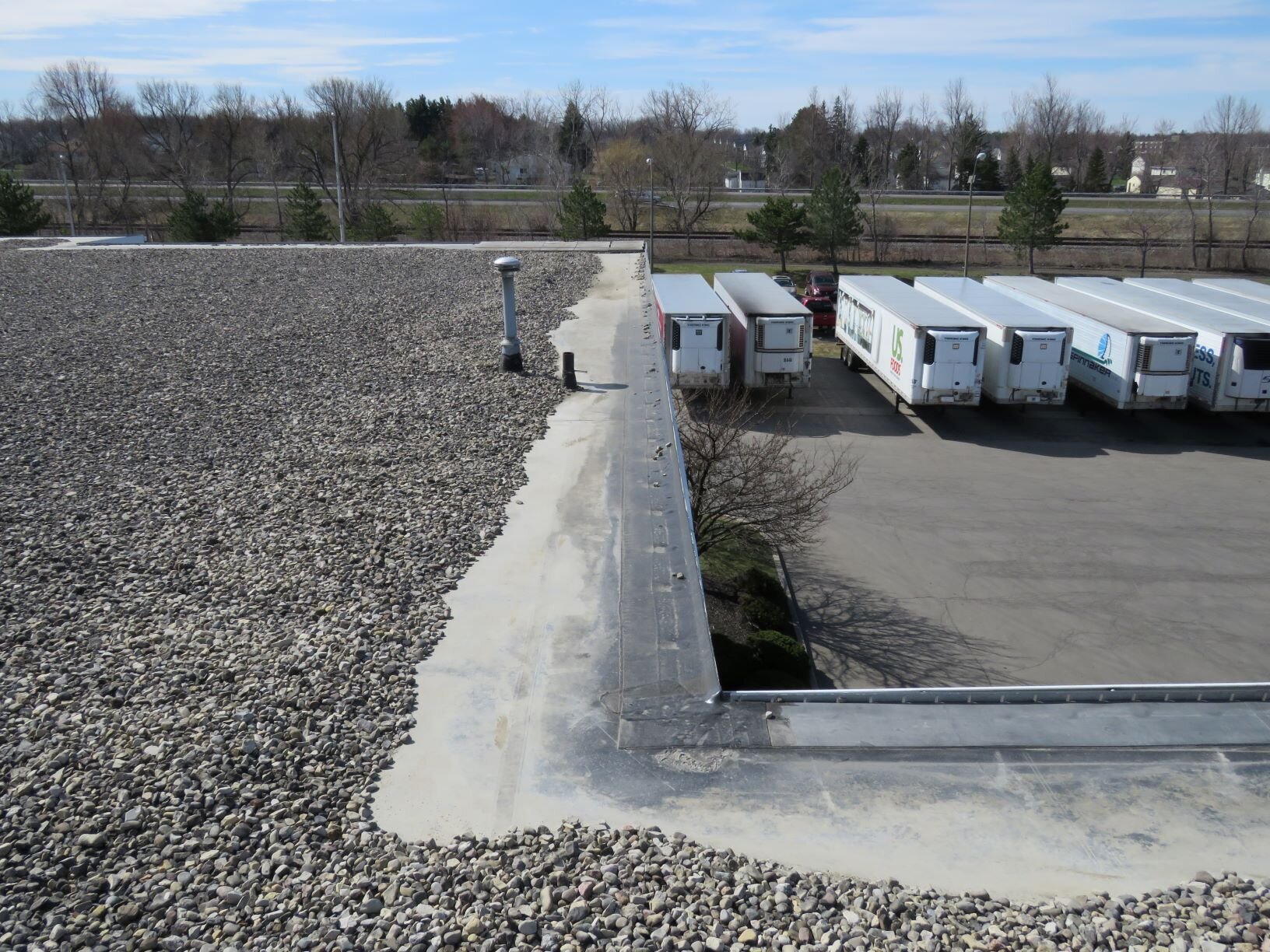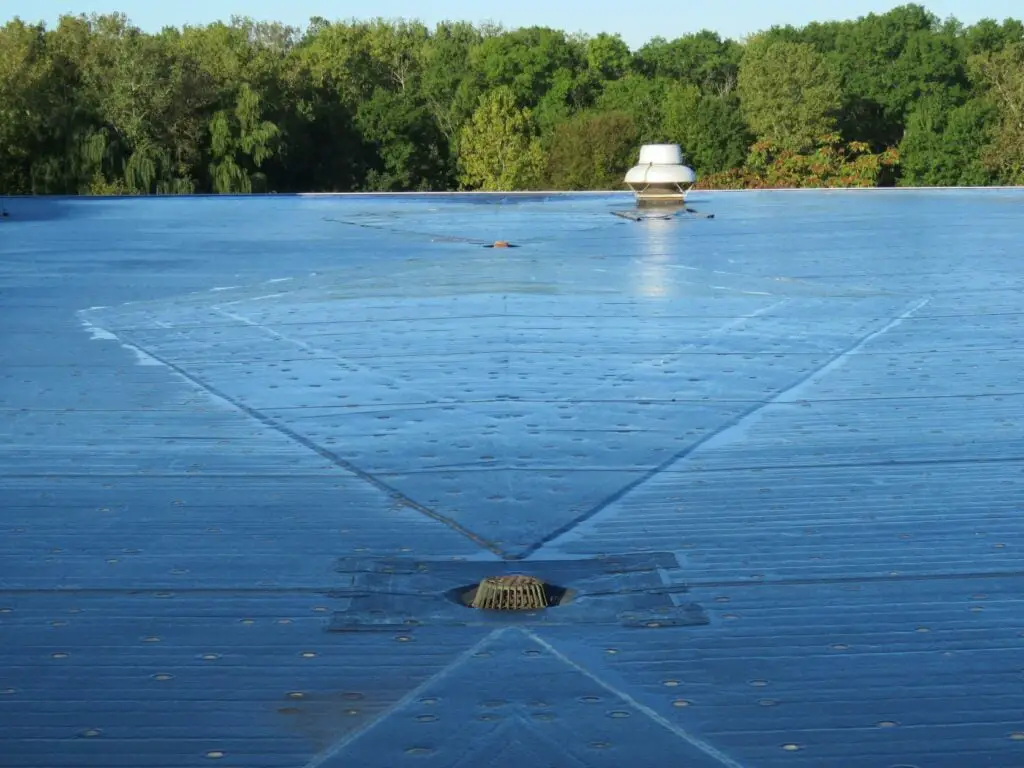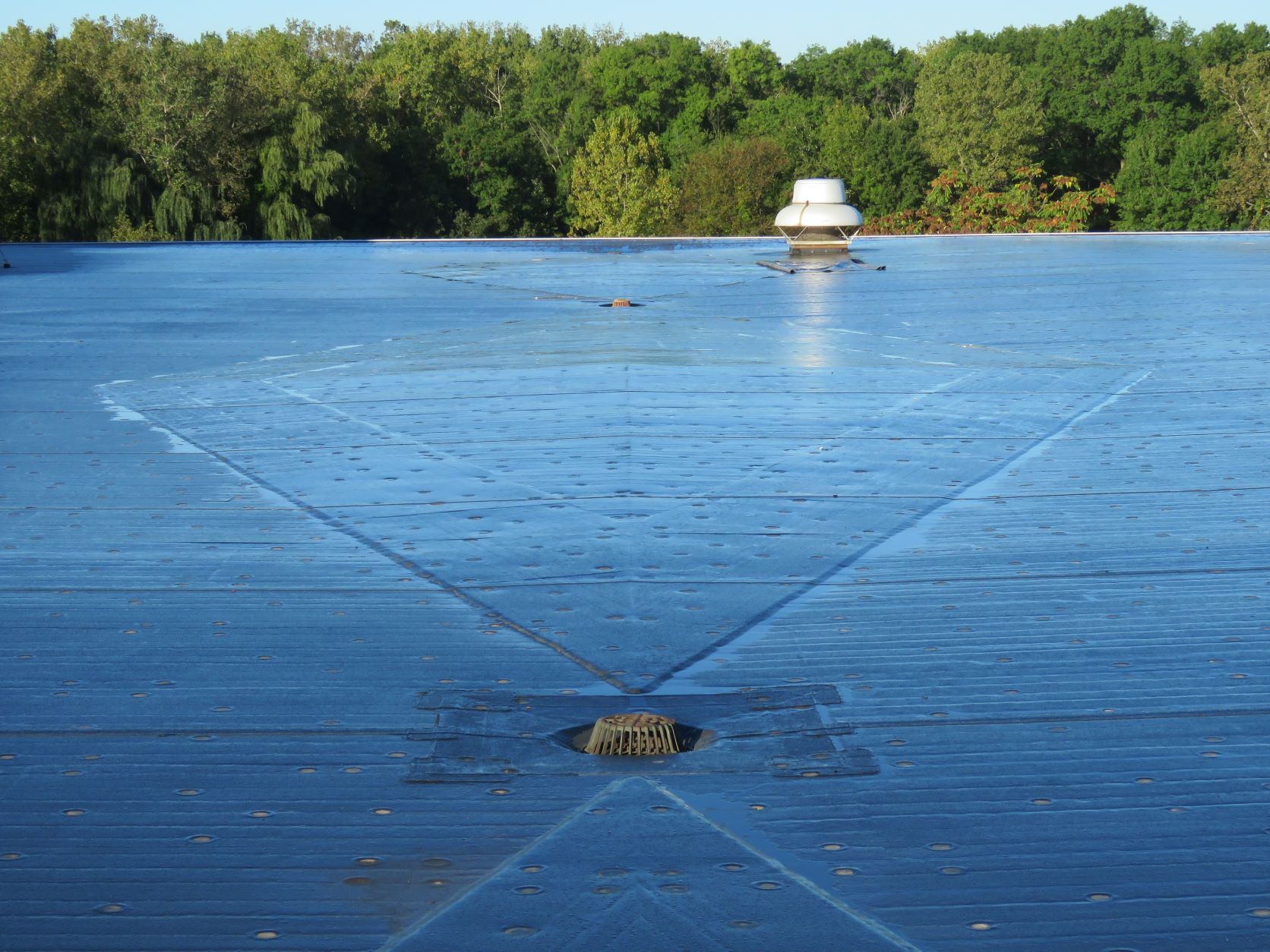 Mechanically-Attached EPDM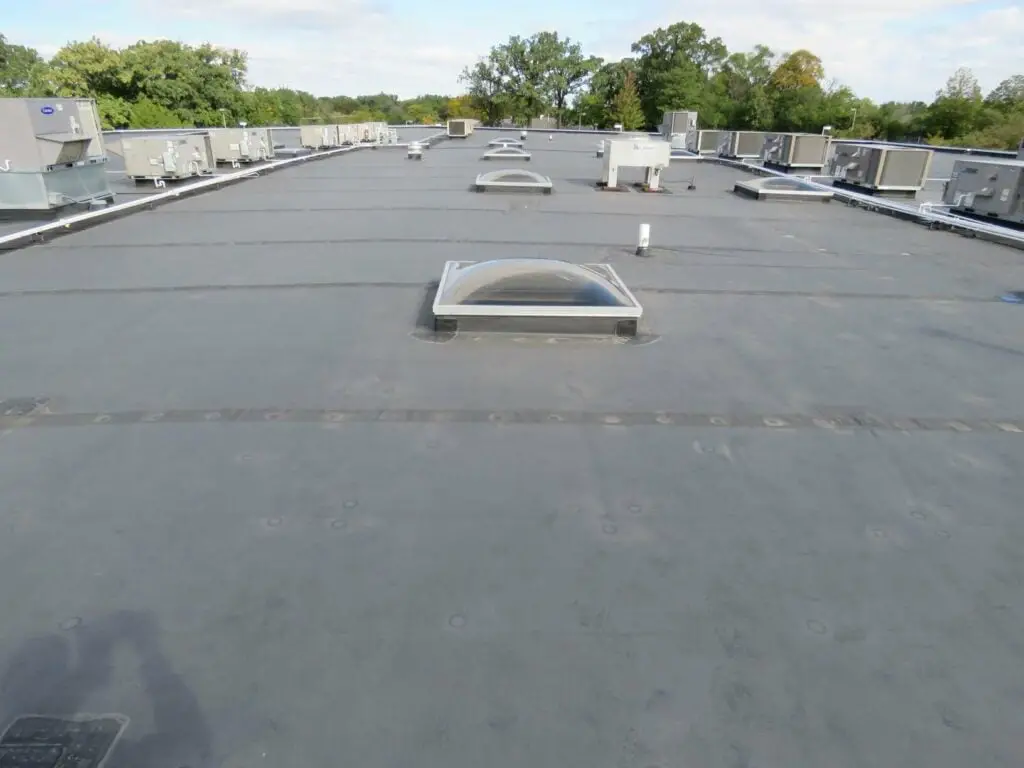 Related Pages:
KEE/PVC Membrane (Ketone Ethylene Ester, Polyvinyl Chloride)
PIB Membrane (Polyisobutylene)
PVC Membrane (Polyvinyl Chloride)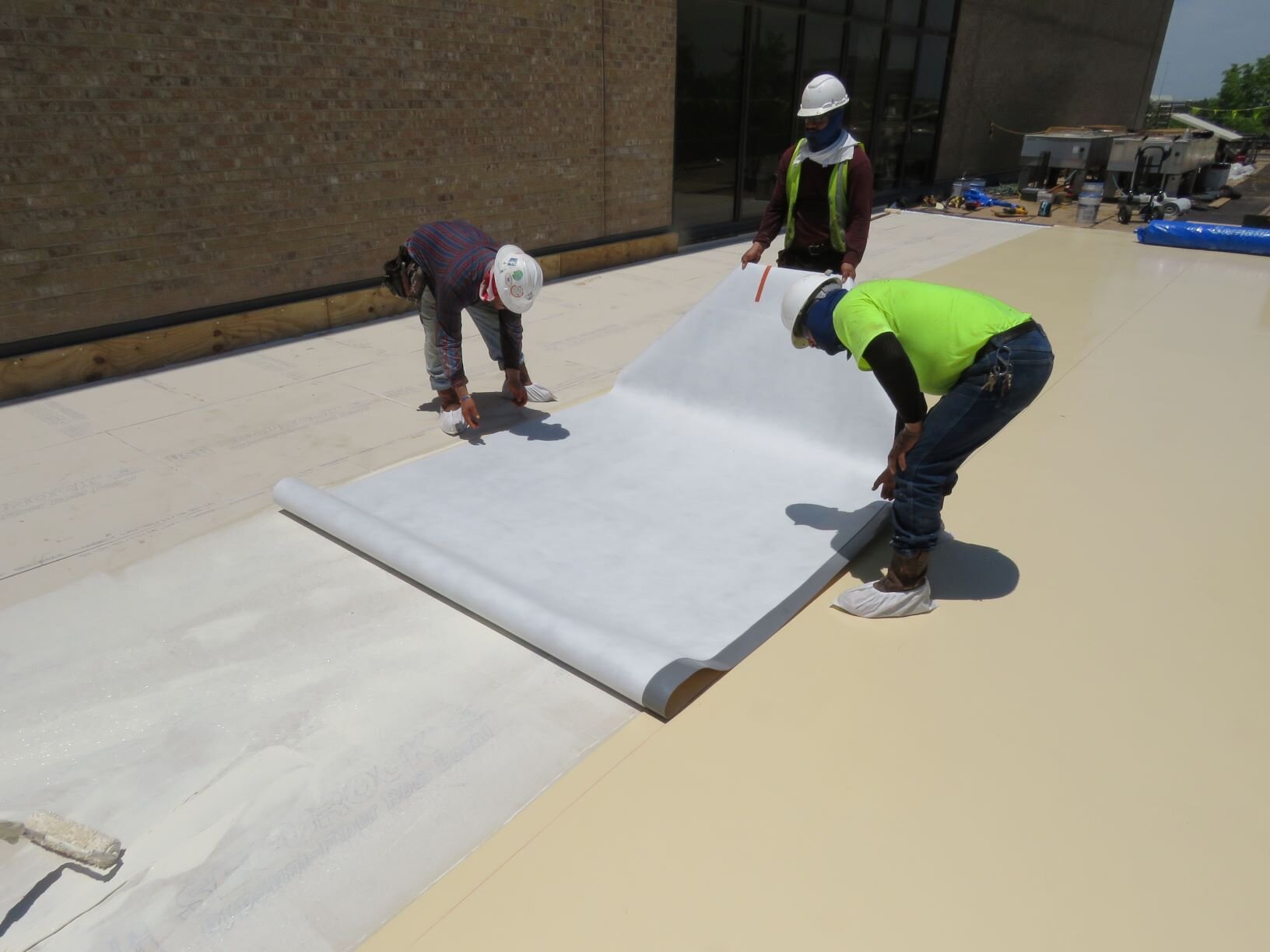 Mechanically-attached PVC
Related Pages:
TPO Membrane (Thermoplastic Polyolefin)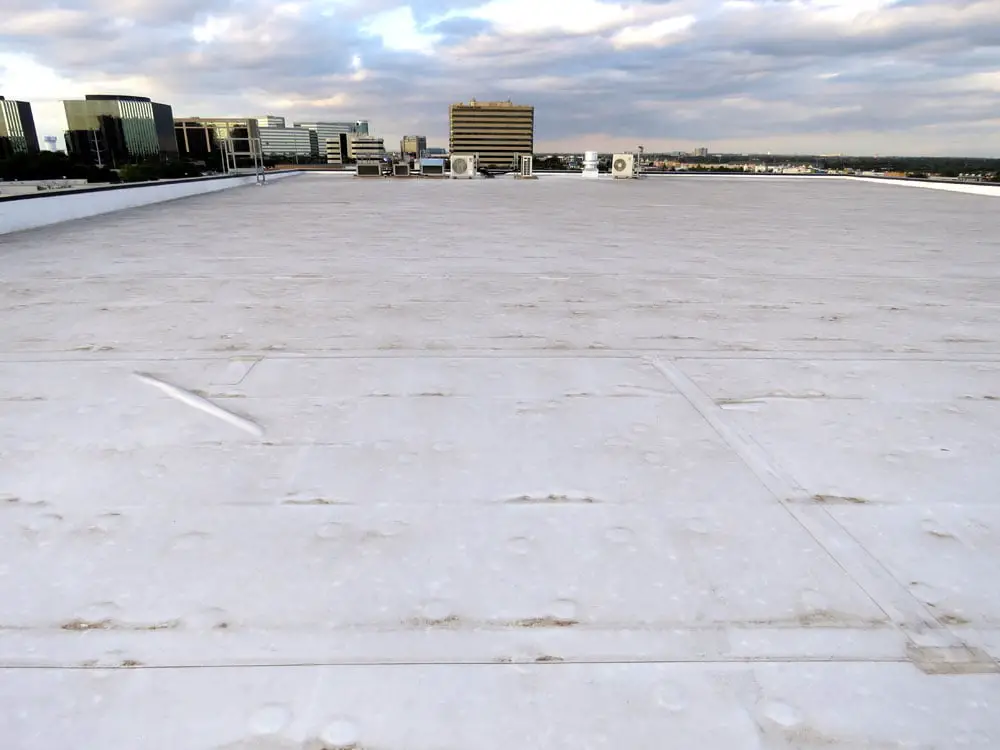 Mechanically-attached TPO
Related Pages:
Types of Roofing: Other Low-Slope Roofing
There are other kinds of low-slope roof systems, although some of them don't actually use different materials from the ones already mentioned.
A "solar roof system" is usually a series of solar panels installed on top of a single-ply membrane.
A "green roof" is often a layer of vegetation installed over a concrete roof deck that has been covered with bituminous waterproofing.
Structural metal panels and spray polyurethane foam are entirely different systems, however.
Protected Membrane Roofs
Solar Power Roof Systems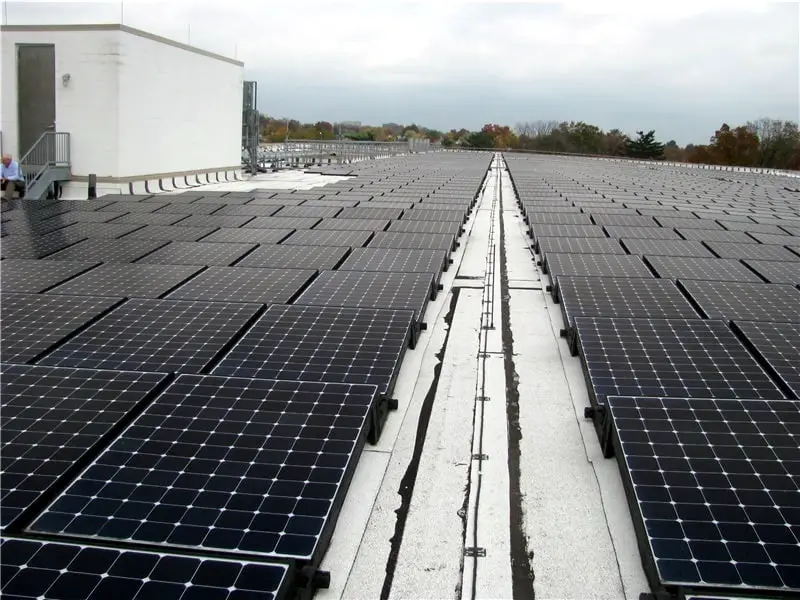 Related Pages:
Spray Polyurethane Foam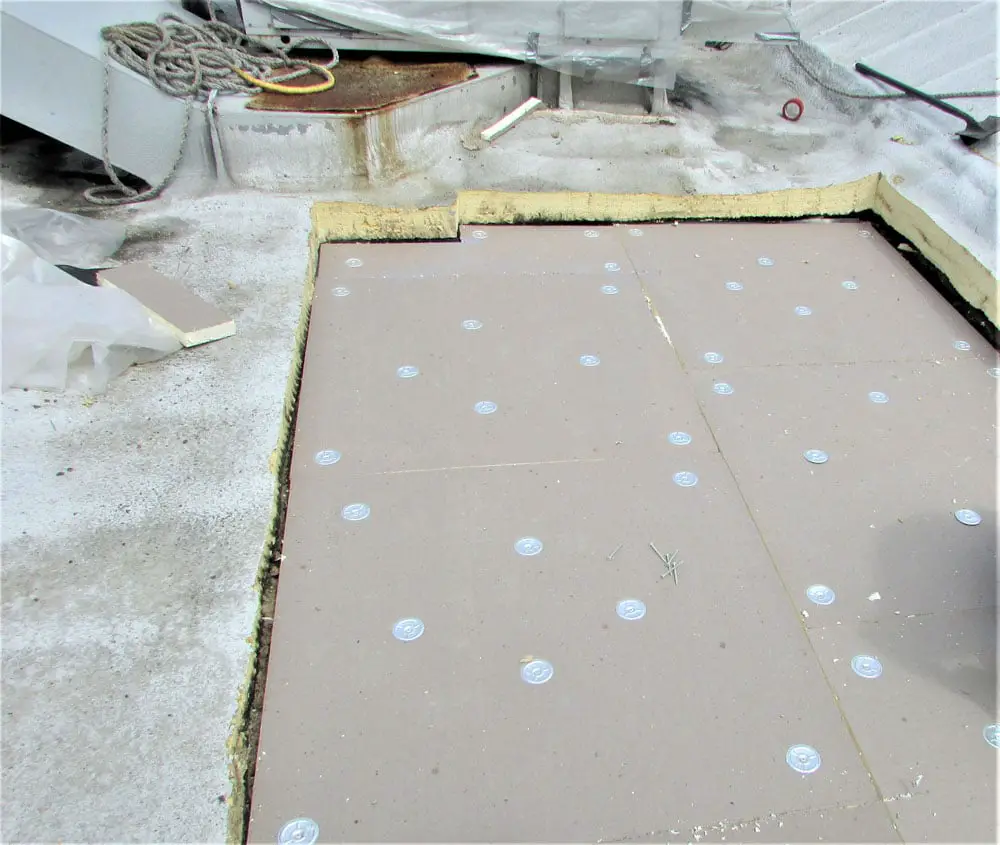 Related Pages:
Structural Metal Panels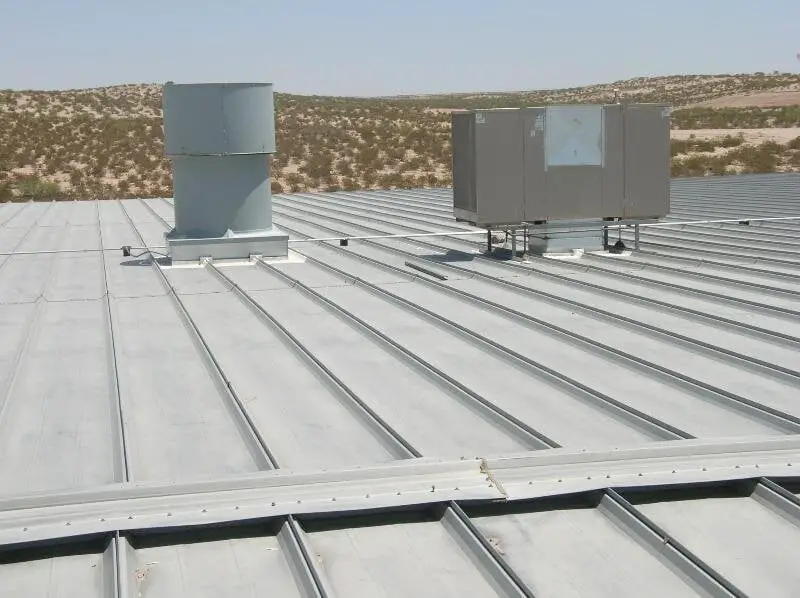 Related Pages:
Vegetative Roof Systems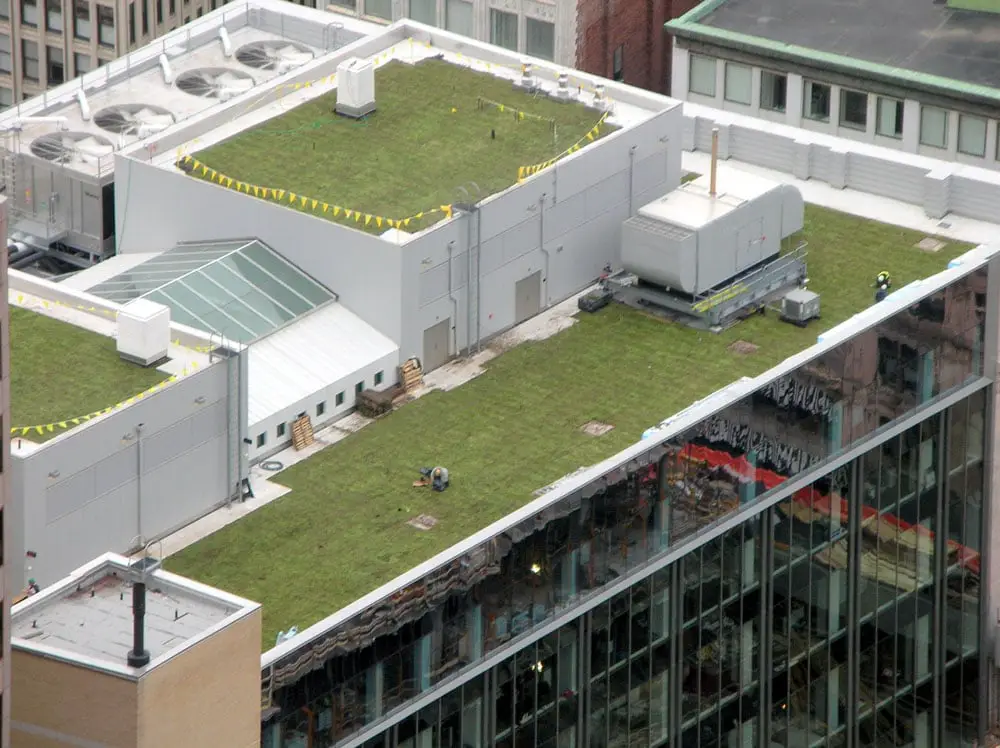 Related Pages:
Related Pages