Caulk and Sealant Manufacturers List & Website Directory
By Roof Online Staff • Last updated April 1, 2023
For more about sealants and caulks, see our Sealant and Caulk page. Check out Best Roof Repair Tape • Top 5 Roof Sealant Tapes as well.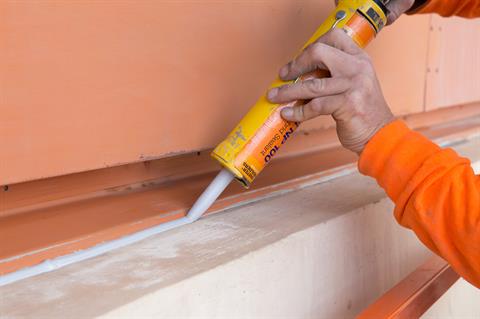 See Building Sealant and Caulk on Amazon
See Building Sealant and Caulk at the Home Depot
Building sealant (commonly called "caulk") is a versatile material used to fill gaps, joints, and cracks between building components in order to protect against water, air, insects, and a few other things.
It is used in a variety of weatherproofing applications including roofing, walls, windows, doors and concrete slabs to effectively prevent moisture intrusion as well as to improve energy efficiency. It can also play a role in soundproofing and fireproofing.
Building sealant comes in different colors and formulations based on the application needs and the type of substrate it's being applied to.
Applying building sealant is fairly simple using either caulking guns or trowels.
Sealant is essential for building maintenance and helps to extend the lifespans of many building components by preventing water damage.
This directory provides links to the websites of reputable sealant and caulk manufacturers.
*****
If you are a reputable and qualified building sealant manufacturer and feel that we've overlooked your company, feel free to contact us to ask to be added to this list.
Caulk and Building Sealant Manufacturers List