Roof Perimeter Edge Metal • What It Is, Types, Codes, Etc.
By Roof Online Staff • Updated November 19, 2022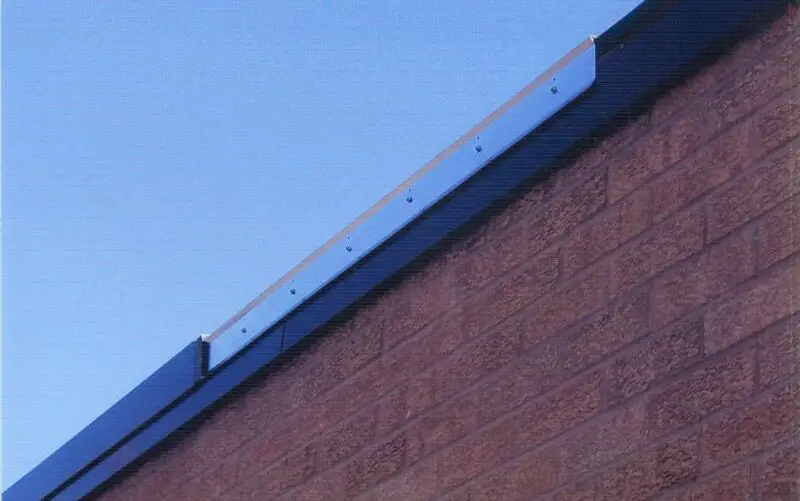 Table of Contents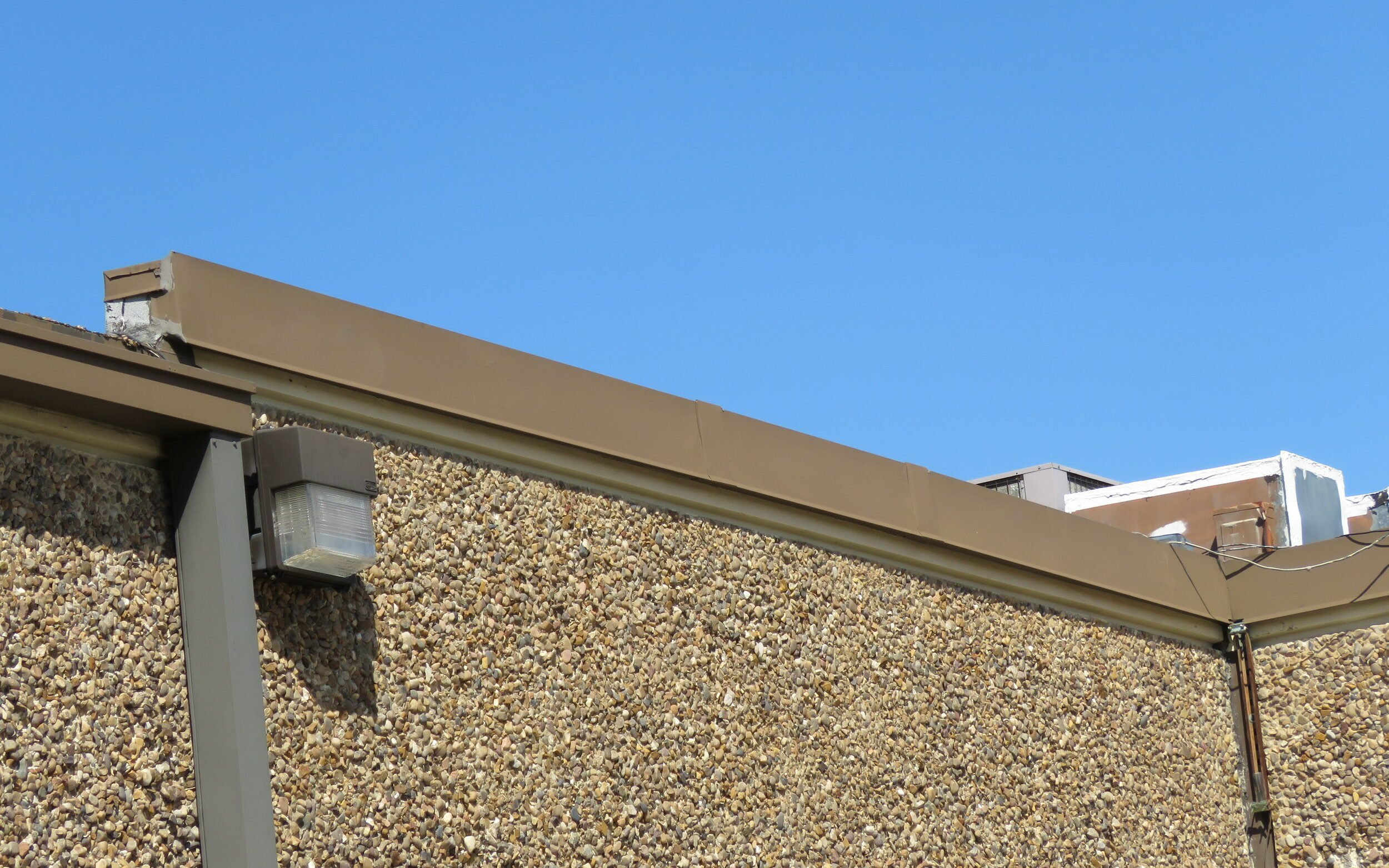 Roof Perimeter Edge Metal Basics
Note: Drip edge on pitched roofs is not considered perimeter edge metal because it plays no role in securing the edge of a roof membrane.
What is Edge Metal on a Roof?
Perimeter edge metal is a component in low-slope (flat) roof systems that is used to secure the perimeter edges of the roof membrane. Edge metal prevents damage to the roof by ensuring that the roof can resist wind-uplift.
Wind-uplift force is far greater at the perimeter (and especially the corners) of a roof than anywhere else. Edge metal is a very important part of the roof, because it prevents catastrophic roof blow-off during high winds.
Roof edge metal is typically pre-fabricated from steel or aluminum and sold by the roof system manufacturer. There are companies that specialize in edge metal and produce excellent products which roofing manufacturers will approve for use with their roof systems.
Types of Perimeter Edge Metal
Coping: The coping on the top of a parapet wall also serves as roof edge metal when it is used to secure the perimeter edges of single-ply roof membranes. This installation technique is very common. The roof membrane runs up the inside of the parapet wall, across the top, and down the outside for a couple of inches. The coping cleat secures the edge of the membrane.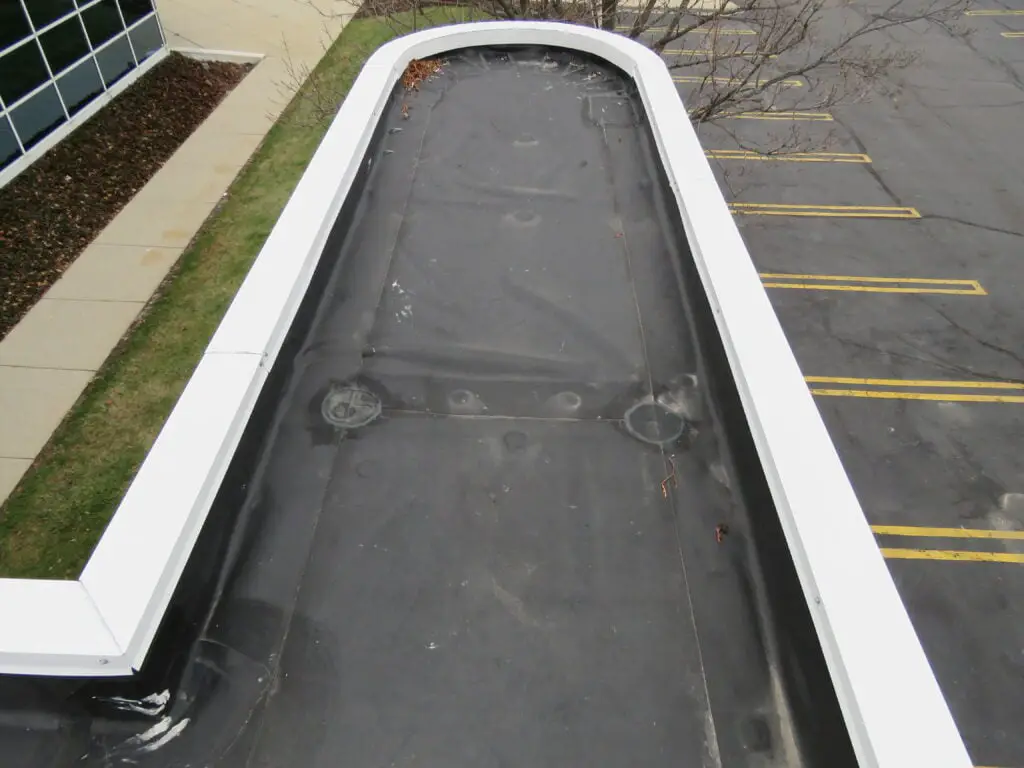 Gravel Stop: Used with ballasted roof systems or gravel-surfaced built-up roofs to prevent stones from falling off the roof. Gravel stop is fabricated with an angled section that typically rises ½-inch to 2-inches above the surface of the roof, depending on the height of the building, the type of roof, and local average wind speeds. Taller gravel stops will usually have integrated scupper channels to allow water to drain off the roof.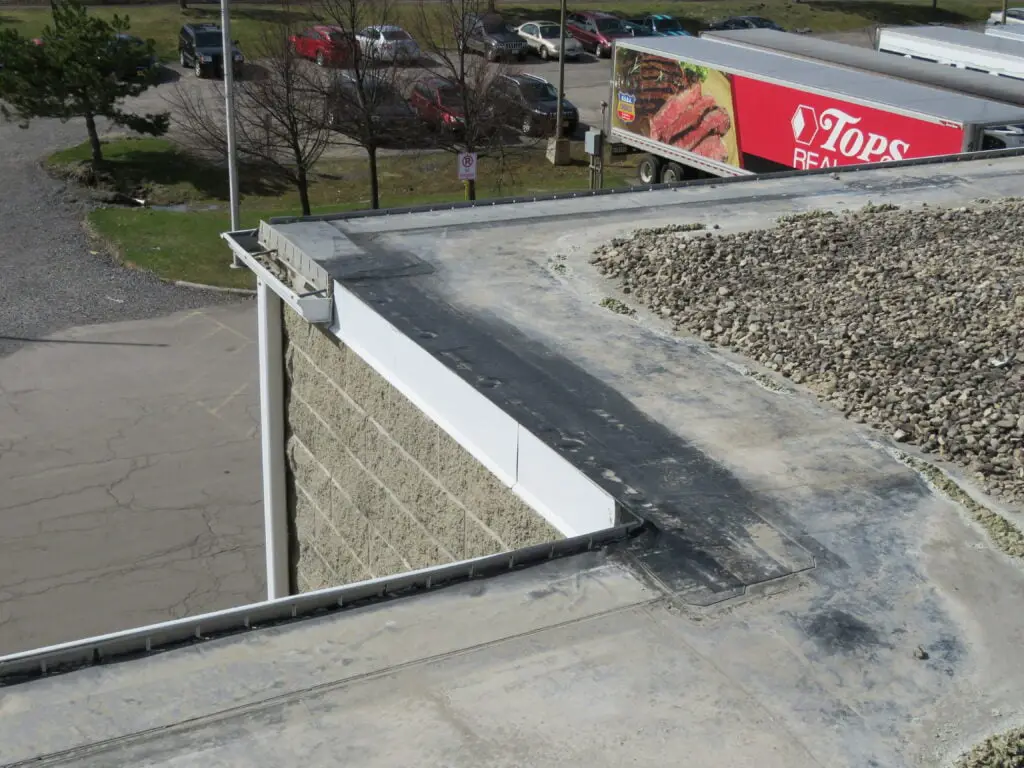 Gravel Stop Fascia: Edge securement system where a fascia system includes a gravel stop feature.
Gutters: Some gutter systems are designed so that they also act as metal edge systems.
Fascia: Fascia extends down several inches to a foot or so from the top of the wall edge and provides an aesthetically pleasing transition from wall to roof, while at the same time protecting the roof-wall transition from the elements.
On roofs without a parapet wall and where no gravel stop is needed, fascia is commonly used. In addition to extending down the wall, it extends several inches onto the roof surface. Often fascia is installed which does not function as roof edge securement. This fascia is often installed in conjunction with a gravel stop or coping that does.
How Edge Metal is Installed
Wood blocking, typically a combination of 2×4's, 2×6's, or 2×8's, is installed directly on the roof deck at the edge of the roof (or on top of a parapet wall).
The wood blocking as installed will match the exact height of the roof system at the perimeter and will be wide enough to carry the horizontal flange of the edge metal. The wood blocking is fastened or anchored to the roof deck or top of the parapet wall.
Pressure-treated lumber was used for years as wood blocking on roofs, but this is no longer recommended by roofing industry authorities. The chemicals in treated wood tend to corrode many types of fasteners. Untreated lumber is now recommended for wood blocking.
The edge of the roof membrane runs over the wood blocking and extends down the exterior of the wall for a few inches.
Typically a hidden metal cleat is then installed on top of the roof membrane. The fasteners for the cleat go through the roof membrane and into the wood blocking. This allows the cleat to clamp the edge of the roof membrane in place.
The visible part of the edge metal is a separate piece that is clipped onto the cleat. The cleat is what actually secures the perimeter edge of the roof.
Notes on Roof Edge Metal
ANSI/SPRI ES-1 is the official standard that requires roof edge products to meet or exceed pre-determined wind-resistance ratings. Never allow edge metal to be installed without checking that it meets this standard.
Roof edge metal is produced with a wide variety of coating colors to match any building trim.
During roof inspections, it's critical that you check the roof perimeter for loose or missing sections of edge metal. Most catastrophic roof failures due to wind events start with failure of the edge securement. If you can do so safely, you should actually grab it and see if you can wiggle it. If it's loose, you might be able to snap it back into place. If not, get a roofing contractor. Always take proper safety precautions when approaching the edge of a roof.
Related Pages
External Sources & References for Roof Edge Metal
1. General: "On the Edge: Sheet Metal Edge Flashings" by Karl Schaack, RRC, PE is a great introductory article and general overview of perimeter edge metal, with a lot of information about installation defects and maintenance issues that inspectors can use. From the December 2016 issue of IIBEC Interface.
2. Building Codes: "1504.5 Edge Securement for Low-Slope Roofs" from the 2018 International Building Code. Available at the UpCodes website.
3. Inspection: "Roof Protection Begins at the Edge" is a useful 4-page explanation of what to look for when inspecting edge metal systems, and what to do about what you find. Produced by the Insurance Institute for Business & Home Safety.
4. Standards: ANSI/SPRI/FM 4435/ES-1 "Test Standard for Edge Systems Used with Low Slope Roofing Systems" (2017) can be seen on the SPRI website.
5. Standards: For a history and explanation of the ANSI/SPRI ES-1 edge metal standard, see "Why ES-1? A Quick Reference Guide" on the SPRI website.
6. Standards: The NRCA explains ANSI/SPRI ES-1 and certification of sheet metal shop fabricators on this page: ES-1 Testing of Shop-Fabricated Edge Metal.
A searchable list of authorized US fabricators is linked to from this page: NRCA's ITS Certification for Compliance with ANSI/SPRI ES-1.
7. Technical: "2017 Update for Architectural Fascia and Coping Wind Tests Report" is a SMACNA Technical Resources Bulletin from 2017 that describes wind uplift testing on custom-fabricated fascia and coping architectural elements constructed in accordance with the SMACNA's Architectural Sheet Metal Manual. It tells you the maximum sustained load, in pounds, that various types of properly-installed edge metal could withstand before failing.