PVC Roofing Cost Guide (2023) • Membranes & Systems
By Jack Gray, Roof Online Editor • Published October 20, 2023
To learn more about PVC roof systems, please see our Introduction to PVC Roofing.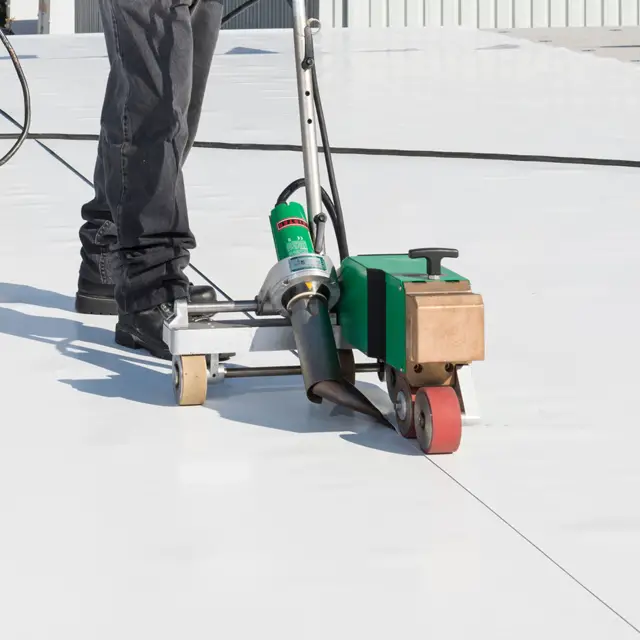 Table of Contents
Introduction
As professional roof consultants, we have to produce accurate roof replacement budget projections for our clients every year. This means keeping up-to-date with changing material and labor costs for all kinds of roofing, including PVC roof systems.
In this article, I'm going to explain the things that you have to account for when you come up with a PVC roof cost estimate. I'll also give you the typical costs for various types of PVC membrane roofs in 2023.
PVC roofing is generally considered to be a type of commercial roofing, but homeowners can use it for flat roof areas in residential roofing as well.
The cost of any particular PVC roof will depend on several variables, including roof size, roof complexity, local labor costs, membrane thickness, roof system attachment method, and the insulation R-value requirements of the local building code.
If a roof recover (putting the new roof over the old roof) is an option, this can potentially result in a very large reduction in the cost of the roofing project.
On average, the cost of a new PVC roof in 2023 ranges from around $5.15 per square foot for a 50-mil mechanically-attached PVC membrane installed over an existing roof to around $14.65 per square foot for the best performing PVC roof, a fully-adhered 80-mil PVC membrane system (with around 5 and a half inches of insulation in order to meet R-30 R-value code requirements).
What is PVC Roofing?
A PVC roof membrane is a thermoplastic single-ply roofing membrane commonly used in commercial and industrial roofing, with more limited use in residential roofing. It is heat-weldable (that's the thermoplastic part) and UV-resistant. The heat welding is performed with tools that produce hot air at around 1,000°F.
PVC stands for polyvinyl chloride (a type of plastic commonly used in construction), but PVC roofing membranes are not made from exactly the same material as the hard PVC used for pipes and house trim.
A PVC roof membrane has plasticizers added to the material during the manufacturing process so it stays flexible over the life of the roof. A reinforcement fabric mat, typically made out of polyester, is sandwiched between two layers of plasticized PVC to produce the final product.
PVC membranes are most often white, but you can get PVC in white, tan, and gray as a standard product from almost all manufacturers. Other colors are available by special order.
The other components of a PVC roof assembly include the roof deck, which provides structural support, a vapor or air barrier directly above the deck (where required), at least two layers of rigid board insulation, and a cover board (typically made out of gypsum like sheetrock) under the membrane (as specified by the manufacturer). Attachment components, either adhesives or fasteners, but sometimes both, are also a vital part of the system.
PVC is the third most popular type of single-ply flat roof covering in the United States for new commercial roofing projects. Both EPDM membranes and TPO membranes tend to be somewhat cheaper and have a larger market share than PVC membranes.
PVC roofs will normally meet any "cool roof" requirements.
PVC Roof Cost in 2023
The cost estimates we provide in this article should be reasonably accurate; we try to keep them up-to-date using current or recent material prices and labor data.
Keep in mind that the costs listed below are national averages, and costs can vary, sometimes significantly, by location.
To get a more accurate idea of what a new PVC roof will cost in your area, see our article "Relative Construction Costs by U.S State" and apply your state multiplier to the national average cost.
We include costs for mechanically-attached and fully-adhered PVC roof systems in the table below. We do not include costs for ballasted systems because it is not generally acceptable within the roofing industry to use PVC roof membranes in ballasted systems.
The PVC membrane does not perform well with ballast sitting on top of it and I don't know of any reputable roofing manufacturers who offer a warranty on ballasted PVC roofs.
Table 1: PVC Roof Cost per Square Foot
The cost estimates given in the table below cover the installation of various types of PVC roof systems. All of them include the cost of the PVC membrane, the membrane attachment system, the appropriate cover board installed under the membrane, and the labor required for the installation.
1. The second column, showing current price estimates for the average installed cost per square foot with no additional insulation, is for the PVC membrane, the membrane attachment system, and the cover board.
A PVC roof that doesn't include new insulation is appropriate when the roof is installed on top of an existing roof and no insulation R-value increase is required (a roof recover).
It can also be applicable when the existing insulation in the old roof meets energy code requirements and can be re-used. This is sometimes possible. This is something that a good roof consultant can figure out for you. We strongly recommend that you hire an independent professional roof consultant for jobs over $50,000.
It is also appropriate on flat roof areas where insulation is installed underneath the roof deck or above the ceiling in an attic space, or on roofs over unheated interior spaces, such as sheds or garages.
2. The third and fourth columns provide price estimates for full roof systems including insulation that meets the code-required total system R-value. R-25 is the typical R-value requirement in the southern half of the U.S., and R-30 is common in the northern half of the country. Some places will have different roof R-value energy code requirements, so always check your local code.
Our calculations use prices for polyisocyanurate board insulation since this is the most common type of insulation used in PVC roof systems.
The estimates include the removal of the existing roof in the third and fourth columns and we have added $1.00 to $2.00 per square foot for that.
Average Cost of a PVC Membrane Roof System
per Square Foot by System Type
Type of PVC Roof System
Average Installed Cost
Per Square Foot


No Insulation

Average Installed Cost
Per Square Foot


Insulation R-25

Average Installed Cost
Per Square Foot


Insulation R-30

Mechanically-Attached PVC Roof
50-mil Membrane
$5.15
$12.15
$13.65
Mechanically-Attached PVC Roof
60-mil Membrane
$5.55
$12.55
$14.05
Mechanically-Attached PVC Roof
80-mil Membrane
$5.85
$12.85
$14.35
Fully-Adhered PVC Roof
50-mil Membrane
$5.40
$12.40
$13.90
Fully-Adhered PVC Roof
60-mil Membrane
$5.80
$12.80
$14.30
Fully-Adhered PVC Roof
80-mil Membrane
$6.15
$13.15
$14.65
Table 2: PVC Roof Cost by Roof Size
The cost estimates given in the table below are for a commercial roof installation using a new PVC roof system with a 60-mil PVC membrane (the most commonly used membrane thickness) and an appropriate cover board, as well as the insulation required to achieve the desired roof R-value.
Installing a new roof system over an existing roof ("roof recover" or "roof overlay") does not normally require adding new insulation and can result in a very large reduction in material and labor costs.
Roof recover is only an option if there is just one existing roof in place, and it may not be desirable or possible in all cases for a few different reasons. A roof recover typically has a useful life expectancy that is about 25% shorter than full roof replacement systems.
Although the numbers given below reflect constant prices per square foot as the roof sizes increase, you may actually see small per square foot cost reductions for bigger roofs, possibly up to around 5% or a little more for the biggest roofs. It's important to get competing bids from at least 4 or 5 roofing contractors to get the best price.
We recommend that you hire a credentialed professional roof consultant before undertaking a roof project that costs more than $50,000 rather than leaving the details of your project up to the roofing contractor. A good roof consultant may even figure out how to re-use the existing insulation in your roof and save you a lot of money on your roof replacement.
Cost of a PVC Roof System by Roof Size
Roof Area
Average Installed Cost
60-mil PVC Membrane
Mechanically-Attached
No Insulation
Average Installed Cost
60-mil PVC Membrane
Mechanically-Attached
R-25 Insulation
Average Installed Cost
60-mil PVC Membrane
Mechanically-Attached
R-30 Insulation
Average Installed Cost
60-mil PVC Membrane
Fully-Adhered
R-25 Insulation
500 Square Feet
$2,775
$6,275
$7,025
$6,400
750 SF
$4,163
$9,413
$10,538
$9,600
1000 SF
$5,550
$12,550
$14,050
$12,800
1250 SF
$6,938
$15,688
$17,563
$16,000
1500 SF
$8,325
$18,825
$21,075
$19,200
2000 SF
$11,100
$25,100
$28,100
$25,600
5000 SF
$27,750
$62,750
$70,250
$64,000
10,000 SF
$55,500
$125,500
$140,500
$128,000
25,000 SF
$138,750
$313,750
$351,250
$320,000
50,000 SF
$277,500
$627,500
$702,500
$640,000
100,000 SF
$555,000
$1,255,000
$1,405,000
$1,280,000
150,000 SF
$832,500
$1,882,500
$2,107,500
$1,920,000
200,000 SF
$1,110,000
$2,510,000
$2,810,000
$2,560,000
500,000 SF
$2,775,000
$6,275,000
$7,025,000
$6,400,000
PVC Roof Cost Factors
The two biggest cost factors are labor and materials. For a PVC roof, this typically breaks down to roughly 25% to 40% for labor and 60% to 75% for materials.
Material Costs
Material costs for an PVC roof are determined by the size of the roof, the membrane thickness, the attachment method of the system, and especially on the amount and type of insulation required to meet energy code requirements.
Labor Costs
In terms of local labor costs, you can expect to pay more if you live in an area with a higher cost of living. States where commercial roofing is typically performed by union roofers tend to have higher labor costs generally.
Roof Complexity
The complexity of the roof can have a big effect on the labor costs for a PVC roof installation.
If a roof has a lot of HVAC equipment, skylights, or other penetrations, these things will slow the work down as time is needed to cut the insulation to fit the penetration and install the membrane flashings properly.
It can take twice as long (or longer) to install a square of roofing in a complicated roof area than in a simple area where you just have to lay the insulation and membrane down.
Removal of Existing Roofing
It isn't always required by code, but it's usually a good idea to remove any existing roofing materials before installing a new roof. This will increase the cost of the job, but it will help ensure a much better quality result.
With very high insulation R-value requirements, improved performance may be outweighed by the significant cost savings a roof recover (or overlay) can give you.
Roofs installed over an existing roof tend to perform worse and usually don't last as long as a new roof installed right at the roof deck.
Also, a roof recover may not be an option. If you already have two layers of existing roofs on your building, the building code requires removal down to the deck before installing a new roof. You can't have three layers of roof in place.
Removal and disposal of the old roof material will normally add around $1 to $2 per square foot to the total price of the job, but it can cost more in some areas.
Local Taxes, Fees, and Permits
Varying building permit fees, dumpster rental fees, disposal fees and/or local taxes may apply to your roofing job and should be factored into the total cost.
---
About the Author
Jack Gray is a principal roof consultant and vice president at the Moriarty Corporation, an award-winning building enclosure consultant firm founded in 1967. He is also the editor of the Roof Online website.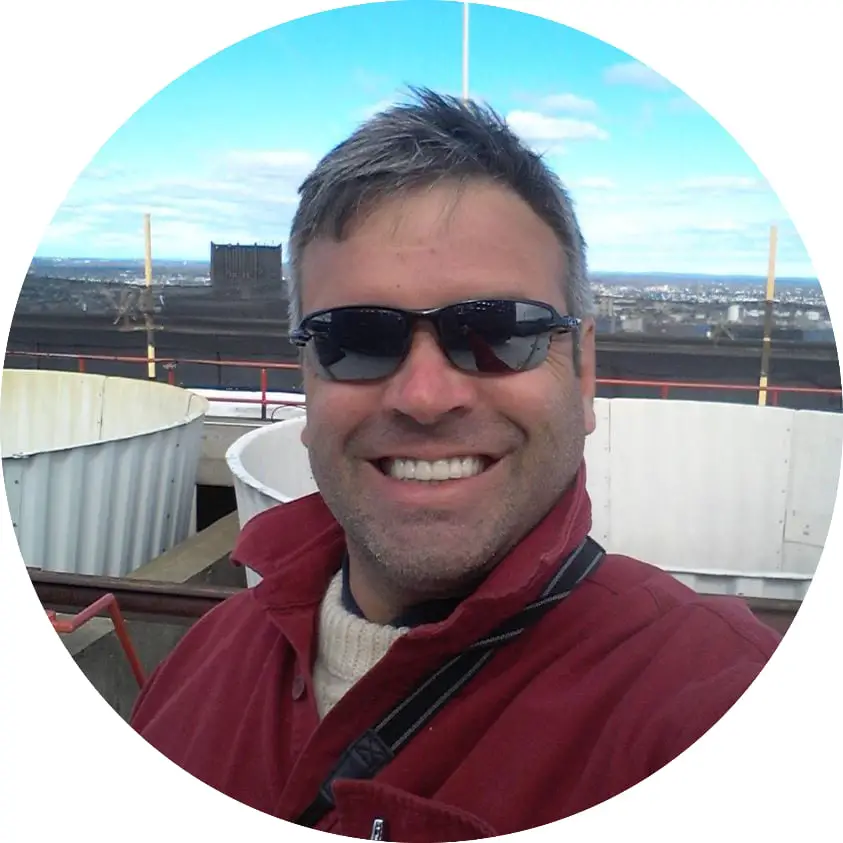 Mr. Gray has worked in the roofing industry for over 25 years, with training and practical experience in roof installation, roof inspection, roof safety, roof condition assessment, construction estimating, roof design & specification, quality assurance, roof maintenance & repair, and roof asset management.
He was awarded the Registered Roof Observer (RRO) professional credential in 2009.
He also served as an infantry paratrooper in the 82nd Airborne Division and attended Cornell University. Read full bio.
---
Related Pages