Best RV Roof Repair Tape • Top 6 Roof Sealant Tapes (2023)
Best Roof Repair Tapes for Sealing Leaks on RV Roofs, Metal Roofs, and Flat Roofs on Buildings
By Jack Gray, Roof Online Editor • Last updated April 6, 2023
Table of Contents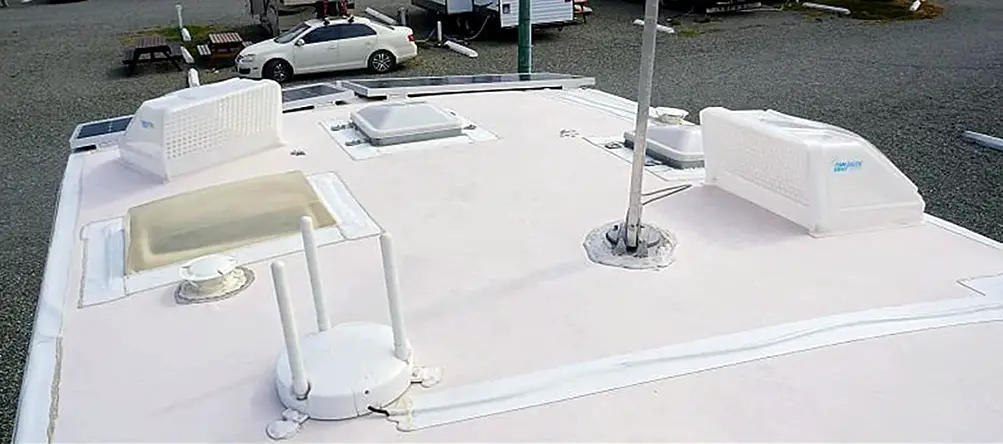 Introduction
Roof repair tape, also known as roof sealant tape, is a really surprisingly good way to fix a roof. Roof repair tape is often the perfect thing for simple DIY repairs.
High-quality roof repair tape is not a gimmick or a cheap imitation of a real professional construction material like so many other DIY home repair products seem to be.
Roof repair tape can be used on RV roofs, mobile homes, campers, and, of course, buildings. You can also use it to patch gutters, cracked skylights, and damaged HVAC units and ductwork.
It creates a permanent water-tight seal and is absolutely perfect for emergency repairs.
Roof tape is designed for single-ply roof membranes like TPO and EPDM, all kinds of metal roofing, wood, glass, polycarbonate panels, fiberglass, concrete, and more. You can even use it on asphalt shingle roofs if you prepare the surface properly.
We think anyone who might need to fix a roof leak should keep a roll on hand for emergencies. This goes for homeowners, property managers, building engineers, RV owners, and anyone else who has a roof to take care of.
Modern roof repair tape forms an excellent waterproof seal with most roofing materials. And the tapes are really long-lasting. They will often last just as long as the roofing material itself, so patches made with repair tape can be considered permanent.
How Do We Know About Roof Repair Tape?
Well, first of all, we use roof repair tape and we've been using it for decades. We've gone through a lot of tape.
We're professional roof consultants. Our job is to look out for our clients' roofs.
We make sure their roofs are designed, installed, maintained, repaired, and replaced using industry best practices and the best, most appropriate materials (optimizing for budget constraints, of course).
We've overseen thousands of roof leak repairs, choosing materials and selecting roofing contractors.
We write the repair instructions for the roofers to follow, and we inspect the work to make sure it's done right.
When there's an active leak and it's urgent, we often make emergency repairs ourselves.
We keep up to date on the best roofing techniques and the best roofing materials.
In addition to decades of practical roofing experience, we attend seminars, classes, conventions, and product presentations and we research, research, research.
If there's a new best roof repair tape out there, we'd know about it.
We started this website to help homeowners and property managers with their roofs, but something unexpected happened.
We started getting emails from people asking for advice on the best way to repair leaks on their RV roofs.
At first we thought this was a little strange because we had never thought about RV roofs before.
So we did a little research and found out that while there are about 5.9 million commercial roofs in the country, there are almost twice that many RV roofs!
So many more leaky roofs out there than we thought!
We saw a lot of bad roofing advice and recommendations being offered on websites targeting RV owners.
It was obvious that these website authors, whatever they knew about RV's in general, didn't really understand roofs very well.
The roofing materials, such as TPO, PVC, EPDM, aluminum, and steel, that are used for trailers, campers, and RV roofs are the same as the ones used for the flat roof membranes on a building. They are also generally put together to form the roof in the same way.
RV roofs are made out of the exact same materials as commercial low-slope roofs, and everything we know about best roofing practices, roofing materials, and roof leak repair applies to RV roofs as well.
And it turns out that the best RV roof repair tapes and the best flat roof repair tapes are actually the same products.
Roof Sealant Tape Compatibility
Roof sealant tape is incredibly sticky. It may be the stickiest thing you've ever dealt with. Once you apply it to a compatible substrate, it's definitely not coming off without a lot of careful work.
Some roof repair tape manufacturers actually advertise their tapes by saying "It will stick to ANYTHING!".
But if you look at a roof repair tape product data sheet from one of the more honest manufacturers, you will see "compatible substrates" listed, and no, the tape is not guaranteed to stick to everything.
These roof sealant tapes will almost never bond properly if used over silicone roof sealant coatings or caulk.
Using sealant tape on flexible PVC roof membranes is also discouraged, as the tape adhesives are generally incompatible with the plasticizers used in PVC membranes to keep the material flexible.
All roof repair tapes will definitely stick to PVC membranes, and they will definitely stop a leak in a PVC roof. It's just that if you use these sealant tapes on a PVC membrane, you can expect your patch to eventually fail prematurely.
Our list does include one roof tape that specifically has PVC listed as a compatible roofing material in its product data sheet. If you have a PVC roof, you might want to try that one.
Roof sealant tape should work perfectly well on rigid or hard PVC like PVC house trim, PVC pipe, or PVC gutters.
It's always a good idea to check the product data sheet for the specific actual product you want to use in order to confirm that it will be compatible with whatever you want to use it on.
Important! Clean the Repair Area First
When you apply a roof repair tape to a roof which has been in service for any amount of time, it is absolutely vital that you remove the dirt, dust, and grime that invariably accumulates on its surface.
It is very common to see failed repairs on metal or single-ply membrane roofs, even when the repairs were made by professional roofers.
This is almost always because they did not clean the surface of the existing roofing material in the repair area or because they didn't clean it thoroughly enough.
Side note: It's very frustrating when you hire a highly-respected contractor to repair a roof and then when you inspect the patches a week or a month later, they're already delaminating and come right off if you tug on them.
We've seen this happen quite a few times (with different contractors), and it was always because the roofers they sent didn't properly clean the substrate first. Yes, the contractor has always fixed the problem for us at no charge after we called and emailed them a picture, but it's an unnecessary hassle.
Even a membrane that looks fairly clean will often have a layer of grime adhered to the surface. Aged black EPDM will always have a hard-to-see layer of fine carbon powder on it.
That's the real issue here. You might think the roof area is clean, but it's not. You must make sure that the tape bonds to the surface of the roof itself, and not to the dirt attached to it.
Proper substrate preparation is accomplished by first scrubbing the repair area with a soft-bristled scrub brush or nylon scouring pad and warm soapy water, then rinsing with clear water. Do NOT use steel wool or a brush with wire bristles on TPO, PVC, or EPDM roof membranes.
You should thoroughly clean the area out to at least 6 inches beyond where the patch will be applied.
Repeat this process until all of the dirt is gone, and then dry the area with a clean cotton rag. The cotton rag should not show any dirt after you wipe the area.
Roof Surface Preparation Tips
General – The substrate should be clean, dry and free of all moisture, dew, frost, oil, debris, dust, and rust.
Gravel-surfaced roofs – Remove all embedded gravel and then clean the area before applying your tape.
PVC or Vinyl – Remove the chalky residue that often forms on PVC by lightly sanding the repair area with fine sandpaper during the cleaning process.
Shingles and Modified Bitumen – Use a wire brush to remove any loose surface granules.
Steel – Remove all rust with a wire brush prior to regular cleaning. You should apply a rust-inhibiting primer to the repair area before applying your tape.
TPO or EPDM – After cleaning the surface with soap and water, a second cleaning with acetone or a special rubber roof cleaner is recommended to remove water-resistant residues.
What Size Roof Sealant Tape to Use
We would be remiss if we recommended using anything less than 6-inch repair tape.
In the roofing industry, having a minimum 3-inch overlap is a standard best practice whenever you're dealing with roof seams, laps, patches, joints and anything else that uses adhesive to hold two pieces of a roof together.
A minimum 3-inch overlap is always specified by roofing manufacturers, roof consultants, and the standards issued by the National Roofing Contractors Association (NRCA).
Instructions for applying a roof patch always call for the patch to extend a minimum of three inches in all directions beyond the hole, tear, or deteriorated area.
This means that even a pinhole needs a 6-inch-wide patch.
There are two reasons for having a relatively large overlap.
One is the fact that adhesive failure typically starts at the edge and then the delamination progresses toward the middle of the patch over time.
The larger the bonded area, the longer it takes for adhesive failure to turn into a leak. Three inches gives you plenty of time to spot the issue and replace the patch or repair the seam.
The other reason is the strength the extra material provides.
When you put a patch over a roof seam that is coming apart, you have to consider that the forces causing the seam to come apart will still be at work even after you patch it.
There needs to be a strong enough bond between the repair material and the underlying roof to counteract these forces and hold the roof together. For any given roof sealant tape, the larger the bonded area is, the stronger the overall bond will be.
We recommend using 6-inch roof tape for all repairs.
You will probably be perfectly fine using 4-inch tape to repair simple membrane punctures, but if you're using the tape to fix longer tears, roof seams, or laps between two sections of material, you should really use the 6-inch.
Tools You'll Need to Apply Roof Repair Tape
Roof repair tape is very simple to apply and anyone can do it. You don't need any roofing experience at all.
But you will need a couple more things to do it right. Other than the things you'll need to properly clean the repair area (see above), you will need:
A pair of construction shears or high-quality heavy duty scissors. (See on Amazon)
A cheap pair of normal scissors probably won't cut roof repair tape cleanly. This stuff is very tough and very gummy. You're going to want a nice neat edge on your patch for the sake of both appearance and performance.
A decent hand roller. (See on Amazon)
The application instructions for the tapes listed below all call for hand-rolling the patch to ensure a complete bond and remove small wrinkles or trapped air bubbles. Hand-rolling will make your patch look better, perform better, and last longer.
Hand-rolling is a best practice whenever you mate two roofing surfaces with an adhesive of any kind. Even the long field seams in a commercial EPDM roof get hand-rolled.
Always apply very firm pressure and roll from the center out. Be sure to roll the entire surface of the patch.
List of the Best Roof Repair Tapes • Best Roof Sealant Tapes
Note: Tape thickness is given in "mils". A "mil" is a unit of measurement used for thickness that is equal to 1/1000 of an inch. "Mil" does not stand for millimeter.
EternaBond RoofSeal Sealant Tape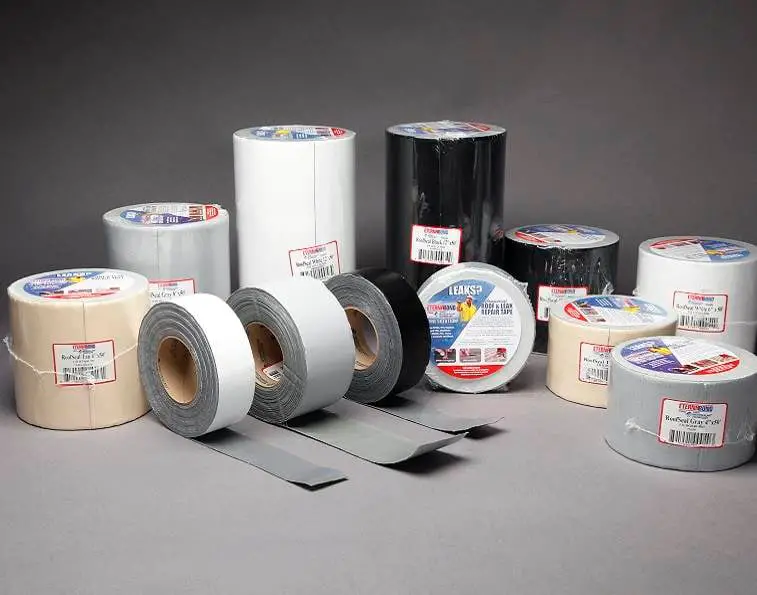 Why it's one of the best roof sealant tapes:
EternaBond makes the best roof repair tapes we've seen in over 30 years of using roof repair tape. This is our top recommendation for a roof sealant tape for repairing just about any kind of roof.
We've tried a few different sealant tapes over the years, and we settled on EternaBond as a standard part of the gear carried by our inspectors and maintenance crews.
Roof patches that we made with EternaBond were still in great shape with years of service life left when we checked on them 15 years later.
We always bought EternaBond at roofing supply stores, but we weren't surprised when we finally looked it up on Amazon and saw that it had an almost perfect 5-star rating with over 9,000 reviews (mostly from very satisfied RV owners).
EternaBond is owned by H.B. Fuller, a reputable company that has been around for 130 years. They also make Gorilla Glue.
Available Colors: White, Black, Gray, Tan
Available Widths: 1.5-inch, 2-inch, 3-inch, 4-inch, 6-inch, 12-inch
Tape Thickness: 35 mils
Recommended for use on (compatible substrates): EPDM, TPO, Hypalon, aluminum, galvanized steel, wood, and fiberglass
See EternaBond RoofSeal Repair Tape on Amazon
ThermaCote Roof Repair Tape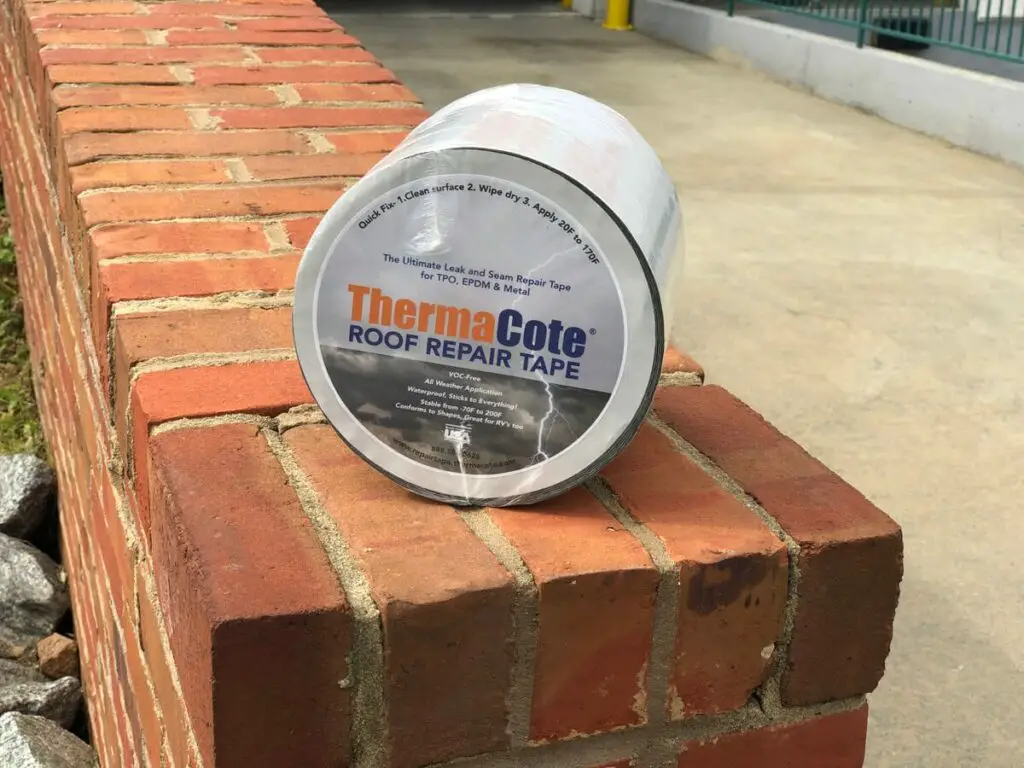 Why it's one of the best roof repair tapes:
ThermaCote is an excellent roof sealant tape. You could say it's one of the only repair tapes in the same league as EternaBond. We've seen ThermaCote Repair Tape in action and we've been very happy with the results.
The company doesn't really market this tape to RV owners for some reason, although RV roof repair is one of the uses listed in their product brochures.
You also can't buy it through Amazon or the Home Depot. They do sell it by the roll on their website, though, and they have a pretty simple purchase and check-out system.
One big plus is that it comes in wider sizes than most other roof tapes; you can get rolls up to 18 inches wide.
Please note that as of right now, according to a note on their website, all ThermaCote® Roof Repair Tape is black in color.
Available Colors: Black
Available Widths: 6-inch, 9-inch, 12-inch, 18-inch
Tape Thickness: 26 mils (without liner)
Recommended for use on (compatible substrates): TPO, EPDM, metal, cement, plywood, OSB
See ThermaCote Repair Tape on the ThermaCote website
APOC Incredible® Repair Tape and Sealant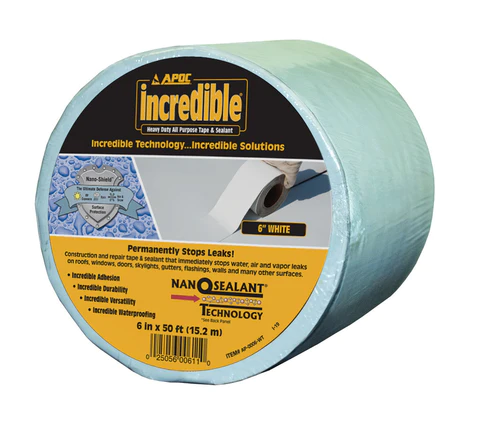 Why it's one of the best roof repair tapes:
Although we haven't used this tape ourselves, we wanted to include a roof repair tape from a highly-regarded manufacturer which specifically included PVC in its list of compatible roofing materials.
APOC is a great company with a very long history of manufacturing high-quality roofing accessory and repair products commonly used by experienced construction professionals.
This tape gets great reviews and APOC is a great brand. We'd buy it if we needed it.
And it was the only brand of roof repair tape we would buy that specifically lists PVC as a compatible material in the product data sheet.
Available Colors: Black, White
Available Widths: 4-inch, 6-inch
Tape Thickness: 35 mils
Recommended for use on (compatible substrates): metal, wood, fiberglass, plastic, structural concrete, concrete block, brick, smooth BUR, smooth SBS, smooth APP, EPDM, TPO, Hypalon and PVC surfaces
See APOC Incredible® Repair Tape and Sealant on Amazon
EternaBond AlumiBond Sealant Tape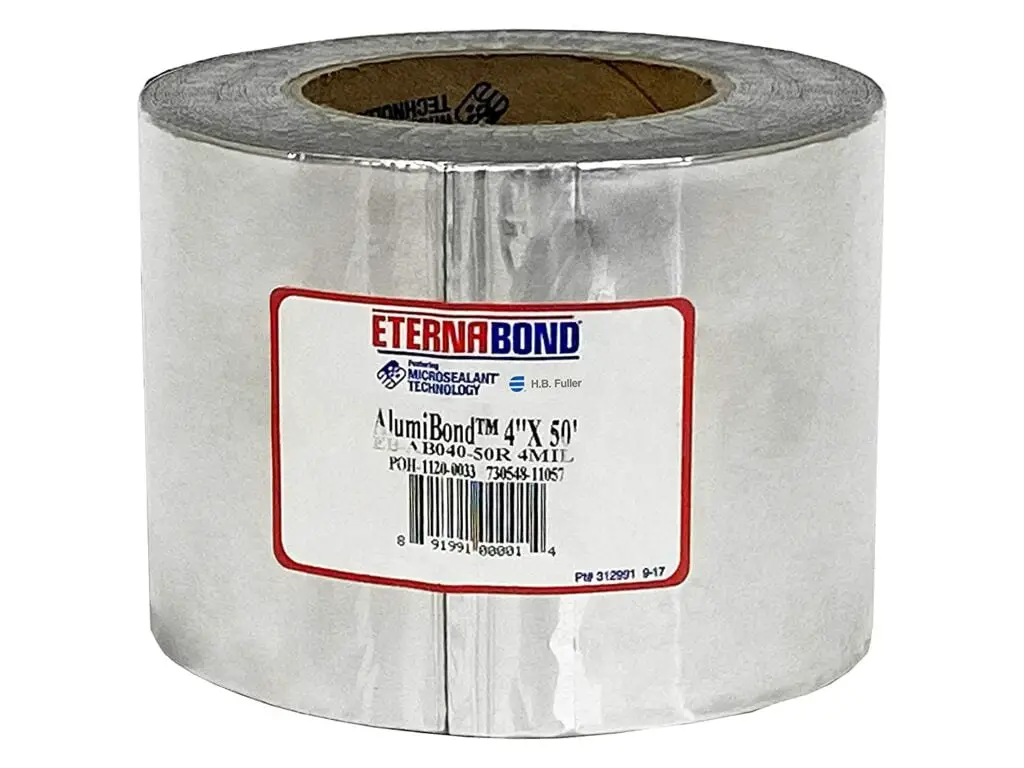 Why it's one of the best roof repair tapes:
If you want your roof sealant tape to match the look of your aluminum or galvanized steel roof, this is the best you can do.
We've used this to seal the seams and joints on a lot of exterior rooftop ductwork and it works great.
EternaBond AlumiBond is made with the same high production standards as regular EternaBond, and it uses the same great adhesive.
This tape has a 4-mil aluminum backing which provides an exceptionally durable surface with excellent UV resistance.
Available Colors: Silver
Available Widths: 2-inch, 4-inch
Tape Thickness: 21 mils
Recommended for use on (compatible substrates): carbon steel, aluminum, galvanized steel, aluminum foil, gypsum board, wood, rubber, tar, polyethylene, polypropylene, polystyrene, fiberglass, brick, concrete, masonry, rubber, thermoplastics, single-ply roofing
See EternaBond AlumiBond Repair Tape on Amazon
Eternabond Webseal Roof Sealing and Repair Tape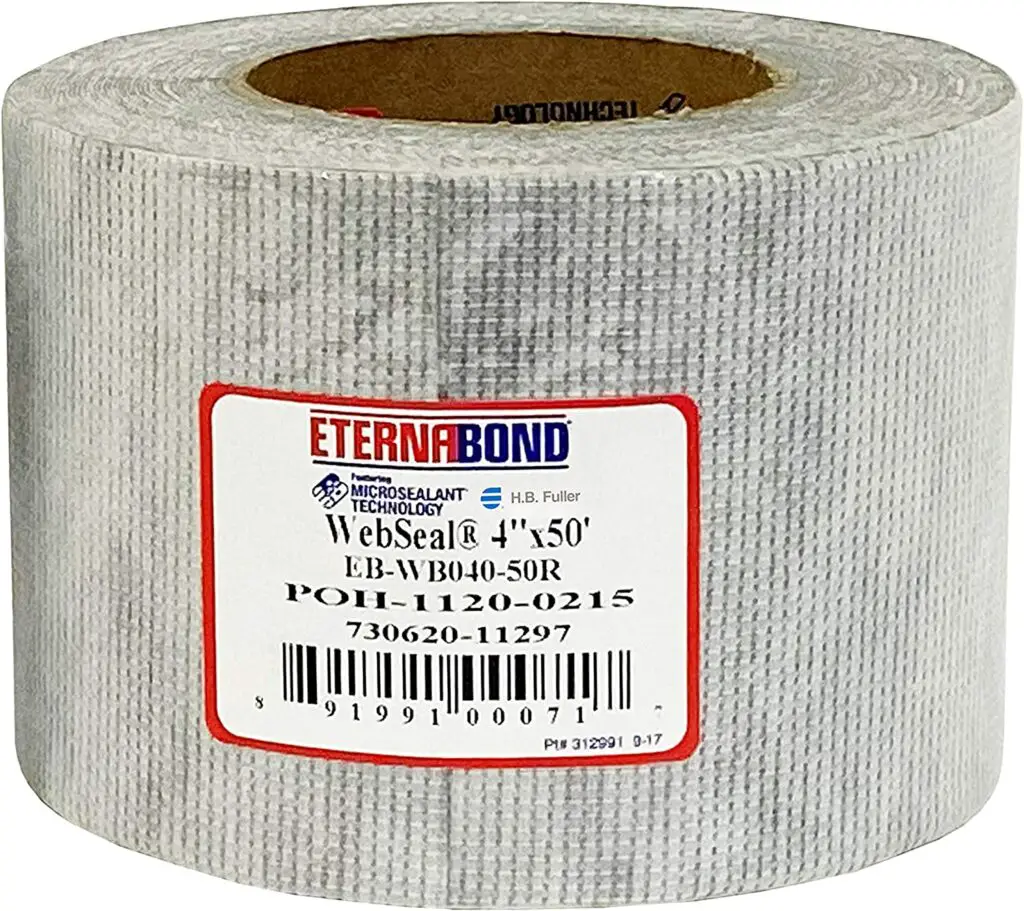 Why it's one of the best roof repair tapes:
Another great tape from EternaBond. If you are planning to seal your roof with a roof sealant coating (like this one), it's considered a best roofing practice (and simply a good idea) to patch any holes and repair any open or questionable seams on your roof before you apply the coating.
Manufacturers of roof coating systems for commercial roofing applications will typically supply their own repair tape and reinforcement fabric for use with their coating systems.
Companies that specialize in applying roof coatings will normally use all of these things from the same manufacturer in order to offer a full system warranty to their customers.
When you buy your own roof coating in order to seal your own roof, whether its an RV roof or otherwise, the coating company won't usually provide peripherals like seam reinforcement tape, so you need to buy your own separately.
Regular roof repair tape is designed to be the final protective surface in the locations where it's applied, and it's often hard to get anything to stick to the (top!) surface of regular roof repair tape. You need something specifically designed to hold a coating.
EternaBond WebSeal is an excellent choice for this application. This is how EternaBond describes their WebSeal tape:
Maximum conformability for irregular surfaces
Designed to hold all roof coatings, sealers, or paint
Fabric backing
Perfect for making all roofs/surfaces watertight before coating is applied
Available Colors: White
Available Widths: 2-inch, 4-inch, 6-inch
Tape Thickness: 23 mils
Recommended for use on (compatible substrates): EPDM, TPO, CSPE/Hypalon, most PVC, CPE, SBS, APP modified bitumen, asphalt BURs, coal tar BURs, all metal roofs, tiles, shingles, aluminum, galvanized steel, gypsum board, wood, polyethylene, propylene, polystyrene, fiberglass, brick, concrete, masonry, OSB
See EternaBond WebSeal Repair Tape on Amazon
Cofair Quick Roof Extreme RV Roof Sealant Tape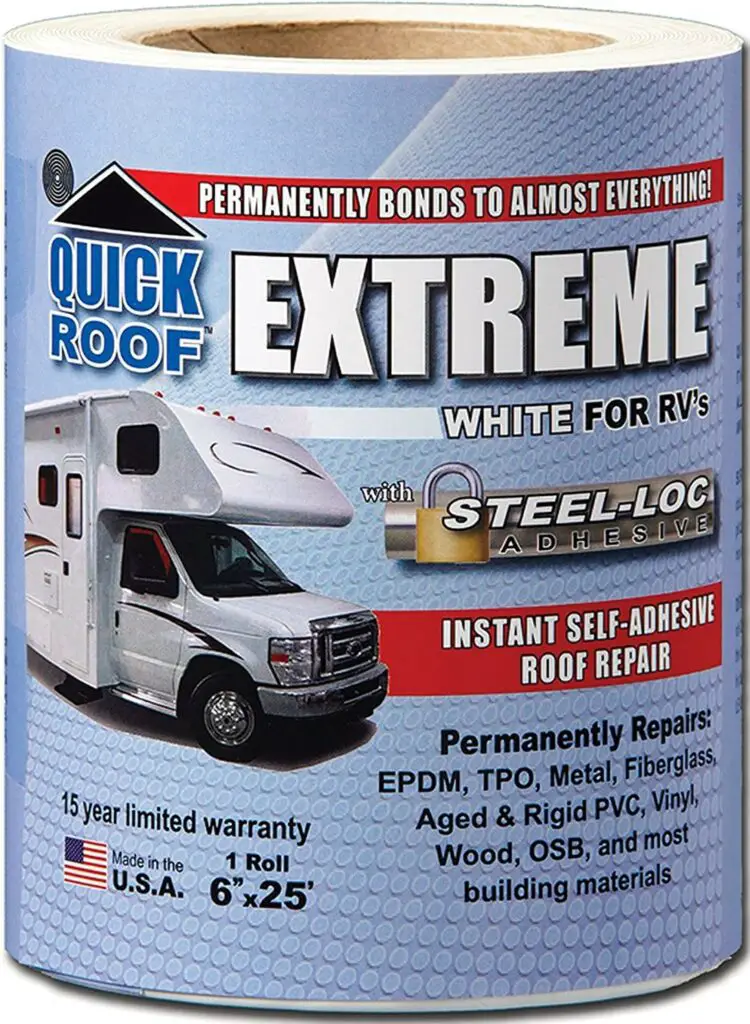 Why it's one of the best roof repair tapes:
We wanted to find the best roof sealant tape manufactured specifically with RV roofs and mobile homes in mind.
We researched several of the best-selling RV roof repair tapes; we reviewed product technical data sheets, materials, and customer reviews. We considered reports of user satisfaction, common complaints, and reported issues.
Of all the most popular roof repair tapes specifically targeting the RV market, this is the one we would buy.
Available Colors: White, Black, Tan
Available Widths: 4-inch, 6-inch
Tape Thickness: 45 Mils
Recommended for use on (compatible substrates): EPDM, TPO, Hypalon, metal, modified asphalt, vinyl, aged and rigid PVC, OSB, rigid extruded polystyrene, wood, tile
See Cofair Quick Roof Extreme Repair Tape on Amazon
---
About the Author
Jack Gray is a principal roof consultant and vice president at the Moriarty Corporation, an award-winning building enclosure consultant firm founded in 1967. He is also the editor of the Roof Online website.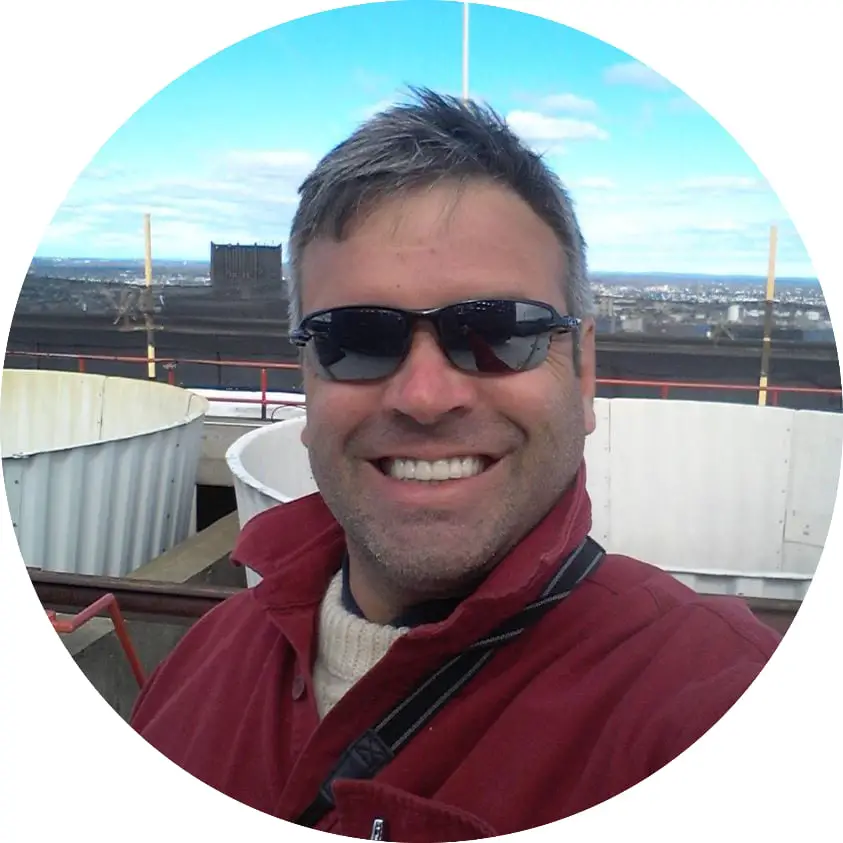 Mr. Gray has worked in the roofing industry for over 25 years, with training and practical experience in roof installation, roof inspection, roof safety, roof condition assessment, construction estimating, roof design & specification, quality assurance, roof maintenance & repair, and roof asset management.
He was awarded the Registered Roof Observer (RRO) professional credential in 2009.
He also served as an infantry paratrooper in the 82nd Airborne Division and attended Cornell University. Read full bio.
---
Related Articles
EPDM Roofing 101 • EPDM Roof Guide for Non-Roofers
How Long Does a Roof Last? • Roof Lifespan for 49 Roof Types
How to Replace a Missing Asphalt Shingle
Modified Bitumen Roofing 101 • Mod Bit Roof Guide for Non-Roofers
PVC Roofing: Introduction to PVC Roofs
Roof Cement Guide • Top Roof Cement Products
TPO Roofing 101 • TPO Roof Guide for Non-Roofers
External Resources
Modern Roof Repair with PSA Tapes is an informative article by the inventor of EternaBond repair tape published in the January 2011 issue of IIBEC Interface.