Roof Hail Damage • Complete Inspection Guide for Homeowners
By Phillip Foote, Owner of Koala Roofing, Raleigh, North Carolina – Visit Website
Published August 24, 2020 • Last updated June 2, 2023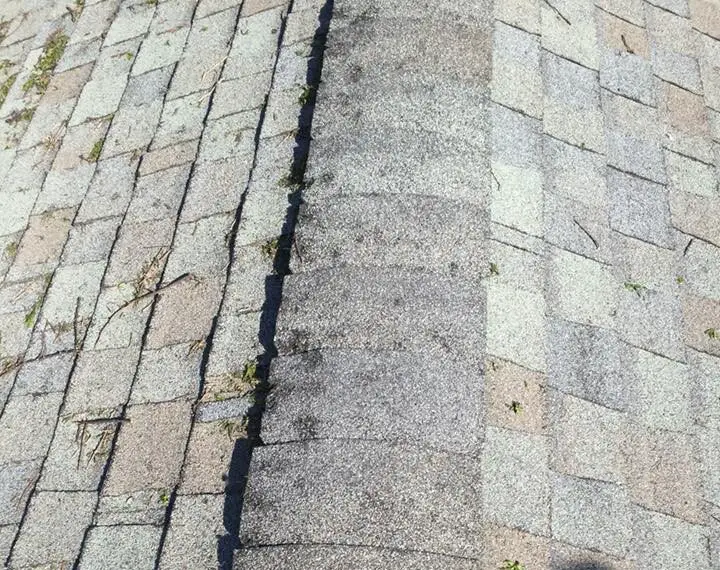 Table of Contents
About This Hail Damage Inspection Guide
This article will explain how to perform a hail damage roof inspection after a hailstorm.
We will start by discussing hailstone sizes and then proceed through the different types of hail damage and what they look like.
Next, we will discuss getting on the roof for an up-close examination.
We will also talk about what to do when a situation is beyond the scope of a DIY project and when to look for professional help.
Finally, we will offer some brief advice regarding hail damage insurance claims.
Introduction to Roof Hail Damage
When a roof is hit by a hailstorm, the effects on the roof can range from being negligible to being so significant that they demand emergency repairs.
Some signs of the storm can be vividly apparent; for example, broken windows, tiles that have fallen off the roof, or large dents in metal roof components.
To identify less obvious damage, close inspection with a certain level of knowledge is needed. Any damage, major or minor, means immediate action is required because hail damage is terrible for roofs and can turn the house into a faulty structure with leaks and other issues.
Hailstorms may not be the most devastating kind of natural disaster, but they are the most common.
An unexpected amount of damage can be caused to your roof, siding, windows, gutters, and decks depending on factors like the size of the hail, the speed and direction of the wind, the types of material, the age of the materials, the slope of the roof, and the quality of the construction.
Roofing contractors are usually contacted to evaluate the extent of the damage. At the same time, it is always wise to have some basic knowledge about roof damage and the possible impacts of a hailstorm.
This allows you to double-check the contractor's estimate, or even make an accurate assessment of the scope of the damage for yourself.
Let's Understand the Size of Hail and its Impacts
The size of the hail could be your first indicator of the extent of the damage after a hailstorm.
Though it doesn't give the whole picture, understanding the possible effects of different sizes of hail is a great starting point.
¾" hail is the smallest hail likely to cause damage. Depending on the speed of the wind, it can harm vinyl siding, windows, paint on decks, gutters, and the granule surface of shingles.
1″ hail might cause bruises in shingle underlayment and harm to the fascia, gutters, and siding, and cause other roof problems. Wind speed determines the extent of the damage.
1 ¼"-1 ½" hail might cause significant damage. Severity depends on the duration of the storm and wind speed.
1 ¾"-2″ hail can pierce the softer parts of the roof, tear off siding, crack tiles, break windows, and damage metal fixtures.
2″ and above sizes of hail are extremely serious and will likely cause severe damage to the property. You will need emergency inspection and professional repairs.
What Does Hail Damage Look Like?
Hail damage can be functional and/or cosmetic in nature.
"Functional hail damage" denotes the damage that affects the integrity and longevity of the roof, while damage that affects the appearance but not the performance of the roof is referred to as "cosmetic hail damage".
Specific damages after a hailstorm can run from small cracks to major splits or tears. You need to see the damaged areas to gauge the severity.
Loss of granules on asphalt shingle roofs: When a shingle loses granules, the asphalt that makes up the waterproofing layer of the shingle is exposed to UV rays and is at risk of accelerated aging.
Look for areas that are darker than the rest of the roof surface.
Cracks and bruises in asphalt shingles: This is caused by hard hail and high winds during the hailstorm. There could also be broken corners, tears at the end of shingles, splits, and bare spots or black dots on the roof.
Impacts on other roof types: Other roof types like wood shake or shingle, clay or concrete tile, slate, and metal roofing can also suffer hail damage.
Hail can cause wood shingles to split, tile and slate roofing to have cracks or gouges, and metal roofing to have dents. 
Impact marks or dents: There may be dents and impact marks on the exposed parts of the roof, siding, and metal fixtures.
Exposed and fractured fiberglass mat: If a shingle's top layer of asphalt is shattered, the fiberglass mat underneath will be exposed.
There could be cracks or tears in the mat. This is more likely to happen if the hailstorm occurs on a cold day.
Weakened self-seal strip: Hail can compromise the integrity of the self-seal strip, which increases the chances that the shingles will eventually blow off.
Once you know what to look for, you are in a better position to evaluate your roof after a hailstorm. Depending on the presence of one or more of these signs and their severity, you might simply need some small repairs, or you could need a full roof replacement.
Places to Look for Signs of Hail Damage
Gutters: The first and easiest place to look for signs of hail damage are the gutters. Gutters and/or downspouts are often dented during a high-impact hail storm. Another common result of a hailstorm is a heavy build-up of loose roofing granules from the shingles in the gutters. These granules can easily clog the gutters and cause them to overflow. Overflowing gutters after a hailstorm is a sign of a damaged roof.
Siding: The second place to look for hail damage is the siding. If there are serious damages on the roof, then the siding on the house, the windowsills and casings, and any exposed metal surfaces like metal fascia will likely be dented or have spots of missing paint.
Decks: Another place to check are decks. If there are damage signs on the deck or chipped paint on other surfaces around the home, this also points to potential shingle damage. 
Other Outdoor Items: Check outdoor items like air conditioners; signs of damage can also be found on sheds, patio covers, and porches.
Inside the House: There can be indications on the inside of the house that roof leaks were caused by the hailstorm. There could be slow or recurring water leaks that start after the storm, water stains on ceilings or walls, mold or mildew, bubbling paint on ceiling and walls, wet insulation, or wet areas in the attic.
Finding (and documenting) signs of hail damage in all of these locations is important for evaluating the damage and making an insurance claim.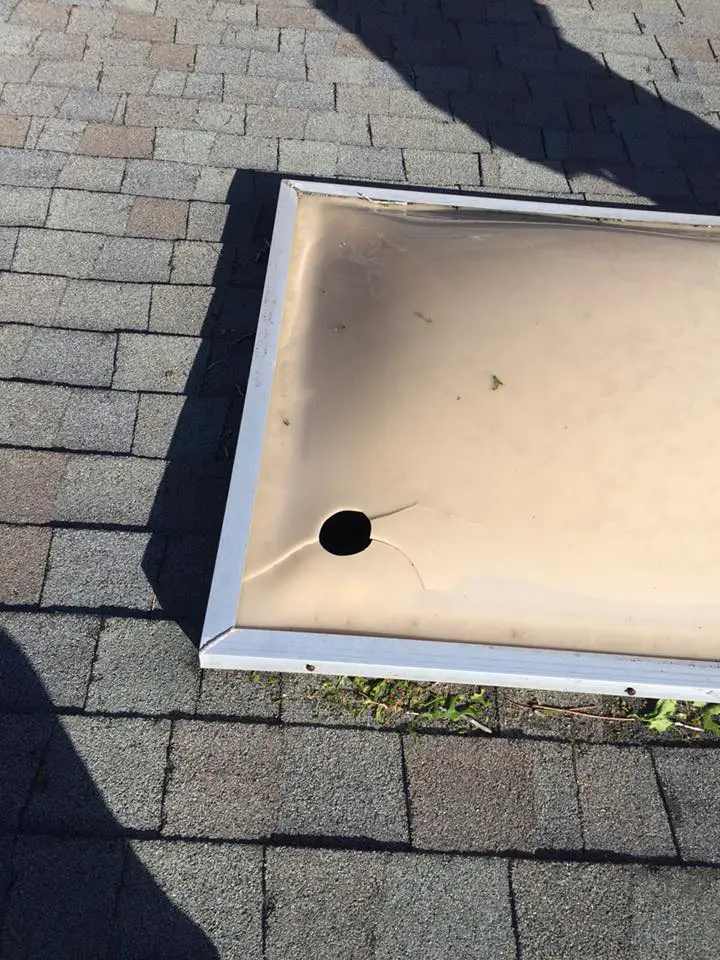 Hail Damage Roof Inspection Safety
It is now time to go up on the roof to check for damage. There are several ways to conduct the inspection but before climbing up, the most important thing to consider is safety. 
Get a good pair of soft-soled shoes or special roofer's boots.
Make sure the ladder is in perfect working condition.
Work with a mate who can keep a watch on you.
Gather all the necessary equipment before climbing up so that you don't need to rush up and down.
Take along a camera and carpenter's chalk for marking damage spots. If you have one, consider using a drone for taking pictures of dangerous-to-reach locations. You should check for legal restrictions before flying a drone. (See here for more information on using drones.)
A stable, properly-set-up ladder is critical to safely accessing the roof. See here for guidelines on ladder safety.
When working on roofs, a personal fall arrest system should be used for protection against falling (see here for information on personal fall arrest systems).
More roof safety information can be found here.
The "Getting-on-the-Roof" Hail Damage Inspection
Once you're up on the roof, keep in mind the damage signs that you're looking for.
Examine all plumbing vents and other conspicuous features. Look for cracks, dents, dings, discolored or chipped surfaces, etc.
To identify hail damage around chimney covers, run a piece of carpenter's chalk sideways over the surface and it will reveal the impact points. On softer metal vents, signs of any damage will be much more visible.
The signs of hail damage will look different depending on the type of roofing material.
The damage on a shingled roof will look different from the damage on a clay or concrete tile roof. Hail damage on asphalt or composition shingles will look different from hail damage on wood shingles.
It's important to know what to look for on each particular type of roof. 
Inspection of Asphalt and Composition Shingles
When inspecting these materials, you should be on the look-out for unsystematic, randomly-spaced damage with no clear pattern.
Look for black dots, dark dings, and soft dents. Check for areas of missing granules where the asphalt or roof mat is exposed, or even places where you can see the roofing felt or membrane underlayment.
Inspection of Wood Shingles
For wood shingles or shakes, hail damage will also appear random and unsystematic.
Look for split shingles with brown or orange marks with sharp colors and edges. There may also be dents or smaller cracks at hail impact locations.
Inspection of Concrete Tile, Clay Tile, Slate, and Metal Roofs
Large hailstone strikes can instantly crack roofing slate and clay or concrete tiles.
Metal roofs are more likely to have impact dents; fainter, hard-to-see dents can be found by running carpenter's chalk across surfaces suspected of being damaged.
Softer metal surfaces may have punctures and much more pronounced dents and dings.
Is It Time to Call a Professional Roofer?
If you find signs of more than one type of damage after a hailstorm and/or you suspect there is hidden damage, you should have a professional perform a thorough hail damage inspection.
Even minor hail damage, if not addressed, can cause bigger problems in the future, which can cost much more to repair.
In addition, when it comes to preparing the paperwork and the other formalities of making an insurance claim, an experienced contractor can help you navigate the process and make sure you optimize your coverage.
Most contractors offer free estimates; your goal is to find a company that is trustworthy and has experience with the insurance process.
You can also hire a public adjuster who will work on your behalf, arrange the roof inspection, and file a well-documented insurance claim.
Making an Insurance Claim for Roof Hail Damage
A general homeowner's insurance policy will typically include coverage for roof damage due to hail.
There will be factors which affect the amount of coverage, such as your location, which insurance company you use, and the details of your policy.
You should have the roof inspected and begin the claim process without much delay after the storm since many insurance companies require their clients to file within one year after the roof has sustained damage. Also, the more time that passes, the harder it will be to prove that the damage was a result of the hailstorm.
Most insurance companies require evidence of at least eight hailstone impacts within a 10-foot by 10-foot area at three different locations on the roof before they will agree to cover the cost of a whole new roof.
You should also remember that insurance companies look for reasons to deny full roof replacement claims.
A "Cosmetic Damage Exclusion" clause may also give them a way to avoid paying for cosmetic hail damage (and often for functional damage that only appears to be simply cosmetic). Because of this, you should systematically identify and document all evidence of hail damage.
Assistance from a professional who can skillfully guide you through the insurance claim process will likely increase your chances of receiving the full amount that you are entitled to.
A Few Steps to Follow after a Hailstorm
Though insurance companies have tools to monitor storms, you should keep your own record of the storm. Include the time the storm hit, the type of storm, the reported wind speeds, and the size of the hail reported in the area.
Inspect your roof (or have it inspected) after the hail storm. Document the damage by writing down the location and a description of each type of damage. You can print out a satellite image of your roof from Google Earth to make it easier to record the locations. Take photographs of all damage to go along with your written record. Use a ruler or tape measure to show the scale of the damage in your pictures where possible. Also take note of damage to all other parts of the property that might be covered by insurance.
Try to cover the damaged areas with temporary protection (tarps, temporary flashing, etc.) immediately after the storm to show the insurance provider that you have taken steps to mitigate any damage.
If you need help gathering evidence and preparing the documentation and other paperwork, find a roofing contractor or a public adjuster to assist with the claims process.
File the claim. Remember, the more evidence you have, the better your chances of getting a new roof! 
If there has been a hail storm recently, or you live in an area where hail storms are common, keep these steps in mind. They can help you get your house back in order as soon as possible.
Use a Local Contractor for the Repairs!
After filing the claim, a reliable and experienced roofing contractor will be needed to make the repairs or possibly replace the roof.
You'll want to hire a local contractor. They know the area and the local weather. They know the local building codes. They know the local suppliers.
They know the local people and they need to maintain a good reputation to stay in business.
Almost all roofing companies will offer a free estimate after a storm, but watch out for the "storm chasers".
Storm chasers are contractors who appear at your door immediately after a large hail storm, hurricane, or other disaster, hoping for a large amount of quick work.
They are often from out of state and often won't have a license to do business in your jurisdiction. Their goal is to take advantage of the situation, make a lot of money by doing a lot of work as fast as they can, and then leave.
As a result, the work can be rushed and shoddy, possibly not covered by a warranty, or they may even disappear with your money without finishing.
Many of them might have honest intentions, but for your own peace of mind, you should only hire reputable local roofers.
Always ask for and then verify a contractor's local physical business address and office phone number.
Always ask for and verify their business or contractor's license. If they tell you they don't have one or claim they don't need one, find someone else.
Related Pages